10 Best TruSkin Products Of 2022
Keep your skin healthy, bright, and happy with these certified cruelty-free products.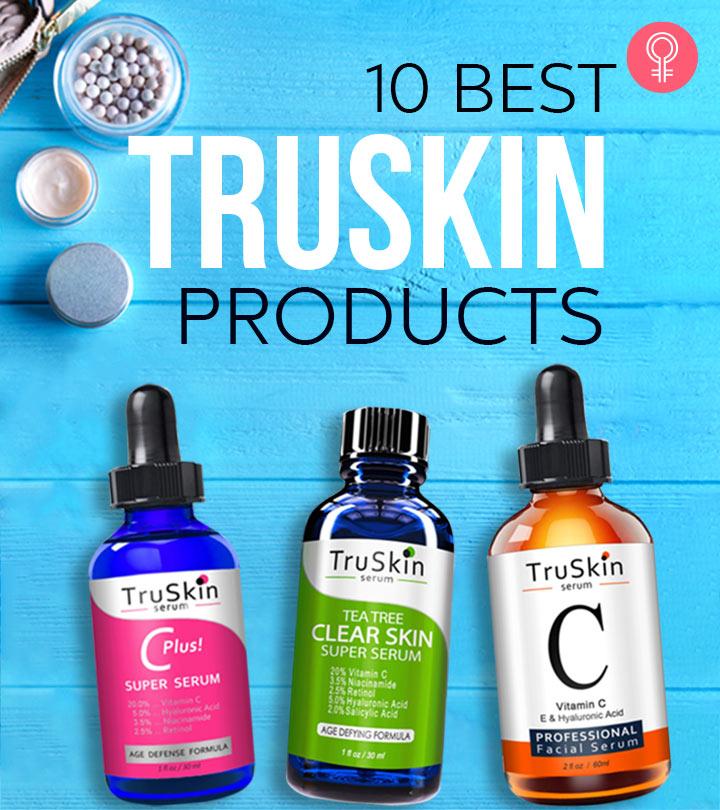 The skin care industry is dominated by TruSkin products. The best TruSkin products are crafted with quality ingredients that help reduce dark circles, pigmentation, and wrinkles. Their skin care products are also certified cruelty-free by Leaping Bunny. They offer various kinds of products like toners, cleansers, moisturizers, and serums to keep your skin healthy and glowing. Read on to check out the best TruSkin products you can buy online and their benefits. Scroll down!
10 Best TruSkin Products Available Right Now
TruSkin Naturals Vitamin C Moisturizer contains 15% vitamin C which helps in brightening the skin by reducing hyperpigmentation, dark spots, sun spots, age spots, and uneven complexion. This moisturizer also contains vitamins B5 and E along with green tea, wild geranium, dandelion, and horsetail extracts. Thus, it has anti-aging (reduces fine lines and wrinkles), antioxidant (protects the skin from free radicals), skin firming, and nourishing properties. This lightweight moisturizer is also rich in hydrating agents such as jojoba oil, shea butter, and glycerin. They keep the skin moisturized and soft. This cruelty-free and vegan moisturizer refines the skin texture to make it look healthy and glowing. If you are still unsure, check out this honest review.
Pros
Reduces fine lines and wrinkles
Evens out the skin tone
Prevents skin damage
Moisturizes the skin
Brightens the skin
Tightens the skin
Cruelty-free
Paraben-free
Corn-free
Soy-free
Vegan
Suitable for all skin types
Cons
TruSkin Vitamin C, E & Hyaluronic Acid Professional Facial Serum has a cult following! Vitamin C is a powerful antioxidant and anti-aging ingredient. It works synergistically with hyaluronic acid and vitamin E to fight the signs of aging such as wrinkles, fine lines, dullness, sagging, and age spots. Witch hazel, aloe, and jojoba oil also help in moisturizing and nourishing the skin. This cruelty-free serum does not contain any added synthetic colors, phthalates, fragrances, parabens, GMO, sulfates, or PEGs. Thus, it is safe to use on sensitive, mature skin. Its regular use will make your skin soft, radiant, and even-toned. Click this video to learn more about the product.
Pros
Brightens the skin
Moisturizes the skin
Fights the signs of aging
Evens out the skin tone
Smoothens the skin
Suitable for mature and sensitive skin
Cruelty-free
Cons
May cause breakouts initially
TruSkin C Plus! Super Serum ticks off all the important ingredients required for good skin health. It contains retinol (anti-aging), hyaluronic acid (hydrating), niacinamide (restores the skin's protective barrier), and salicylic acid (a chemical exfoliant). The star ingredient of this premium age defense serum is vitamin C that offers numerous benefits for the skin. It boosts collagen production, captures free radicals, reduces hyperpigmentation, and brightens the skin. Soothing and anti-inflammatory ingredients like aloe vera, rose hip oil, and MSM help in cell regeneration and turnover. Thus, this serum helps in reversing the damage caused by aging, environmental stressors, pollutants, and sun exposure. It has a subtle sweet scent from the pink grapefruit essential oil in its formula. Use this advanced facial serum to get silky smooth, soft, and glowing skin.
Pros
l Fights the signs of aging
l Hydrates the skin
l Organic and natural ingredients
l Protects the skin
l Brightens the skin
l Cruelty-free
l Soothes inflammation
l Paraben-free
l Sulfate-free
l GMO-free
l No artificial fragrance
l Silicone-free
l Corn-free
l Soy-free
Cons
If you are looking to get clear skin, TruSkin Tea Tree Clear Skin Super Serum is an excellent choice. This concentrated blend of nutrients and antioxidants helps in reducing pigmentation, age spots, dark spots, fine lines, and wrinkles. Tea tree oil and salicylic acid fight acne, while vitamin C fades the acne scars. Hyaluronic acid replenishes moisture in the skin to make it feel soft and supple. Niacinamide is an important skin care ingredient that restores and repairs the natural protective barrier of the skin. Finally, retinol promotes collagen production, which reverses the signs of aging and leads to a youthful appearance.
Pros
High-quality ingredients
Fights acne
Reduces fine lines and wrinkles
Reduces hyperpigmentation
Hydrates the skin
Vegan
Cruelty-free
Cons
May cause breakouts initially
TruSkin C 15% Daily Facial Cleanser brightens, tightens, and repairs the skin with the help of vitamin C and nourishing ingredients such as aloe vera, olive oil, and rose hip oil. This foaming face wash removes makeup and product build-up to unclog pores and prep the skin for other products in the skin care routine. It gently removes dirt, dead skin cells, and excess oil from the skin. Botanical extracts of oregano, tea tree, borage, and orange peel provide natural protection to promote clear and healthy skin. This cruelty-free cleanser can be used by people of all skin types and ages.
Pros
Anti-aging formula
Gentleformula
Suitable for sensitive skin
High-quality ingredients
Sulfate-free
Paraben-free
Alcohol-free
Cruelty-free
Vegan
Cons
TruSkin R 2.5% Retinol Moisturizer is effective for treating the visible signs of aging such as fine lines and wrinkles, especially around the eyes. Its moisturizing ingredients such as jojoba oil, shea butter, glycerin, and hyaluronic acid nourish and restore moisture and nutrients in the skin. This makes your skin supple and plump. Organic green tea, vitamin B5, and other botanical extracts also help in improving the skin texture and complexion. This product does not contain synthetic compounds or harmful preservatives like parabens, sulfates, or dyes.
Pros
Reduces fine lines and wrinkles
Hydrates the skin
Suitable for all skin types
Cruelty-free
No artificial fragrance
Dye-free
Paraben-free
Sulfate-free
Cons
TruSkin R Retinol 2.5% + E & Hyaluronic Acid Serum is highly effective against wrinkles and fine lines. This weightless serum also contains hydrating ingredients like hyaluronic acid that adds moisture to the skin to make it plump and bouncy. Jojoba oil, vitamin B5, witch hazel, and green tea extracts improve skin texture and complexion. Use this retinol serum to correct discoloration and regenerate new skin cells. This serum is made with high-quality ingredients and is free from toxic chemicals, making it suitable for all skin types.
Pros
Improves the skin tone
Lightweight
Reduces fine lines and wrinkles
Moisturizes the skin
Cruelty-free
Soy-free
Corn-free
Paraben-free
Vegan
Cons
May take time to show results
TruSkin Eye Gel is loaded with plant stem cells, peptides, hyaluronic acid, silk protein, licorice, ginkgo, histidine, jojoba oil, aloe, and argan oil. These botanical ingredients help in fighting wrinkles, dark circles, sagging skin, fine lines, crow's feet, under-eye bags, crepe eyes. It essentially lifts the skin around the eyes. The cooling effect of cucumber extracts relaxes tired and exhausted eyes. Its gel formula is lightweight and penetrates deep into the skin easily.
Pros
Reduces fine lines and wrinkles
Hydrates the skin
Reduces puffiness
Improves skin elasticity and firmness
Clinically tested
Cruelty-free
Lightweight
Gets absorbed quickly
Comes with a push top airless pump
Cons
May cause mild irritation
TruSkin T Daily Facial Toner is a spray mist that refreshes the skin. It contains powerful anti-aging ingredients such as vitamin C, MSM, amino acids, aloe vera, glycolic acid, and witch hazel. This toner hydrates, tones, and balances the pH of the skin. It helps in minimizing the appearance of pores, fine lines, and wrinkles. This calming toner soothes the skin and improves your skin tone by reducing age spots. It suits all skin types but is especially beneficial for sensitive, oily, acne-prone skin that breaks out frequently as it can fight acne and balance oil production. Use this hydrating toner to get healthy, glowing, soft skin.
Pros
Reduces age spots, pores, and fine lines
Balances the oil production and skin pH
Refreshes the skin
Hydrates the skin
Soothes the skin
Fights acne
Brightens the skin
Cons
TruSkin Skin Clearing Charcoal Face Wash cleanses the skin by drawing out impurities, dirt, excess oil, bacteria, and product build-up. It exfoliates the outer dead skin layers to reveal fresh new skin. This anti-aging cleanser also contains nourishing coconut, astragalus, and reishi extracts that improve skin health. It is a cruelty-free face wash that is infused with the extracts of lavender, cucumber, and ylang-ylang that soothe the skin. This detoxifying cleanser leaves your skin feeling clean and soft.
Pros
Deeply cleanses the skin
Hydrates the skin
Exfoliates the skin
Soothes the skin
Sulfate-free
Paraben-free
Alcohol-free
Cruelty-free
Suitable for oily skin
Cons
May cause dryness or mild irritation
Why Trust StyleCraze?
The author of this article, Shiboli Chakraborti, is a certified skin care coach, and she loves to help her readers find the right skincare products with ease. She prepared this list of the best TruSkin products after extensive research and going through many online reviews. The listed products are best-rated by users and are safe for the skin.
Frequently Asked Questions
Where are TruSkin Naturals products made?
TruSkin products are formulated and bottled in the USA using high-quality ingredients.
Recommended Articles