Have you been assuming that a shampoo that produces good lather is a good shampoo? Actually, this myth has been prevalent for a while now. Do you know why some shampoos give more lather than the rest?  Its because of the SLS content in them. SLS or Sodium Lauryl Sulfate is an effective cleansing agent, which basically means that it is a detergent that is present in a large range of personal hygiene products including shampoos. The lather produced during shampooing the hair is due to the presence of this carcinogenic and unhealthy surfactant that causes irritation to skin and hair cells. This will also have harmful effects on people's general health and well being. However, even increasing number of health conscious consumers, SLS free shampoos have gained popularity worldwide as the right formula for healthy hair.
These mild but excellent shampoos help to tackle hair and scalp problems caused by SLS shampoos like weakening, thinning and loss of hair, itchiness and flakiness of the scalp, dandruff and skin diseases like acne and pimples. SLS free shampoos deep condition and nourish the hair to retain the essential oils and nutrients, reduce frizziness and hair damage and revitalize the hair making them visibly fuller, denser, voluminous and healthy.
Here are Some of The Top 10 SLS Free Shampoo in India:
1. Pureology Nano Works Shampoo (For Aging Color-Treated Hair):
100 % vegan and nano technology based formula of this SLS free shampoo cleanses and nourishes the hair to make it stronger, denser and voluminous. Its anti-aging property revitalizes and protects the hair color to make your hair look youthful and shiny.
Price: INR 5600.00
2. L'OREAL Paris Ever Strong Hydrate Shampoo:
This shampoo is mild but effective cleanser for dry and dehydrated hair. It adds essential moisture to the hair, scalp and strengthens the hair to treat and prevent hair loss, damage and breakage. Thereby, this shampoo ensures a healthy hair growth.
Price: INR 1850.00
[Read:Top 10 Sulphate Free Shampoos]
3. Paul Mitchell Awapuhi Wild Ginger Moisturizing Lather Shampoo:
This sulfate free shampoo is enriched with keratin proteins which help to rebuild and repair damaged hair to produce strong and long hair. Its hydrating and color protect formula helps to nourish the hair and enhance color longevity. It is a rich lather producing cleansing agent, which renders a perfect hair wash experience.
Price: INR 1440.00
4. Giovanni Smooth as Silk Shampoo:
Apt for dull and dehydrated hair, this SLS free shampoo adds moisture to the hair making them manageable, shiny and healthier. It also protects color treated hair against discoloration and fading.
Price: INR 1325.00
5. Organix Rejuvenating Cherry Blossom Ginseng Shampoo:
A unique mix of natural extracts, like cherry blossom, rice milk and bamboo, and sulfate free surfactants that render a deep cleaning effect on the hair and scalp, strengthens the hair follicles and moisturizes the hair strands to attain voluminous and lustrous tresses.
Price: INR 625.00
[Read:Best Shampoos in India]
6. Neutrogena Triple Moisture Lather Cream Shampoo:
Designed to treat dry and chemically processed hair, this SLS free shampoo contains natural extracts from olives, meadowfoam seeds and sweet almonds that help to hydrate and nourish the hair, repair the damages, thereby making it smooth, soft, strong and shiny.
Price: INR 595.00
7. Schwarzkopf BC Bonacure Color Save Sulfate Free Shampoo:
Ideal for color treated hair, this color protect shampoo helps to safeguard and retain hair color for a longer duration, while making the hair its look soft, smooth and lustrous.
Price: INR 550.00
8. The Body Shop Banana Shampoo:
This SLS free gentle cleanser enriched with the natural extracts of banana maintain and balance hydration level, while nourishing the hair follicles to create shinier, healthier, fuller and exotic smelling tresses.
 Price: INR 495.00
[Read:Best Schwarzkopf Shampoos]
9. Johnson's Baby Shampoo:
This clinically approved soap, SLS free and alcohol free non-carcinogenic shampoo is formulated specially for the tender scalp and hair of babies but, it is also used by adults for a gentle and chemical free hair wash experience. It does not cause any irritation in the eyes because of its "no more tears" formula and leaves the hair soft and smooth.
Price: INR 240.00
10. Himalaya Herbals Anti-Hair Fall Shampoo:

This cleanser helps to treat brittle, damaged and dehydrated hair. Restorative herbal emollients help maintain moisture levels, prevent breakage and loss of hair thereby helping to produce soft, shiny, manageable and fragrant hair.
Price: INR 70.00
Have you tried any of these sulfate-free shampoo brands? If no, then go ahead and buy one right now. Don't forget to leave us your comments below. Stay gorgeous!
Recommended Articles:

The following two tabs change content below.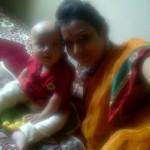 Latest posts by Khushboo Mehta (see all)