Loreal nail polishes are quite popular among nail polish lovers. Those of you who love dark metallic and classy nail shades, will love this wide variety of colors. Each of these colors come in gorgeous bottles with a metallic gold cap. It is advisable to remove the cap and use the inner handle of the brush to ensure comfortable application. The polishes are smooth and easy to work with, claiming to stay for a week without chipping. Here is a list of my top ten Loreal polishes from their wide variety. Check them out!
Loreal Nail Polish Reviews and Swatches
1. Loreal Navy Velvet:
Navy Velvet is a beautiful metallic midnight blue colour. The colour looks quite dark on its own, but you can see the metallic shimmer in it when hit by light. Requires two coats. Every single one of of the listed loreal nail polish reviews will say that this shade is simply amazing.
2. Loreal Deep Geranium:
One of my favorite colors of all. Deep Geranium is a deep berry purple in a glossy creme finish. This shade would surely flatter everyone and would look gorgeous to wear to an evening party. Requires two coats.
3. Loreal # 737:
Have you ever seen anything more gorgeous ? # 737 is a real pretty black with antique gold shimmer in it. The shimmer is not that obvious, but it can be seen in the light. Requires two coats. I so wish I can get my hands on this one.
[Read:Loreal Lipstick Shades]
4. Loreal Rosy Pearl:
For all you neutral nail polish shade lovers, rosy pearl is a pretty pink – pearl polish. It requires two coats.
5. Loreal # 733:
#737 is a nice dark shade for those who love such vampy colors. It is a purple – brown shade in creme finish. Requires two coats.
6. Loreal # 734:
# 734 is a reddish brown shade in a metallic finish. Another gorgeous shade for an evening or a night out. This one would look good with any outfit. Requires two coats too.
7. Loreal Antique Rose:
A very light pink polish with a pearl finish, Antique Rose is another work appropriate polish. This might not be a shade for everyone, but for those who love pearl finishes, do get this one. Requires two coats.
[Read:Loreal Makeup Products]
8. Merlot Red:
Come what season, red nail polish will never go out of style. I love reds for their versatility as you can wear them any time with any outfit you want and look classy as ever. Merlot red is a dark red color with a metallic finish. It requires two coats.
9. Loreal Black Ruby:
Black Ruby is another beauty with a red toned brown in a metallic finish. Requires two coats.
10. Loreal Hot Coral:
Whenever in doubt, you can never go wrong with coral nail polishes. Hot Coral is a nice bright coral that can be worn by anyone. It would surely look gorgeous for any seasons. Requires two coats.
So there are the top 10 loreal nail polish swatches from our end. Now tell us which one has stolen your heart!
The following two tabs change content below.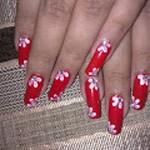 Latest posts by Neha Mane (see all)