12 Best Deep Conditioners For Soft And Healthy Tresses – 2022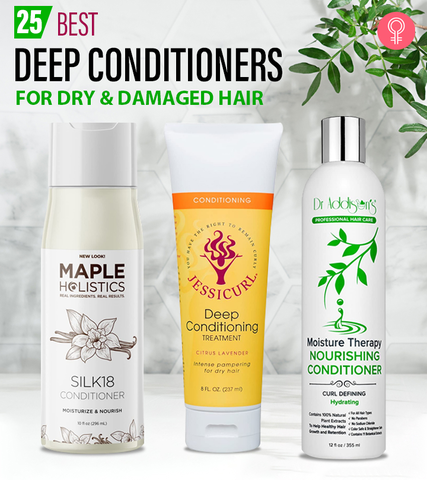 Searching for the best deep conditioner for dry hair can be overwhelming, as tons of brands offer the same. With the changing lifestyle, we often spend more time styling our hair than pampering it with proper nourishment. The results are apparent hair breaking and split ends. Deep conditioning is one of the easiest and least time-consuming ways to bring back your hair's lost shine. Using a good conditioner will quickly fix and tame the frizz while reversing the damage. Here is a list of 12 deep conditioners specially crafted for dry hair needs.
 12 Best Deep Conditioners For Dry And Damaged Hair
The Maple Holistic Silk18 Conditioner makes the hair softer, silkier, and healthier with its deep conditioning and hydrating properties. This potent formula is rich in sea buckthorn, argan oil of Morocco, and jojoba oil that hydrate the scalp and nourish the hair. The silk protein formula made with shea butter and keratin complex deeply moisturizes and treats damaged hair, boosting elasticity and manageability. In addition, it is enriched with natural oil that detangles stubborn knots, tames frizz, and prevents split ends. The conditioner comes with a vanilla fragrance that invigorates one's senses with each wash.
Key Ingredients: Sea Buckthorn, Argan Oil, Jojoba Oil, Shea butter, Keratin, and Silk Amino Acid
Pros
Natural ingredients
GMO-free
BPA-free
Synthetic color-free
Synthetic fragrance-free
Phthalate-free
Sulfate-free
Paraben-free
Cruelty-free
Cons
None
Jessicurl Deep Conditioning Treatment works wonders on dense and dehydrated curly hair with less porosity. It is enriched with a moisturizing blend of aloe vera, avocado oil, cocoa butter, and shea butter that make your locks silky smooth. The antioxidant properties of rosemary, peppermint, and basil infused in the conditioner stimulate blood circulation and protect hair follicles from further damage. This conditioner enables you to enjoy a luxury salon-like experience that takes care of bleached hair and colored hair. The formula is thick, rich, and moisturizing. It doesn't leave any build-up or residue. Its safe formula nourishes hair and tames frizz without weighing down the hair strands. Check out the review of this product for more information.
Key Ingredients: Aloe Vera, Avacado Oil, Cocoa Butter, Peppermint, Rosemary, and Basil
Pros
Natural ingredients
Long-lasting results
Pleasant fragrance
Vegan
Cruelty-free
Cons
 Dr. Addison's Moisture Therapy Nourishing Conditioner is formulated to give extra strength and hydration to your strands. It is enriched with natural ingredients that define your curls, reduce frizz, hydrate your locks, and boost moisture retention by eliminating dryness and minimizing hair breakage. The potent blend of matricaria, yarrow extract, dog rose extract, lemon balm, lemongrass, white oak bark extract, and sage leaf extract infused in the conditioner ensures an intensely moisturizing treatment that leaves you with soft and smooth tresses. This conditioner further boosts hair elasticity, improves porosity while taming frizz, repairs split ends, relieves itchy scalp, and adds volume to your hair.
Key Ingredients: Matricaria, Yarrow extract, Dog Rose extract, Lemon Balm, lemon grass, White Oak bark extract, and Sage Leaf extract
Pros
pH-balanced
Color-safe
Cruelty-free
Straightener-safe
Sodium chloride-free
Paraben-free
Cons
 The quick-acting deep conditioner from Aussie is intensely hydrating. The miracle formula works its effects within just 3 minutes! It infuses 3 times more moisture in your strands with every application. The conditioner contains avocado, loaded with biotin, monounsaturated fats, and vitamin B complex that promote healthy hair growth, enhance hair smoothness and shine, and strengthen your mane. The Australian jojoba oil infused in the formula is a super hair repairing ingredient. It is rich in antioxidants and re-energizes and revitalizes locks, and prevents hair breakage, thinning, split ends, and frizz. In addition, it leaves your hair with a pleasant fragrance that stays on long after your wash. If you want to know more about the benefits of this product, check out this quick review on YouTube.
Key Ingredients: Avocado and Australian Jojoba oil
Pros
Natural ingredients
Paraben-free
Cruelty-free
Cons
Contains silicone
Makes scalp itchy
 The Vicious Curl Moisture Surge Conditioner increases your strands' strength and resilience and keeps them thoroughly nourished. It consists of a botanical blend of goji, coffee, acai, and green tea that restores your curls with weightless hydration. The protein and amino acids strengthen the hair strands right from the follicles to the tips, preventing hair loss and thinning. Pro-vitamin B5 and vitamin E repair damaged hair, tame frizz, and enhance shine. Natural extracts of willow bark and nettle protect the strands from styling, heat damage, and harsh coloring. The potent formula stimulates blood flow and enhances scalp health. The conditioner soothes the scalp and restores healthy hair, leaving it smooth and soft without weighing it down.
Key Ingredients: Goji, Coffee, Acai, Green tea, Amino Acids, Pro-vitamin B5, Willow Bark, Nettle, and Vitamin E
Pros
Non-GMO
Lightweight
Sulfate-free
Paraben-free
Cruelty-free
Cons
 This conditioner from L'Oreal is 2x more nourishing and specially designed for dry hair. It contains an extraordinary oil blend that revives dull and dry hair. The formula offers instant results within 60 seconds of application on wet hair. It contains camellia that enhances the hair's ability to retain moisture naturally, nourishes it, and forms a protective barrier with its omega-3 fatty acids. Other ingredients infused in the formula include sunflower oil loaded with vitamin E, oleic and linoleic acids, and sesamol that boosts hair growth, and relieves itchy scalp, and hydrates it. In addition, this 20% damage repairing conditioner leaves a refreshing sunflower fragrance with each wash. Here's an honest review of the product.
Key Ingredients: Camellia and Sunflower Oil
Pros
Natural ingredients
Lightweight
Pleasant fragrance
Fast-absorbing
Does not weigh hair down
Cons
None
 This conditioner from L'Oreal is specially designed for damaged hair. The complex formula coats your tresses, providing 450-degree heat protection. Almond oil moisturizes and strengthens hair, helping it to grow thicker with enhanced shine. The infused protein nourishes and revives brittle and damaged hair. The deep conditioning serum restores your tresses in just 60 seconds!
Key Ingredients: Almond Oil and Proteins
Pros
Lightweight
Does not weigh hair down
No leave-in time
Cons
Looking for an intense reparative formula that ensures less hair breakage? Try Dr. Miracle's deep conditioner. It conditions the hair and makes it 3 times stronger to reduce breakage. This product brings about a perfect balance of hydration and nourishment to your hair. The rice protein infused in the conditioner is an excellent volumizing agent that boosts thickness, volume, shine, and manageability. It also contains babassu oil that keeps the strands moisturized for longer and prevents breakage. Coconut oil stimulates hair growth, intensely repairs hair, and restores moisture to dry and damaged hair. Black castor oil is loaded with vitamin E and omega fatty acids that mend damaged hair and split ends. Finally, tea tree oil cleanses and restores hair and scalp health.
Key Ingredients: Rice Protein, Babassu Oil, Coconut Oil, Black Castor Oil, And Tea Tree Oil
Pros
Clinically-tested
Sulfate-free
Mineral oil-free
Petroleum-free
Phthalate-free
Cons
May cause breakouts on sensitive scalp
 If you are looking for a conditioner that profoundly conditions and keeps your curls intact, this is the product for you. The product is specially formulated to nourish wavy and curly hair. The formula has a thick, buttery texture that coats every strand with moisture in a few minutes. It contains the rare andiroba and resurrection flowers that seal moisture and hydrate your dry curls. The healthy fats from the mashed avocado deeply penetrate the hair shafts, enhancing scalp health and promoting strength. Aloe vera juice is loaded with vitamins A, B, C, and E, and proteolytic enzymes that repair and revive dead skin cells, reduce dandruff, and condition hair. Moreover, the apricot kernel oil enhances softness, controls moisture, and stimulates hair and scalp.
Key Ingredients: Mashed Avocado, Rose Of Jericho, Aloe Vera Juice, Apricot Kernel Oil, and Rare Andiroba
Pros
100% vegan
Sulfate-free
Phthalate-free
Paraben-free
Silicone-free
Mineral oil-free
SLS-free
DEA-free
Cons
 This hair care product from Pantene conditions your hair without weighing it down. The unique blends in this deep conditioner for dry damaged hair also prep up the strands to dry faster after a shower. This conditioner contains deeply absorbing pro-vitamin B5 that nourishes and protects the hair against damage, weakness, and hair fall. The infused lipids strengthen the hair strands from their root to the tips. They also prevent breakage and split ends. In contrast, the antioxidants form a powerful and protective blend and shield the hair against sun damage, and loss of moisture and nutrients. It leaves a refreshing fragrance of wild berries, fresh florals, and rich, creamy vanilla notes with every wash.
Key Ingredients: Pro-vitamin B5, Lipids, and Antioxidants
Pros
Long-lasting results
Weightless
Color-safe formula
Gentle on chemically treated hair
Cons
None
 The expertly formulated deep conditioner from Soap Box transforms lifeless, dull, and damaged hair into that with a healthy radiance. It is one of the best deep conditioners for dry hair infused with coconut oil's nourishing properties. It removes buildup, smoothens hair, repairs split ends and damaged hair while intensely moisturizing it at the same time. Soya bean oil contains fatty acids, vitamins, and minerals that help with healthy hair growth, retain moisture, and boost elasticity of the strands. Tea tree oil kills bacteria, eliminates toxins, treats dandruff, purifies the scalp, and stimulates blood circulation. Vitamin E nourishes and supports hair and scalp health. The shea butter and aloe vera blend deeply moisturize hair and offer 6x more intense hydration.
Key Ingredients: Coconut Oil, Soya Bean Oil, Tea Tree Oil, Vitamin E, Shea Butter, and Aloe Vera
Pros 
100% vegan
Sulfate-free
Paraben-free
Silicone-free
Cruelty-free
Cons
The deep conditioning hair mask from Biolage is an excellent revitalizing product. It is enriched with aloe vera loaded with antioxidants that revive dry scalp, relieve dandruff, and soothe inflammation. In addition, this balm helps seal hair strands, locks in their natural moisture, and prevents further breakage. It is lighter and thicker in consistency, and offers a soft lingering floral scent. It is suitable for color-treated hair. Regular use controls static, flyaways, and frizz.
Key Ingredients: Aloe Vera
Pros
100% vegan
Mild fragrance
Color-safe
Sulfate-free
Cons
Contains alcohol
Contains parabens
Why Trust StyleCraze?
The author of this article, Shiboli Chakraborti, has an immense interest in hair care. She keeps a constant check on various products used in hair care. The list of best deep conditioners for dry hair is compiled after extensive research and reading reviews from trusted platforms online. These conditioners reverse hair damage and add a lustrous look to the hair.
Recommended Articles