The 8 Best YUNI Beauty Products To Start With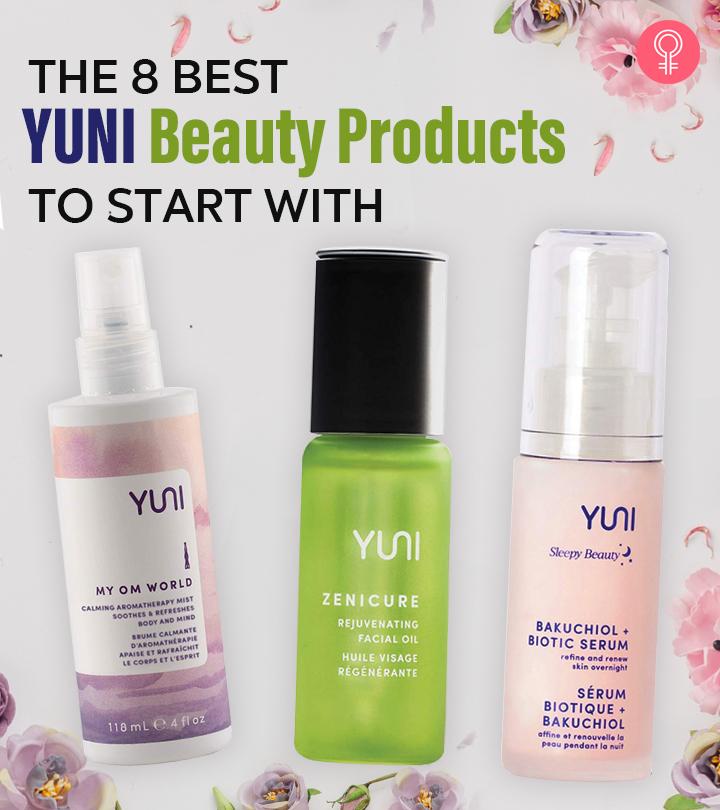 What if your skin care products calm and refresh your skin just as yoga keeps you mentally fit? Sounds too good to be true? Well, YUNI does exactly that. This brand is based on the philosophy of "responsible beauty" that restores your skin health and relieves stress.  YUNI products contain active plant-based ingredients that are non-toxic and sustainably sourced. All the products are cruelty-free and do not contain parabens, phthalates, formaldehyde, petrolatum, SLS, SLES, mineral oil, synthetic colors, fragrances, GMOs, PABA, EDTA, and PEGs.
In this article, we have listed the 8 best YUNI products that you can buy online. Scroll down to check them out!
The Top 8 YUNI Beauty Products
The YUNI Active Calm Firming Facial Moisturizer is long-lasting and absorbed easily into the skin. It contains edelweiss plant cells, antioxidants, and fatty acids that smoothen fine lines and wrinkles.Buriti oil rich in beta-carotene and vitamin E help reduce skin irritation. Green tea extract prevents blemishes, while essential oils and turmeric root regulates stress levels. Coconut oil contains fatty acids that nourish the skin and make it plump.
Key Ingredients: Edelweiss plant cells, Organic buriti oil, Green tea extract, and Turmeric root
Pros
Reduces fine lines
Pleasant fragrance
Absorbed quickly
Long-lasting
Cons
Not suitable for sensitive skin
The YUNI My Om World Calming Aromatherapy Mist contains aromatherapy body oils that help refresh, relax, and energize your skin. It creates a protective shield on the skin that prevents it from drying. This body mist protects the skin from extreme temperatures and dehydration caused by air conditioners.
Its fragrance is a blend of essential oils – bergamot, germanium, neroli, and sage oils – which provides deep relaxation. The blend of essential oils also rejuvenates the skin. This body mist contains soothing ingredients like organic kukui seed oil and green tea extract that help moisturize your skin.  It is non-drying and absorbed easily into the skin.
Key Ingredients: Organic kukui seed oil, Green tea extract, and Essential oils
Pros
Mild fragrance
Absorbed easily
Non-drying
Rejuvenates the skin
Cons
The YUNI Zenicare Rejuvenating Facial Oil is made from natural stress-relieving oils with restorative properties that help repair worn and tired skin. It smoothens, brightens, and firms the skin. Cannabis oil, rich in omega 3 and 6,helps make your skin youthful. Paracress extract helps calm the facial muscles and reduces fine lines and wrinkles, while madonna lily helps treat skin discoloration and prevent dark spots by reducing excess melanin production of the skin.
Key Ingredients: Cannabis oil, Paracress extract, Madonna lily extract, and Mirabilis jalapa callus extract
Pros
Adds glow
Prevents dark spots
Makes the skin smooth
Diminishes fine lines and wrinkles
Cons
The YUNI Beauty Gliding Light Illuminating Body Balm helps hydrate the skin and add glow. The illuminizing minerals add shimmer to the skin. Kukui seed extract is rich in vitamins C, E, and A, and it protects the skin from harsh environmental aggressors. Turmeric root extract imparts a youthful appearance to the skin. Jojoba oil helps hydrate the skin, and shea butter encourages cell turnover. This product is long-lasting and makes the skin plump.
Key Ingredients: Kukui seed oil, Turmeric root, Jojoba oil, Shea butter, and Mica
Pros
Nourishes the skin
Long-lasting
Can be used on the lips, cuticles, and hair
Mild fragrance
Cons
The YUNI Glow With The Flow Face And Body Scrub is a daily skin refining treatment that eliminates dullness.The natural exfoliants help soften and nourish the skin. A mild blend of bamboo, apricot, and oat kernel helps eliminate skin impurities.Baobab oil nourishes the skin, and the essential oil aroma creates a calming experience for the mind. This face and body scrub contains a blend of frankincense, ylang-ylang, and lavender essential oils, which stimulates the senses and helps relieve stress.
Key Ingredients: Green tea extract, Baobab oil, and Essential oils
Pros
Suitable for daily use
Can be used as a body polish
Relieves stress
Softens the skin
Nourishes the skin
Cons
Not suitable for sensitive skin
The YUNI YUNICORN Celestial Jelly Mask Cleanser is a dual-action product that can be used as a mask and cleanser. It keeps the skin detoxified and supple. This mask cleanser contains sea lavender, honeysuckle, and rice bran to remove impurities, restore skin moisture, and impart a radiant glow to the skin. The gel-to-milk formula purifies and revitalizes your skin.
Key Ingredients: Sea lavender, Honeysuckle, and Rice bran extract
Pros
Long-lasting
Imparts glow
Makes the skin soft and supple
Cons
The YUNI Light Seeker Glow Face Oil is non-comedogenic, lightweight,and absorbed easily into the skin. It firms the skin and smoothens fine lines and wrinkles. This face oil helps treat dryness in the lips and cuticles and provides a healthy glow when added to the foundation. Jojoba oil helps combat skin aging, and marula oil brightens the skin.Rose flower extract helps soothe and nourish the skin. This product can also be used as a makeup primer.
Key Ingredients: Organic jojoba oil, Organic marula oil, and Rose flower extract
Pros
Non-comedogenic
Lightweight
Non-greasy
Absorbed easily
Can be used as a makeup primer
Cons
None
The YUNI Sleepy Beauty Bakuchiol + Biotic Face Serum can be included in your night skincare regimen. The gel formula helps keep the skin youthful and healthy. Bakuchiol extracts help restore and renew the skin moisture. This ingredient also helps support increased cell turnover and stimulates collagen production. Biotic actives contain probiotics that optimize the microbiome of the skin, retaining hydration. This product is lightweight, long-lasting, and non-irritating.
Key Ingredients: Bakuchiol and Biotic actives
Pros
Lightweight
Long-lasting
Non-irritating
Smoothens the skin
Absorbed quickly
Gentle formula
Cons
None
That was our round-up of the 8 best YUNI products. They are vegan and help preserve the positive power of your athleisure activities. The products mentioned above ensure your skin feels equally relaxed as your mind.So, what are you waiting for? Take your favorite pick from our list now.
Frequently Asked Questions
What makes YUNI different?
YUNI is developed to fit into the needs of active health seekers who practice fitness regimens. Their products calm the mind and relieve stress. They contain natural ingredients, aromatherapy oils, and extracts of organic fruits. YUNI is also committed to sustainable manufacturing and fair-trade sourcing practices.
Are YUNI products tested on animals?
No. YUNI products are cruelty-free and not sold in countries where animal testing is mandatory.
Are YUNI products vegan?
Yes. YUNI products are made of 100% plant-based ingredients.
Are YUNI products safe for sensitive skin?
Yes. YUNI products are suitable for all skin types.
Is it safe to use YUNI products if I have allergies or environmental sensitivities?
Yes. However, scan the ingredient list and identify if you are allergic to any of them. Do a patch test and check how your skin reacts to the product.
Recommended Articles