Who has not heard of OPI? OPI is a world famous brand of nail polish that not only come in amazing shades, but also wonderful, quirky names. They constantly keep including new colors in their collection so you will always have a variety of shades to choose from. Here is a list of my top OPI nail polishes ranging from cremes to glitters to shimmers.
Top 10 OPI Nail Polishes:
1. OPI Pink-Ing Of You:
Pinks are my favorite but it is very difficult to find a nice light shade of pink. This one fits the bill exactly. Pink-Ing Of You is a pretty bubblegum pink in a creme finish. It is a color that will look good on everyone. Requires two coats.
2. OPI Pearl Of Wisdom:
Buy OPI Pearl Of Wisdom @ www.amazon.in/opi-pearl-of-wisdom
Pearl of Wisdom is a gorgeous pink – pearl polish. The shimmer in this is quite intense and will look good when you do not want color on your nails. It would even look pretty as a base for a French manicure. However, the shade is quite sheer so you can layer it over black for added beauty.
3. OPI Alpine Snow:
Buy OPI Alpine Snow For ₹ 1117.87 @ www.amazon.in/opi-alpine -snow
We all know how difficult it is to find that perfect white that will give an even coverage and not streak. Alpine Snow is the answer to that. It is a white polish with creme finish. Requires three coats.
4. OPI Cajun Shrimp:
Buy OPI Cajun Shrimp For ₹ 1,221.00 @ www.amazon.in/opi-cajun-shrimp
Cajun Shrimp is a bright red with orange undertones to it. Another creme finish polish. If you want to try red but are not sure enough, this color would be good as it leans towards red but isn't. Requires two coats.
5. OPI My Private Jet:
Buy OPI My Private Jet For ₹ 1,208.00 @ www.amazon.in/opi-my-private-jet
My Private Jet is a metallic brown with loads of holographic glitter and gold shimmer. It is my favorite of the lot. A very difficult polish to find, this one. Requires three coats.
6. OPI Did You 'Ear About Van Gogh ?
Buy OPI Did You 'Ear About Van Gogh For ₹ 8,776.69 @ www.amazon.in/opi-did-you-'ear-about-van-gogh
If bright colors are not your style, here is a beautiful neutral shade for everyday wear. It is a light beige polish in a creme finish. An excellent choice to wear for work. Requires two coats.
7. OPI Dutch Ya Just Love OPI ?
Buy OPI Dutch Ya Just Love OPI For ₹ 9,097.06 @ www.amazon.in/opi-dutch-ya-just-love-opi
Purples are not really my kind of color but this is one no one can resist. It is a beautiful red – purple with red and gold shimmer. A perfect polish to wear for festive occasions with just the right amount of bling. Requires two coats.
8. OPI Vampsterdam:
Buy OPI Vampsterdam For ₹ 1,083.00 @ www.amazon.in/Opi-vampsterdam
Vampsterdam is a dark plum color with silver shimmer to it. A metallic color that would be great for evening wear. Requires two ocats
9. OPI Pirouette My Whistle:
Buy OPI Pirouette My Whistle For ₹ 1,294.00 @ www.amazon.in/opi-pirouette-my-whistle
When we are talking of the top polishes, how can we not include a glitter? Here is a clear polish with fine silver and white hexagon glitters in it. A pretty polish that you can easily wear alone or pair it with your favorite polishes.
10. OPI Banana Bandana:
What is summer without a yellow polish? Banana Bandana is a nice muted yellow in a creme finish. A perfect yellow that anyone can wear. Requires two coats.
So, are you ready to get these OPI nail polishes to apply great nail arts? If you are tired of the same one toned nails and simple designs, there are many more you can try from our free nail art android app. Download it right away and master the nail art.
The following two tabs change content below.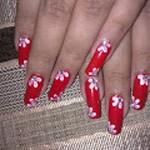 Latest posts by Neha Mane (see all)