7 Kiwi Fruit Face Masks That You Can Try Today
Great skin out of your fruit basket!
You have got to love kiwi. It adds taste to my salads. The juicy, tangy and sweet taste of kiwi spices up my otherwise bland-tasting salads. Makes weight loss much easier. This yummy-tasting fruit could also help you get yummilicious skin.
Kiwi can really help you get skin that is synonymous with adjectives like healthy, radiant, glowing and flawless! Before we get down to the details of face masks, here are few facts about Kiwi fruit.
Kiwi Fruits Facts:
Kiwi has 3 times more vitamin C than oranges.
It boosts immunity
Aids in fighting off infections
Repairs our body tissues
High in minerals, it regulates body fluids, blood pressure and electrolytes level in body.
Omega 3- fatty acids and alpha-linoleic acid in the seeds of Kiwi help maintain heart, joints and metabolic health.
The Vitamin E content prevents anti-aging and protects from free radicals
The healthy benefits of Kiwi are further accentuated with its beauty benefits. So here are 7 most amazing kiwi face masks for glowing skin.
** Caution**
Some people can be allergic to Kiwi face packs. So it is best advised to do a patch test first. Rub a small piece of kiwi fruit on your skin. If you feel any discomfort and see any inflammation thereafter, please don't try these fruit face packs.
Must Try Kiwi Face Masks:
1. Yoghurt and Kiwi Face Pack:
Yoghurt and Kiwi, both have one thing in common. They both are equally good for consumption and topical application. To use:
Finely chop the fruit (or use the readymade pulp)
Mix it well with a tablespoon of yoghurt.
Apply the paste evenly on your face
Leave it on for 15-20 minutes
Wash off with warm water for a glowing skin.
[ Read: Face Masks For Glowing Skin]
2. Almond and Kiwi Face Pack:
Almond is a major source of vitamin E. This, when teamed with Vitamin C of kiwi makes for a great face mask. To use:
Soak a few almonds overnight
Crush them the next day to make a fine paste with little besan/gram flour
Now add chopped kiwi/kiwi pulp to this paste
Use this paste evenly on your face
Wash off after it dries
3. Lemon and Kiwi Face Pack:
Lemon juice is natural bleach and kiwi's nutritional content is great for a youthful skin. This combination of face mask is best suited for people with oily skin. To use:
Mix Kiwi pulp with some fresh lemon juice
Apply it to your face using a cotton ball.
Leave it on for 15 minutes
Wash off with lukewarm water later.
This face mask will help minimize your pores and blemishes.
4. Nourishing Kiwi and Banana Face Mask:
This pack is suited for dry to normal skinned people. The vitamins in banana are great for skin. To use:
Mash a banana
Add Kiwi and a tablespoon of yoghurt to it
Apply this paste to your face
Leave it on for 15 minutes.
Wash with warm water
This mask will hydrate and soften your skin.
5. Rejuvenating Kiwi Fruit Face Mask:
This face mask is great for rejuvenating your skin. It gives a life to dull skin. To use:
Mash Kiwi and strawberry to form a pulpy paste
Add sandalwood powder and fuller's earth. These ingredients are good for oil control.
Apply the paste on your face for 15 minutes
Wash off with warm water.
This Kiwi face pack works wonders on all skin types.
6. Avocado and Kiwi Face Pack:
Avocado has vitamin A, E and C. All these are essential good for a healthy and glowing skin. To use:
Mash half avocado and kiwi until it's smooth and creamy
Add honey to the paste to make the pack more nourishing
Apply it evenly to your face and keep it for 15 minutes
Wash off with warm water.
This face pack is for all those who need an anti-ageing solution.
7. Kiwi and Egg yolk Pack:
Egg has skin tightening and skin clearing properties. To use:
Mask half kiwi along with a tablespoon of olive oil/almond oil
Add one egg yolk and mix well.
Apply to your face and keep it for 15 minutes
Wash it warm water.
This face mask with help you get a glowing skin with an improved complexion.
Use any one of the above-mentioned homemade fruit face masks and tell us how it worked for you. These kiwi face masks will definitely nourish your skin the natural and right way!

The following two tabs change content below.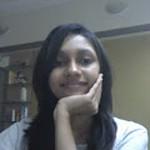 Latest posts by Riddhi Jholapara (see all)