15 Best Beach Bags To Carry All Your Personal Essentials – 2022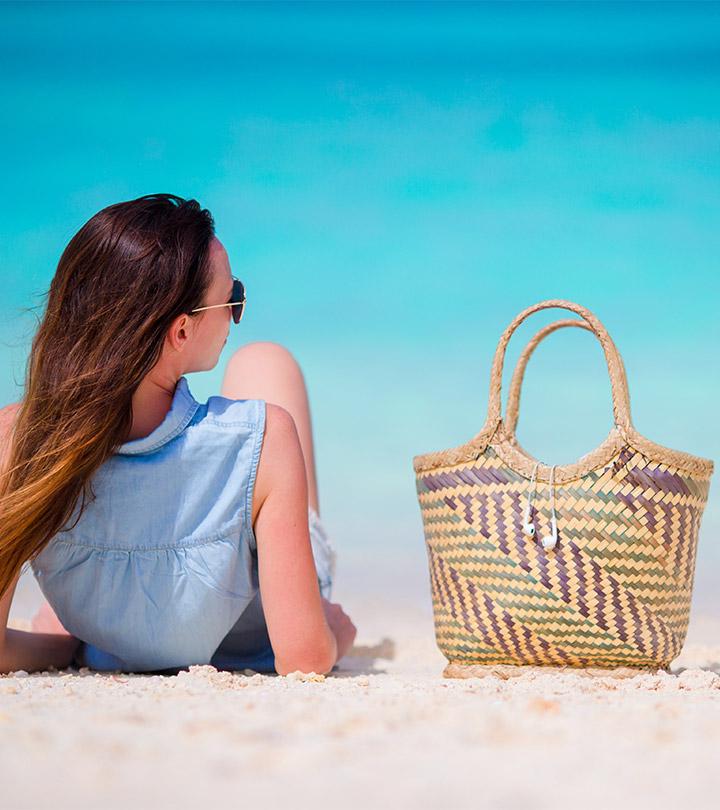 If you love spending your summer weekends on a beach, you know the importance of the best beach bags. Relaxing at the sound of the crashing waves is a pleasant experience, but if you want to spend long hours at the beach, you have to carry certain essentials. You will need your sunscreens to protect your skin and sunglasses for your eyes. Towels are a must-have if you are into watersports or love to spend time in the water. This is where a good beach bag can help you keep these essentials safely organized.
However, there are quite a few crucial aspects to consider while buying a beach bag. It should be functional enough without compromising style and aesthetics; because space and durability may be the first priority, but Instagram-worthy pictures are also important. The market is crowded with various brands offering different designs of beach bags that are to die for. Therefore, choosing a suitable product can be a daunting task. But fret not because we have got you covered. This article lists the 15 most sought-after beach bags that are sturdy and durable. So, wait no more. Scroll down and grab your favorite.
15 Best Beach Bags To Keep You Covered For Your Next Beach Trip
Crafted from strong yet lightweight mesh material, the Dejaroo Mesh Beach Bag can accommodate all your beach essentials without looking ridiculously bulky. With a use-for-anything construction, this mesh beach bag is worth the pick if you're looking for something versatile. It features 8 pockets that make it extremely convenient to organize all your belongings so you spend less time looking for your sunscreen in your bag and more time enjoying the waves. The straps of the bag are quite sturdy and promise comfort and a good hold. So, stuff your beach towels, slippers, sunglasses, bottle, and sunscreen in this huge mesh bag for the beach and tote around worry-free!
Pros
Features multiple pockets
Comfortable straps
Extremely lightweight
Available in many color variants
Cons
May have a peculiar smell
Made from neoprene with nylon lining, this beach tote bag measures 14 x 12.5 x 10 inches and comes with 2 inner zipper pockets that offer enough space to store all the essentials. While this beach tote bag is extremely functional, it does not compromise on looks and aesthetics. The bag is designed such that you can switch between 3 different styles of carrying it— complementing every occasion and almost any outfit. And when you plan to take it to your next vacation, you can easily fold it and put it in your suitcase without it adding much weight to your baggage. This quick-dry tote bag is sure to last you for years.
Pros
Features magnetic closure
Easy to carry
Comes with a detachable shoulder pad
Machine washable
Dries quickly
Made from durable material
Cons
Some may find the straps thin.
When hitting the beach, the most obvious pick is a waterproof beach bag. This stylish yet really huge beach tote bag is made with canvas-like material with a cotton lining and an interior waterproof lining, making it perfect when you hit the beach with your family. The ripstop construction ensures that your essentials are safe from getting wet or damaged. The bag also comes with a water, dust, and sand-proof PVC case that makes it all the more convenient to safely store your wallet and phone. This awesome beach bag is made from extremely sturdy material that allows you to store belongings weighing up to 10 kgs. With 1 inner pocket and 2 pockets on the outside for keeping bottles, this bag is all you need when you plan your next day out at the beach.
Pros
Features big inner pocket
2 outer pockets
Comfortable rope handles
Features a built-in keyholder and bottle opener
Machine washable
Cons
Does not come with a zipper
If you're all about going to the beach in style, this is one of the best beach bags worth laying your hands on. This bag is both practical and attractive, perfect for a summer, beachy day. It measures 22 x 13 x 7 inches and features 25-inch-long cotton rope top handles. It has an inner pocket that lets you store your phone and other valuables while the larger compartment can easily fit in your towels, sandals, and much more. What makes this a winner among so many popular beach bags is that anyone, irrespective of their age, can carry this bag well with any beach outfit. So, invest in this cool tote bag and carry everything you love to the beach.
Pros
Extra large tote bag
Features a zip closure
Can be washed
Comes with a dark inner lining to keep things dry
Cons
Yet another stylish mesh beach tote bag on our list, this reusable bag measures 20 x 15 x 7.5 inches and can accommodate all your beach essentials. Featuring 9 big exterior pockets, the bag lets you carry your bottle, sunglasses, towel, flip-flops, and other belongings. The base layer is made to be waterproof so as to prevent your belongings from getting wet, and the base of the bag from collecting sand. The bag is extremely lightweight and can easily be folded to fit in your suitcase when you travel. The sturdy shoulder straps and the carabiner hooks for holding keys are some of its additional smart features that make it worth your investment.
Pros
Features polyester lining
Comes with a zipper closure
9 exterior pockets
Waterproof base
Cons
Some may not find the construction sturdy enough.
This straw beach bag made from 100% natural jute fiber is crafted to fit your heavy essentials. To make it water resistant and a practical choice for beaches, it has a clear coating of PVC. Since the handles are made from cotton, they're quite soft and rest on your shoulders without feeling uncomfortable. The Hibala Straw Beach Bag is specifically well-suited for those who prefer eco-friendly and natural bags, ensuring it is both reusable and creates no waste. While it is an ideal choice for a day out at a beach, you can also carry it for shopping, to the movies, or a picnic.
Pros
Made from natural material
Extremely versatile
Water resistant
Offers plenty of storage space
Cons
A perfect pick when you look for a unisex beach bag, the Scout 4 Boys Bag is extremely lightweight yet super large to let you carry essential for 2 people. When not in use, it folds flat and is easy to store. It measures 24 inches wide, 19 inches high, and 12 inches deep. The heavy-duty shoulder straps are made to bear the weight of the bag when you fill it up completely. The all-weather polypropylene fabric is easy to clean, and it is both light in weight and water-resistant. The bottom of the bag is designed to stay stable so that it stands on its own. And the good news is that you can pick from a variety of patterns and colors to suit your style!
Pros
Sturdy
Lightweight
Stable base
Comes with a U-scoop zipper closure
Cons
Some may find the fabric too rigid for their liking.
This pretty beach tote bag in the combination of beige and white is all you need to make a statement on the beach. It is made from durable and heavy-duty canvas material that also gives it a touch of elegance. Perfect for the modern woman, this beach tote bag features 2 pockets on the outside and 3 on the inside to house all your beach essentials. One out of the 3 pockets on the inside is zippered to safely store valuables. The handles are very convenient to hold as well as carry the bag on your shoulders. To add more cuteness to this oversized beach bag, it comes with a cute little pom-pom in pink color.
Pros
Features 5 pockets
Comes with a zipper
Comfortable cotton handles
Easy to store
Cons
May not have a well-tailored inner lining
This mesh beach bag from Hoxis is sure to please those who love everything simple and minimalistic. Made from canvas and polyester, this mesh tote bag comes in a single color that lets you easily color-coordinate it with your outfits. Not only does this bag serve as a perfect beach companion but it is also ideal to be carried to work, school, shopping, or even to the gym. It measures 17.3 x 15.7 x 5 inches and has a shower drop of 11.8 centimeters. This makes it extremely easy and comfortable to carry it around on shoulders. So, invest in this cute tote bag and plan your next vacation fret-free!
Pros
Roomy
Lightweight
Minimalistic construction
Available in many colors
Cons
Does not come with zipper closure
Has only 1 inner pocket
Style meets functionality with this tote beach bag by Ledaou. Water-resistant and sand-proof, it is made from thick, durable, and unique polyester and is blessed with all the features that an ideal tote bag should have to let you carry all your beach essentials without having to worry about space. It is made from high-density polyester which also means that the bag is extremely easy to clean and care for. With 50 liters of capacity and measuring at 21.6 x 15.7 x 8 inches, the bag has 9 pockets to store your belongings. Given its size and capacity, this beach tote bag with long and durable handles is a perfect option when you're headed to the beach with your family.
Pros
Features a zipper closure
Water resistant
Sand-proof
Comes with 9 pockets
Has a separate wet compartment
Cons
The stitching may not be as strong.
This multi-purpose waterproof beach bag by Keho comes to your rescue when you decide to hit the beach and make carrying all your essentials completely hassle free. This beach tote bag is quite large and can easily fit everything that you might need at the beach. With a bunch of compartments and pockets, 2 side bottle holders, and a waterproof phone case, you won't have to fret about your phone or any of your valuables being damaged or lost. It features a sturdy over-the-shoulder handle for easy portability. When not in use, you can conveniently fold it and store it in your drawer. What makes it beach-friendly is its inner waterproof lining designed to keep your belongings safe from being wet.
Pros
Has an interior waterproof lining
Features a waterproof phone case
Comes with hidden compartments
2 side drink holders
Easily foldable
Cons
Some may find it slightly expensive.
This boho style beach bag with strong and sturdy hemp rope makes sure that you hit the beach in style. Measuring 21 x 18 x 6 inches, it offers you all the space that you need to store your towels, makeup, bottle, snacks, flip-flops, and much more. This bag is both waterproof and sand-proof as it features an inner layer made from polyester while canvas has been used for the outer layer. It comes with 4 inner pockets so you can safely store your phone and wallet too. While this beach bag has a mandala pattern all over it, you can choose from 8 different styles if you're looking for more options.
Pros
Features 4 inner pockets
Top magnet clasp
Has side pockets
Built-in keychain
Comes with a built-in bottle opener
Cons
Some may find the material a little thin.
One of the best beach bags in terms of construction and quality, the Yeti Camino Carryall Bag is made from ethylene vinyl acetate that makes it extremely durable and sturdy. This heavy-duty bag has an inner pocket and plenty of space to store your essentials. It weighs just 3.3 lbs when empty, and so remains relatively lightweight even as you fill it up completely. It features hitch point grids that allow you to attach keychains, bottle opener, or a Molle zinger based on your needs. Whether you plan to go to the beach, on a boat, or simply hit the gym, this big will keep you covered.
Pros
Has a thickskin shell
Eva molded bottom
Extremely sturdy and durable
Lightweight beach bag
Easy to clean
Puncture and abrasion resistant
Waterproof bottom
Cons
Does not come with a zipper closure
Forget about tracking sand into your vehicle after a long day at the beach with this sand-proof mesh beach bag by Vifuur. With 7 deep exterior pockets that give you the liberty to store just about anything, this bag offers unmatched storage space and convenience. It has 4 loops and a practical hook, and a waterproof inside pockets lets you store your phone and wallet. The capacity of this extra-large beach bag is 40 liters and it also features a padded handle. While it has been thoughtfully designed to let you carry your essentials to the beach, you can also put it to use when you go grocery shopping.
Pros
Odorless fabric
Tear resistant
7 deep exterior pockets
Waterproof and sand-proof bottom
Foldable
Features a padded handle
Cons
The handles may not be as comfortable to carry the bag for long durations.
This trendy beach bag with floral and blossom patterns is all you need on a sunny day at the beach. The Lilly Pulitzer Tote Bag is made from all-weather polypropylene and has gold accents that reinforce its structure. It measures 20 x 10 x 15 inches, offering plenty of space. To make storing your valuables a lot easier, it also comes with a full-length interior pocket. This bag is crafted to be versatile and can be carried to beaches, picnics, shopping, and even while traveling. As this bag is both tear resistant and water resistant, expect it to last several years through your countless beach visits!
Pros
Heavy duty
Tear-resistant
Foldable
Easy to store
Lightweight
Cons
The material may feel too rigid.
What makes choosing a beach bag different from choosing a regular bag is the fact that beach bags serve a very specific purpose. And so, you should know what aspects to consider when buying one. We're here with a segment on what to look for in a good beach bag to make the process a lot easier for you.
What To Look For In A Good Beach Bag?
When you hit the beach, you'd want to carry 1 or 2 towels, your sunglasses, a pair of flip-flops, and other essentials as well. And this would require a lot of space, and a normal bag may not suffice. This is why one important thing to check when you buy a beach bag is its volume and dimensions. In terms of dimensions, an ideal beach bag should measure at least 15 x 17 x 7.5 inches. And in liters, anywhere between 30 to 40 liters should be enough for you to be able to store your essentials. However, you will also have to take into consideration what exactly you would want to carry to the beach to be able to tell how big your beach bag should be.
In case of pockets in beach bags for women, the more the merrier. Having as many pockets will allow you to store different things in separate compartments and so you will not have to dig through your bag to find them. In addition to that, you can also look for side pockets that let you store your bottles so that there's no spillage in case your bottle leaks. Also make sure that your bag has at least one zippered pocket so that it lets you store your valuables such as wallet, phone, etc. without having to worry about mixing it up with other things or exposing it to the sand or water at the beach.
While you'll find beach bags made out of a variety of materials on the market, some are a better choice than others. The most popular choice is always a beach bag made from polyester or nylon as these 2 materials are a lot more durable, water-resistant, and sand-proof. They are also very easy to care for. The second most popular material that goes into making beach tote bags is mesh. Mesh bags are a preferred choice because they don't collect sand and they're also extremely lightweight. You can clean them very easily. However, if you're looking for a more traditional option, canvas beach tote bags never disappoint. They look stylish, are durable, and can also be easy to clean. Yet another conventional option is beach bags made from straw. However, the downside to buying straw tote bags for the beach is that they're not waterproof.
Since beach bags are quite large, it is extremely crucial that the handles or the straps of the bag are comfortable and non-irritating or pain-causing. This is because people generally prefer to take strolls on the beach and when you do that, you wouldn't want it to be a bad experience because of a pair of straps that cause any kind of discomfort or pain. Most popular materials for straps that are comfortable are rope, cotton, or vegan leather, and even leather handles are a popular choice. It is also recommended to make sure that the straps are secured well to your beach bag so that they don't break while you're out.
If you carry your bag to the beach, you would want to clean it so it does not grow mildew and is ready to use again. Keeping this in mind, it is always recommended to invest in a beach bag that is extremely easy to clean or is washable.
Some brands integrate several accessories into their beach bags such as waterproof cases, built-in key holders, bottle openers, etc. One accessory that would absolutely be a blessing is wet bags. Wet bags make it easier for you to be able to carry your wet swimsuit and towels in the bag and keep them separate from your dry clothes. And a waterproof case can make carrying your phone and wallet a lot safer, ensuring they don't get exposed to water.
Why Trust StyleCraze?
Priyam Gupta, the author of this article, is a fashion lover and tries out various fashion items to help her readers find the perfect ones. To this end, she hunted for the best beach bags for her readers. After trying some herself and reading several product reviews, she made a list of the most amazing ones. These listed beach bags are not only functional and durable, but they are also stylish.
Recommended Articles:
Best Trendy Beach Bags With Coolers
Best Designer Tote Bags For All Your Daily Needs
Best Tote Bags For Moms
Best Handbags You Need To Get Your Hands
Best Travel Fanny Packs – Reviews & Buying Guide