13 Best Shoe Deodorizers Of 2020 To Keep Your Shoes Smelling Fresh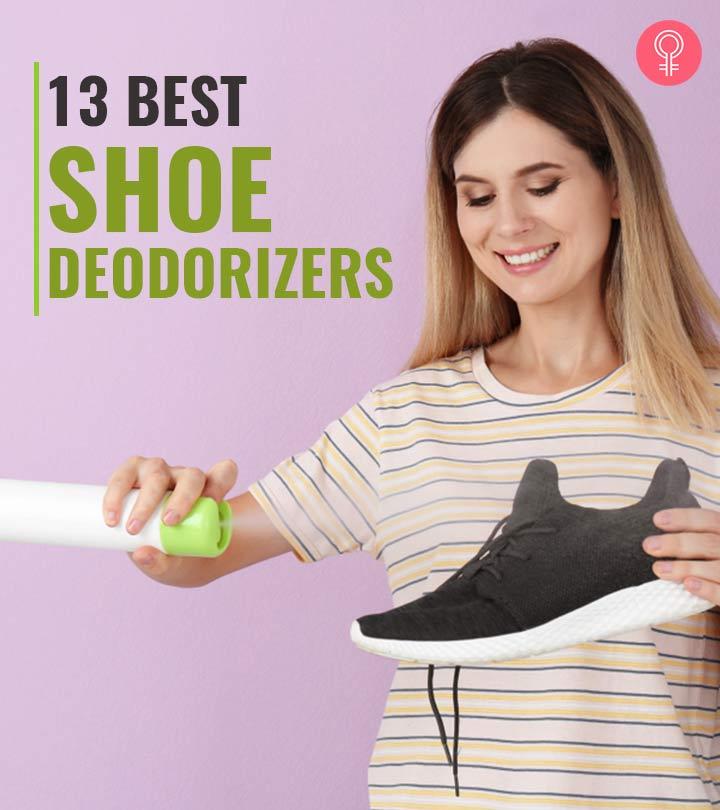 Stinky shoes can be an embarrassment. Such a situation is quite common while you play a sport. We spend hours wearing sports shoes while at play, leading to a lot of sweat. This can cause a pungent odor due to the formation of isovaleric acid by the Staphylococcus epidermidis bacteria (1).
Fortunately, you can prevent this problem with shoe deodorizers and sprays. These products work great for all kinds of shoes and areas that smell bad. Here, we have listed the 13 best shoe deodorizers available on the market. Take a look.
13 Best Shoe Deodorizers
The natural shoe deodorizer spray from Lumi Outdoors is made using essential oils and also works as an effective air freshener. It fights the bacteria that grow in the shoes because of dirt and sweat. The spray contains rich essential oils such as that of lemongrass, eucalyptus, peppermint, and tea tree that fight the toughest of foot and shoe odors. The active ingredients have antibacterial and antifungal properties that help prevent fungal infections too. This product is natural and safe to use. Just a few spritzes will take all the odor away.
Pros
Organic shoe deodorizer
Works as an air freshener too
Made of all-natural ingredients
Easy to use
Fast action
Cons
A strong smell
Not suitable for old shoes
The Foot Sense Natural Shoe Deodorizer Powder is made of arrowroot and zinc oxide. The powder is safe, effective, and refreshing. This powerful talc-free powder keeps shoe odor at bay. It is also effective to soak excess sweat from athletic shoes, dance shoes, hockey skates, gloves, and other sports and athletic equipment. The zinc oxide in the powder is an effective skin protectant that helps eliminate shoe odor.
Pros
Talc-free
Made of natural ingredients
No aluminum
Safe and effective
Gentle on feet
Safe for all athletic gear
Zinc oxide prevents blisters
Cons
The Elite Sportz Shoe Deodorizer And Foot Spray is formulated with 7 different essential oils and 11 effective herbs and botanicals. These control foot odor and promote feet health. The spray contains peppermint oil that soothes the skin, provides a cooling effect, and eliminates odor from your gym shoes. The moisturizing botanical extracts in the spray, including aloe vera, coconut oil, cayenne, white tea, ginger extract, and vitamin E moisturize the feet and repair dry, cracked feet.
Pros
Made of 100% non-toxic ingredients
No harsh chemicals
No aluminum
Paraben-free
Moisturizes feet
Hydrates and cools down sore, tired, aching feet
Long-lasting fragrance
Talc-free
Easy-to-spray bottle
Can also be used to deodorize shoe rack, gym bag, and car trunks
Cons
May cause a tingling effect
Leaves a white cast inside the shoe
The Rocket Pure Natural Foot & Shoe Deodorizer Spray contains peppermint oil, tea tree oil, eucalyptus leaf oil, and thyme oil that fight bacteria and protect the skin. The natural essential oils have antibacterial and antifungal properties, with the added benefit of smelling refreshing.  The deodorizer freshens feet and removes odor from sneakers, sports shoes, ballerina shoes, work shoes, high heels, etc. The product also helps remove bad odor from gym bags, drawers, bathrooms, etc. It is ideal for runners, athletes, sports lovers, ballerinas, commuters, etc.
Pros
Made of 100% natural ingredients
No harmful chemicals
Paraben-free
Made under safety regulations
Antifungal and antibacterial
Long-lasting and powerful
Safe for shoes, gym bags
Maximum strength
No additives
Environmental-safe
Cons
The Sof Sole Deodorizer Balls are the perfect prop to remove obnoxious odors from shoes, gym bags, and lockers. They are small, round, and absorb odor quickly from closed, tight, and dark places. The fast-absorbing balls with a quick-twist action and open vents release special antibacterial, antifungal formula that removes foot odors. They are easy to handle and safe to use. You can easily preserve the aroma and the life of the deodorizer balls by twisting them to close the vents when not in use. Their aroma lasts for almost 6 months if used properly.
Pros
Compact design
Absorb odor quickly
Fit in all shoe sizes
Kid-safe
Long-lasting smell
Multipurpose use
Cons
None
The NonScents Shoe Deodorizer is a scientifically-proven formula with advanced technology to eliminate the obnoxious odor at the molecular level. It is a non-toxic, chemical-free shoe deodorizing pouch that can also be kept in draws, hampers, luggage, gym bags, and closed places.
Pros
Chemical-free
Non-toxic
Easy to use
Long-lasting smell
Multipurpose use
Cons
Strong odor
May not help remove odor from old shoes
Sprayzee is among the best smelling deodorizers that eliminate odor from sports shoes, sneakers, work shoes, boots, etc. It is made using 12 essential oils and enzymes like apple cider vinegar, peppermint oil, tea tree oil, and eucalyptus oil that eliminate odor quickly. It absorbs foot odor too and releases a fresh aroma. The therapeutic-grade essential oils also fight against disease- and odor-causing bacteria. The product is chemical-free, which makes it safe for use. The deodorizer can also be used on socks too.
Pros
Infused with essential oils and enzymes
Paraben-free
Aluminum-free
Safe for feet and skin
Kills odor-causing bacteria
Kid-safe
Cons
The Gold Bond Foot Powder Spray soothes feet with a blast of cooling effect. It is infused with zinc oxide powder, bisabolol extract, aloe vera leaf extract, and ginger root extract that remove odor and kill bacteria. This no-mess powder is specifically designed to soothe skin and relieve irritation. The infused menthol leaves a pleasing and cooling sensation in a single application. It has a 360º valve that controls the spray nozzle. A quick spritz is enough to keep your feet cool and comfortable.
Pros
Fast-absorbing
Provides a cooling effect
Controlled spray valve
Absorbs moisture
Provides triple-action relief
Infused with skin-soothing aloe vera
Cons
None
Dr. Scholl's Odor-X Foot Deodorant provides strong, all-day foot protection that absorbs sweat quickly. This popular foot powder absorbs sweat and traps all the moisture, which is the most favorable growth medium for bacteria. It can also be used under the foot to remove odor. It leaves a cooling effect even when you wear less ventilated shoes.
Pros
Fast-absorbing
Traps moisture
Controls the growth of bacteria
Provides a cooling effect
Long-lasting smell
Cons
Tapping powder may cause a mess
Not a refreshing fragrance
The Funky Feet Foot Odor Spray removes odor from stinky feet. It is made from a blend of peppermint, lavender, tea tree, eucalyptus, and thyme essential oils that kill bacteria and leave a fresh, cooling effect. The antibacterial and antifungal properties of these essential oils halt the growth of bacteria and offer you a better way to get rid of foot odor fast. The antibacterial ingredients start working instantly and keep the bad odor neutralized for hours.
Pros
Refreshing and cooling
No harmful chemicals
Efficient than powders or balls
Absorbs sweat
Long-lasting
Kid-safe
Suitable for shoes and feet
Cons
None
The Odor-Eaters Foot Spray Powder is infused with 1% tolnaftate as an active ingredient. It has antifungal properties that halt the growth of fungus and prevent infections, including athlete's foot. It quickly absorbs sweat to leave shoes and feet cool and relaxed and refreshed. The combination of powerful ingredients keeps your feet free from moisture and prevents unpleasant odor.
Pros
Talc-free
Long-lasting fragrance
No messy residue
Absorbs quickly
Dries quickly
Safe for daily use
Prevents infections
Cons
None
The Combat Cleaner Ultimate Shoe Deodorizer Spray is infused with extra powerful ingredients that combat bacteria and sweat that cause foot odor. The spray leaves your feet and shoes smelling fresh. This deodorizer is free of chemicals and absorbs extra moisture. The product is skin-friendly and lasts long. It comes with a 30-day money-back guarantee. It is an ideal product for commuters, athletes, sports enthusiasts, and people who wear shoes all day long.
Pros
Infused with extra-strength ingredients
Long-lasting
Skin-friendly
All-purpose solution
Cons
None
The Nature's Cure-All Foot & Shoe Spray is made using tea tree, peppermint, eucalyptus, lemon, grapefruit, and clove oils. These ingredients combat bacteria and sweat that cause odor. The spray leaves your feet smelling fresh. This deodorizer is free of chemicals and absorbs extra moisture. The elixir blend of essential oils helps treat inflammation and itching and leaves your skin comfortable and cool. This is a long-lasting product with skin-friendly ingredients. It is an ideal product for commuters, athletes, sports enthusiasts, and people who wear their shoes all day long. The skin-calming natural organic extracts are safe for sensitive feet.
Pros
Prevents itching and bacterial growth
Suitable for sensitive skin
Paraben-free
Sulfate-free
Made of organic ingredients
No added colors and preservatives
GMP-certified
FDA-registered
Long-lasting effect
Perfect for athlete's foot
Cons
These are the best 13 shoes and feet deodorizers to buy online. The next section helps you understand what the different types of shoe deodorizers available on the market are.
Types Of Shoe Deodorizers 
Spray Deodorizers: These are the most common types of deodorizers that can be sprayed on your feet and shoes to eliminate unpleasant odors. They are infused with essential oils that can moisturize your feet and leave a cooling effect.
Powder Deodorizers: Powder deodorizers help soak excess moisture from the feet and leave them dry for long hours. Their only drawback is they can leave a white cast and create a mess all around the house.
Ball And Bag Deodorizers: These also are quite common. They are a no-mess formula that eliminates shoe and feet odors. Ball deodorizers are easy to use with just a single twist – opening the vents and closing them when not in use. A bag deodorizer is effective in handling all types of bad odors – you just need to place it inside your shoes or gym bags.
Check the following buying tips for keeping your shoes, gym bags, and feet free from all unpleasant odors.
What To Look For When Buying A Shoe Deodorizer 
Check if the ingredients are skin-friendly or if they include chemicals. A shoe deodorizer with naturally-infused essential oils is antibacterial and antifungal. They ward off bacteria that cause odor.
The shoe deodorizer must be durable and offer a long-lasting effect.
It is important to note that an effective deodorizer doesn't mask odors – it eliminates them.
Shoe deodorizers and odor eliminators are skin-friendly, reasonably-priced, and are perfect for various kinds of shoes. You simply need to spray some deodorizer in your shoes before wearing them. But if you have sensitive skin, avoid using the deodorizers directly on your feet as the essential oils or other ingredients may cause discomfort. Choose any of these shoe deodorizers today and say goodbye to smelly feet!
Expert's Answers for Readers Questions
Does a teabag remove odors from shoes?
Keeping unused teabags inside shoes can kill the bacteria and reduce odd odors. Teabags are super absorbent and trap all the moisture to halt bacterial growth. You can also place teabags inside the shoes overnight to eliminate the odor.
Do cheap shoes smell more?
Cheap shoes with bad leather soles tend to smell bad.
What home remedy kills shoe odor?
Patting perfume powder, spraying some essential oil, or using tea bags can kill shoe odor.
Can you spray body deodorant in your shoes?
Yes, you may. But instead of spraying a body deodorant that contains alcohol or chemicals, you may always go for shoe deodorizers that are infused with essential oils.
1 sources
Stylecraze has strict sourcing guidelines and relies on peer-reviewed studies, academic research institutions, and medical associations. We avoid using tertiary references. You can learn more about how we ensure our content is accurate and current by reading our
editorial policy
.
The following two tabs change content below.

Latest posts by Priyanka S (see all)