11 Best Shoe Deodorizers of 2020 To Keep Your Shoes Smelling Fresh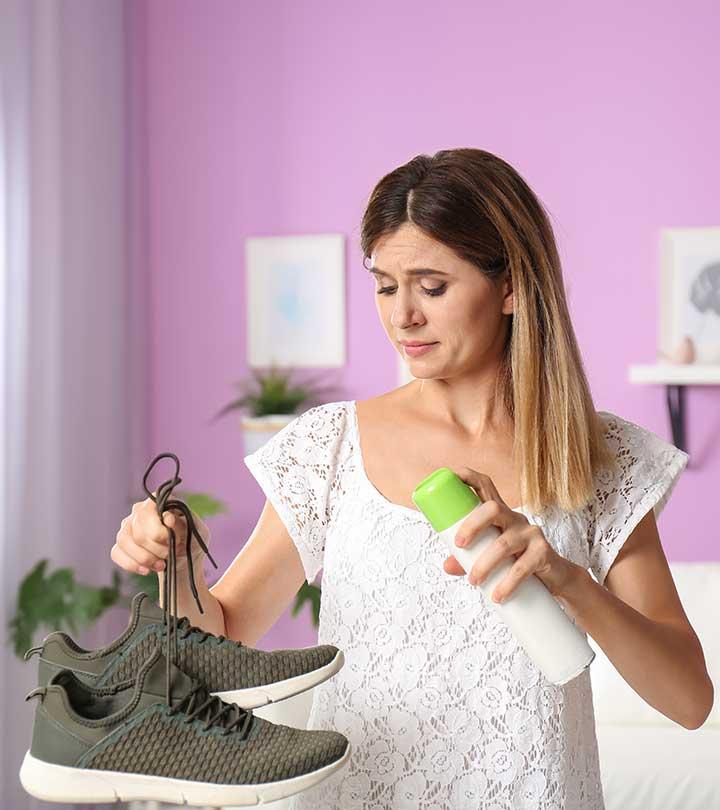 When you come back home after a long day at work and remove the shoes you were wearing all day long, it is natural that they will stink. While performing intensive activities, such as walking, playing sports, and running, your feet produce bacteria and sweat. These factors can lead to a strong odor and also make your feet stink. Fortunately, you can prevent this problem with shoe deodorizers and sprays.
These products work great for all kinds of shoes and areas that smell bad. Let's take a look at the top shoe deodorizers available on the market.
11 Best Shoe Deodorizers of 2020
The natural shoe deodorizer spray from Lumi Outdoors is made using essential oils and also works as an effective air freshener. It fights the bacteria that grow in the shoes because of dirt and sweat. The spray contains rich essential oils, such as lemongrass, mint, and tea tree essential oils to fight the toughest foot and shoe odors.
Pros
Organic shoe deodorizer and air freshener
Made using natural essential oils
Fights the toughest foot and shoe odors
Can also be used in the bathroom and kitchen
Cons
Doesn't work well for very old and used shoes.
Sports shoes can have the worst odor. We spend hours wearing those shoes while playing different sports and performing activities that cause a lot of sweating. This sweat can create a lot of bacteria and pungent smell in the shoes as well in the feet. Elite Sportz Shoe Deodorizer And Foot Spray is formulated to get rid of the stinking smell that spreads when you remove the shoes. This effective shoe deodorizer made from peppermint will control the smell and wetness and eliminate odor from your gym shoes, work shoes, or any pair of shoes.
Pros
Shoe deodorizer-cum-moisturizer
Made using 7 pure essential oils and 11 herbs and botanicals
Moisturizes dry and cracked feet
Soothes and tired and achy feet
No harsh chemicals or toxic ingredients are used to make this deodorizer
Cons
Peppermint might create a discomforting tingling and burning sensation in the feet.
This shoe deodorizer claims to be one of the best deodorizers available online. This natural shoe deodorizer by Sprayzee eliminates odor from sports shoes, sneakers, work shoes, boots, etc. It is a powerful deodorizer for smelly feet, smelly shoes, sports gear, drawers, and gym bags. It is made using 12 essential oils and enzymes that can eliminate odor quickly. The product is chemical-free, which makes it safe to use on your feet and other sports gear. The deodorizer can also be used on socks, shoes, odor eliminator balls, etc.
Pros
Contains 12 essential oils and enzymes
Paraben-free
Aluminum-free
Safe for feet and skin
Eliminates odor caused due to bacteria, fungi, and sweating
Cons
Not for the people who don't like extremely strong scents of essential oils.
This is one of the most promising products for stinky feet. The all-natural shoe deodorizer by FineVine is a foot deodorant spray that contains powerful essential oils and eliminates bad odor quickly. This deo is made using tea tree, peppermint, thyme, eucalyptus, and other essential oils. These ingredients will give you a lasting fresh smell.
Pros
Provides lasting freshness
Made using essential oils
Paraben-free
No harmful additives
Suitable for all kind of shoes
Cons
Doesn't eliminate the odor completely.
This odor eliminator is made using tea tree and other essential oils. The deodorant combats bacteria and sweat that cause odor and leaves your feet and shoes smelling fresh. This deodorizer is free of chemicals and absorbs extra moisture. This is a long-lasting product that is skin-friendly and made using organic ingredients. It is an ideal product for commuters, athletes, sports enthusiasts, and people who wear their shoes all day long.
Pros
Prevents itching, bacterial growth, and foul smell
Freshens and soothes stinky feet
Comforts even sensitive skin
Made using organic ingredients
Paraben-free
Sulfate-free
No colors or preservatives
GMP-certified and FDA-registered
Cons
This deodorizer contains lemongrass, lemon, and sweet orange peel essential oils that fight bacteria as well as strong odor. The deodorizer freshens feet and removes odor from sneakers, sports shoes, ballerina shoes, work shoes, etc. The product is also a great way to remove odor from gym bags, drawers, bathrooms, etc. It is ideal for runners, athletes, sports lovers, ballerinas, commuters, etc.
Pros
No harmful chemicals
Paraben-free
Made under safety regulations
Antifungal and antibacterial
Cons
Doesn't eliminate food odor.
Sometimes, newly purchased shoes seem very tight-fitting, resulting in shoe bites and blisters. The Instant Comfort Liquid Shoe Stretcher Spray is a stretching spray that can be used on leather, suede, vinyl, or canvas shoes to help loosen tight spots. The spray works for sneakers, loafers, sandals, high heels, and leather booties. This stretching spray reduces the risk of blisters and calluses by providing a custom fit. It quickly expands the tighter areas and increases shoe elasticity without weakening the material of the shoes.
Pros
Increases comfort and stretches shoe fabric
The material will soften and shape according to your feet.
Prevents calluses and blisters
Helps to get rid of foot ache and blisters
Cons
May cause stains and stickiness in shoes.
Pros
Keeps the feet fresh without clogging the pores
Chemical-free
Paraben-free
Toxin-free
Long-lasting
Skin-friendly
Cons
Doesn't remove the smell completely from shoes.
Consider trying Cleankicks Shoe Odor Eliminator And Deodorizer for a quick and instant odor-eliminating solution. You have to spray it in your shoes, and it will prevent odor while absorbing moisture and eliminating bacteria throughout the day. No need to use talcs and other products to dry and deodorize your shoes or feet. This spray will last for months and is ideal for different types of shoes. It is a purifying odor absorbent treatment and breathes new life into smelly footwear. The spray contains essential oils like witch hazel, peppermint, and lemon. It works well for hockey bags, boxing gloves, golf gear, gym sneakers, basketball shoes, and boots.
Pros
Quick and instant relief from smelly feet and shoes
Highly absorbent
Skin-friendly
Contains essential oils like lemon, witch hazel, and peppermint
Cons
No products found.
Wearing the same pair of shoes throughout the day or every day can cause a lot of sweatiness and smell, especially for sports enthusiasts and athletes. This product prevents foot odor and itchy and scaly feet. The disinfectant spray and sanitizer doesn't create an oily or sticky mess. The spray is 100% natural and can be used for sinks, bathrooms, shoes, gym bags, and every place that might smell bad.
Pros
100% natural
Gentle for sensitive skin
Removes odor from sandals, tennis, gym, dance, sneaker, climbing, and even work shoes
Can also be used for the sink, bathroom, and smelly places
Cons
No products found.
This spray absorbs excess moisture, eliminates odor-causing germs, and leaves your feet and shoes smelling fresh. It contains tea tree and citrus essential oils that are antifungal and antibacterial. They kill bacteria and foot fungi, get rid of the odor, and impart a citrus fragrance. This all-natural shoe odor eliminator is perfectly safe for the entire family, unlike synthetic sneaker deodorizers that can be harmful.
Pros
Contains potent natural ingredients
Antibacterial and antifungal
Refreshing citrus fragrance
Cons
These shoe deodorizers and odor eliminators are skin-friendly, reasonably priced, and perfect for different kinds of shoes. You simply need to spray some deodorizer in your shoes before wearing to keep your feet smelling fresh all day.
Remember, if you have sensitive skin, avoid spraying using the deodorizer directly on your feet as the essential oils or other ingredients can cause discomfort. Choose any of these shoe deodorizers and say goodbye to smelly feet!