15 Best Sunscreens For Rosacea To Reduce Flare-ups – 2023
People with rosacea should invest in these sunscreens to protect their skin better.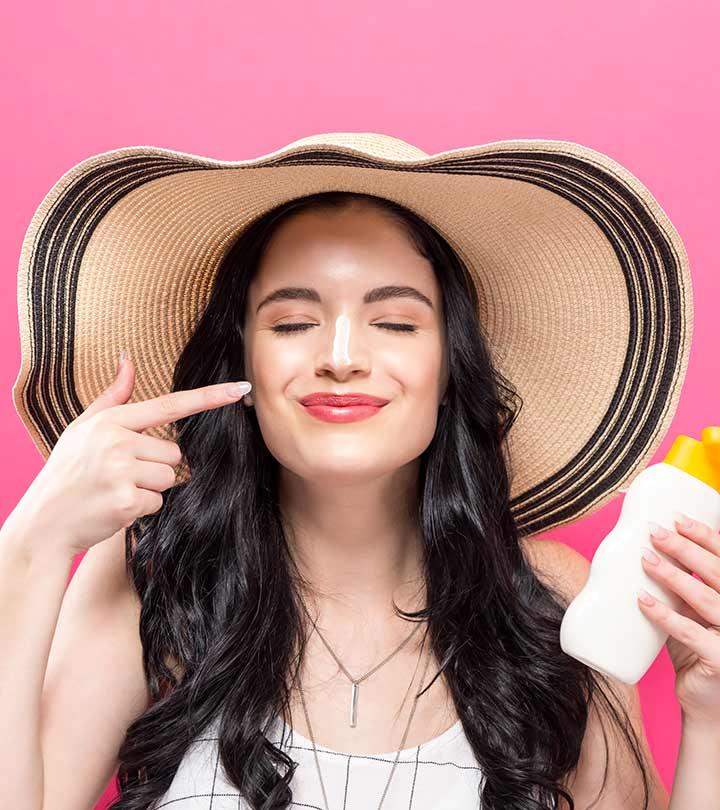 Rosacea is a general skin condition that causes red bumps, redness, and blush on your skin. You need to pay special attention when heading out in the Sun. This is when the best sunscreen for rosacea comes to your rescue.
Top Picks
Dealing with rosacea is painful. It causes inflammation on your face, specifically around your cheeks, nose, chin, and forehead. So, invest in sunscreens infused with zinc oxide and titanium oxide to avoid flare-ups. These formulae will soothe your skin and keep you comfortable. This article informs you how one can manage rosacea when you are out in the Sun. Also, have a look at the list of the 15 best sunscreens for rosacea. Keep scrolling!
What Is Rosacea?
Rosacea is a chronic inflammatory skin condition affecting 5%-10% of the population. It causes redness and visible blood vessels in your face and may also result in small, red, pus-filled bumps. This condition is most prevalent among people aged between 30–50 years, with fair skin and northern European ethnic origin. However, rosacea can also emerge at any age and in people of Asian and African ethnic backgrounds (1).
These signs and symptoms may flare-up for weeks to months and then go away for a while. Rosacea is often mistaken for acne, other skin problems, or natural ruddiness. There's no cure for rosacea, but the use of sunscreens or some dermatological treatments can minimize the signs and symptoms.
The blood vessels in our face and our body are held together with tissues containing elastin and collagen. The harmful UV rays destroy these tissues and rupture the thin vessels and expose them to the skin's surface. Hence, it would be best to use an effective sunscreen to prevent rosacea flare-ups.
Let's now check out the top 15 sunscreens for rosacea.
15 Top-Rated Sunscreens For Rosacea
Best Lightweight Formula:
ZincO Cream
Pros
Sheer coverage
Lightweight
Cons
Contains parabens, PEG, and phenoxyethanol
Price at the time of publication: $40.0
The Rosaceae Intensive Cream by Synchroline has a broad spectrum SPF 30. It reduces redness by normalizing visible, dilated blood vessels while strengthening the skin. The sunscreen contains silymarin that minimizes erythema and rejuvenates and re-hydrates your skin. It also helps to raise the "Trigger Tolerance" threshold of the skin to minimize flare-ups.
Pros
Reduces redness
Dermatologist-tested
Cons
None
Price at the time of publication: $22.18
The Daylong Extreme Sun Lotion with SPF 50+ offers long-lasting protection from the harsh UVA and UVB rays and suits sensitive skin. The unique liposomal formulation routes sun filters and works on the epidermis to prevent cellular damage and photoaging. It is enriched with aloe vera and vitamin E that hydrate and nourish your skin.
Pros
Non-greasy
Minimizes hyperpigmentation
Preservative-free
Waterproof
Cons
May clog the pores
May cause allergic reactions
Price at the time of publication: $23.64
The Thinkbaby Body & Face Sunscreen is a melon-scented product, free of harmful biological chemicals and safe for sensitive skin. It has a mineral-based formula with 20% zinc oxide and is water-resistant for up to 80 minutes. The stick sunscreen is easy to apply and travel-friendly. It is absorbed quickly into your skin without any greasy feeling or obtrusive smell.
Pros
Pleasant fragrance
Water-resistant
Quick absorbing formula
Cruelty-free
Paraben-free
PABA-free
Avobenzone-free
Oxybenzone-free
Phthalate-free
Cons
Price at the time of publication: $28.89
The Murad Environmental Shield is a mineral-based sunscreen with a broad spectrum SPF 50. It is developed with the Environmental Protection Technology that shields the skin from UV damage and prevents premature aging. The polymer matrix in the formula inhibits the penetration of toxins. It also has a subtle color-correcting tint to even out the skin.
Pros
No stinging sensation
Non-oily formula
Subtle tint
Cons
Expensive
Contains urea, phenoxyethanol, and PEG
Price at the time of publication: $69
Pros
Calms and protects sensitive skin
Does not contain perfume or parabens
Broad-spectrum sunscreen
Protects skin from UV rays
Cons
Does not possess moisturizing properties
Price at the time of publication: $39.0
Pros
Formulated using Cell-Ox Shield Technology
Dermatologically-tested
Oxybenzone and octinoxate-free formula
Oil-free
Paraben-free
Fragrance-free
Non-comedogenic
Cons
Not suitable for children under 6 months of age unless recommended by a doctor
Price at the time of publication: $19.99
Pros
Paraben and sulfate-free
Produced in an FDA regulated facility
Cruelty-free
Contains zinc oxide and offers broad-spectrum sun protection
Oil-free and fragrance-free
60-day money-back guarantee
Cons
Slightly expensive
Not hypoallergenic
Price at the time of publication: $23.95
Pros
Water-resistant
Paraben and phthalate-free
Free from dyes and harsh chemicals
Non-comedogenic
Hypoallergenic
Rich in antioxidants
Cons
Slightly expensive as compared to other sunscreens
Price at the time of publication: $10.87
Pros
Organic ingredients
Offers UV protection
Hypoallergenic
Tear-free formula
Oxybenzone-free
Octinoxate-free
Benzene-free
Chemical-free
Environmentally-friendly
Alcohol-free
Paraben-free
Dermatologist-recommended
Suitable for acne-prone skin
Cons
Takes time to absorb
Has a faint white cast
Price at the time of publication: $33.99
Pros
Does not contain chemical-sunscreen filters
Free from dyes
Fragrance-free
Non-comedogenic
Free from parabens
Photostable
Cons
Not suitable for kids under 6 months of age
Price at the time of publication: $43.0
This product is suitable for hypersensitive skin and makes it an apt choice for those having rosacea. The main ingredient in this product range – Avene Thermal Spring Water, helps to soothe skin and minimize skin-sensitivity, making it one of the most popular products for sensitive skin. When applied to your skin, it helps soothe redness and irritation. It is recommended to apply this lotion on the face and neck, every morning and evening, after cleansing your skin thoroughly.
Pros
Sterile formula
Non-comedogenic and non-hypoallergenic
Paraben-free
Free from preservatives
Fragrance-free
Does not contain dyes.
Cons
Can make your skin slightly greasy
Price at the time of publication: $35
Pros
Does not contain oxybenzone
Paraben-free
Fragrance-free
Allergy tested
Non-comedogenic
Cons
Leaves a white residue on skin
Price at the time of publication: $27.94
Trusted by dermatologists, this sunscreen lotion with SPF 30+ has proved its worth for the past 20 years. It is safe for daily use as it is made using natural moisturizers and antioxidants. Blue Lizard Australian Sunscreen is specially formulated to help the skin deal with harsh weather conditions and excess sunlight. The presence of zinc oxide in this sunscreen makes it suitable for those dealing with rosacea. Also, being mineral-based, it provides safer and better sun protection.
Pros
Free from parabens
Oil-free
Fragrance-free
Provides a broad spectrum protection from UV rays
Cons
The product is slightly expensive
Price at the time of publication: $46.41
SkinMedica Essential Defense Mineral Shield with SPF 35 is perfect for those having rosacea and other sensitive skin conditions. It is a mineral-based sunscreen that is light and provides the desired sun protection. This sunscreen should be applied in the morning and 15 minutes before stepping out in the sun.
Pros
Non-comedogenic
Oil-free
Fragrance-free
Paraben-free
Hypoallergenic
Cons
Price at the time of publication: $36
These are the top sunscreens that you can get for rosacea-prone skin. It is important to know how to identify the signs and symptoms and things to keep in mind before picking a sunscreen for your skin. Scroll down.
How Do You Know If You Have Rosacea?
The symptoms of rosacea include:
Facial Redness: Rosacea causes a persistent redness around the nose and the cheeks due to the ruptured blood vessels.
Swollen Red Bumps: People with rosacea-prone skin also develop pus-filled pimples on their face that look very similar to acne.
Eye Problems: Rosacea may cause dry, irritated, swollen eyes and red, swollen eyelids. This is also known as ocular rosacea. These symptoms often precede other skin symptoms of rosacea.
Enlarged Nose: Rhinophyma or enlarged nose is a common symptom of rosacea. In this condition, the nose skin thickens, and it appears enlarged.
Rosacea cannot be treated. However, you can manage rosacea symptoms. Here is how.
What Can You Do To Reduce Rosacea?
Use a gentle redness-reducing cleanser.
Avoid soaps that have artificial fragrances and alcohol-based products.
Pat your face dry gently or let it dry naturally.
Use a sunblock with a minimum SPF 30. Wear a hat or use an umbrella on sunny days to prevent sun exposure.
Use an anti-redness moisturizer.
Avoid alcohol and stimulants such as caffeine and spicy foods, as they may cause rosacea flare-ups.
Protecting the skin from UV rays is crucial to prevent rosacea flare-ups. Before picking a sunscreen, here are a few pointers to keep in mind.
Ingredients To Look For In Sunscreens For Rosacea
The ideal sunscreen agents should be safe, chemically inert, non-irritating, non-toxic, photostable, and able to provide complete protection to the skin against UV damage.
Check for physical or non-chemical sunscreens. Look for ingredients like:
Zinc oxide
Titanium dioxide
Avoid chemical sunscreens containing:
Avobenzone
Oxybenzone
Other chemical filters like octocrylene, octisalate, octinoxate
Parabens and phthalates
Phenoxyethanol (may sensitize the skin)
Alcohol
Also, avoid any ingredient that you might be allergic to. Here are some more pointers to help you choose the right sunscreen.
How To Choose The Best Sunscreen For Rosacea
Choose A Sunscreen with SPF 30 to SPF 50
Prolonged UV ray exposure may cause skin issues. A sunscreen with a minimum of SPF 30 offers up to 97% protection to your skin.
Check The Key Ingredients
Check the ingredient list to ensure it does not contain any chemical sunscreen. Avoid any product that contains artificial fragrances and preservatives.
Rosacea-prone skin can be sensitive to a lot of ingredients. Look for a sunscreen that is mainly developed for rosacea-prone skin or sensitive skin. You may look for soothing ingredients like aloe vera and green tea. Consider buying a hypoallergenic formula.
Alcohol dries up the skin and may cause allergic reactions. Buy alcohol-free sunscreen to avoid irritating rosacea-prone skin.
Once the sunscreen ticks all or most of these boxes, rest assured you are good to go!
Before buying sunscreen for rosacea-prone skin, perform a patch test to ensure it is safe for your skin. Apply a small amount of sunscreen on your wrist or inner elbow (where the skin flexes). Wait for 48 to 72 hours to see if there is any reaction or not. If your skin does not react, you may use the product.
Why Trust StyleCraze?
Oyendrila Kanjilal is a certified skin care coach with her knowledge extending to the ins and outs of rosacea. The buying guide and tips she provides on how to reduce rosacea will help you narrow down your search for the right sunscreen. The author has conducted thorough research and selected the best sunscreens for rosacea for this article. These sunscreens create an invisible protective barrier on the face, keeping the sun's rays at bay and preventing flare-ups.
Frequently Asked Questions
Does sunscreen help rosacea?
Yes, sunscreen that is formulated for sensitive and hypersensitive skin does help rosacea. It creates a protective layer on your face and blocks the UVB, UVA, and infrared rays of the sun, thus preventing flare-ups and irritation.
Is Neutrogena sunscreen good for rosacea?
Yes, branded products like Neutrogena are good for rosacea since they don't contain harsh chemicals and strong fragrances that can irritate the skin.