10 Top-Rated Sunscreens For Rosacea In 2020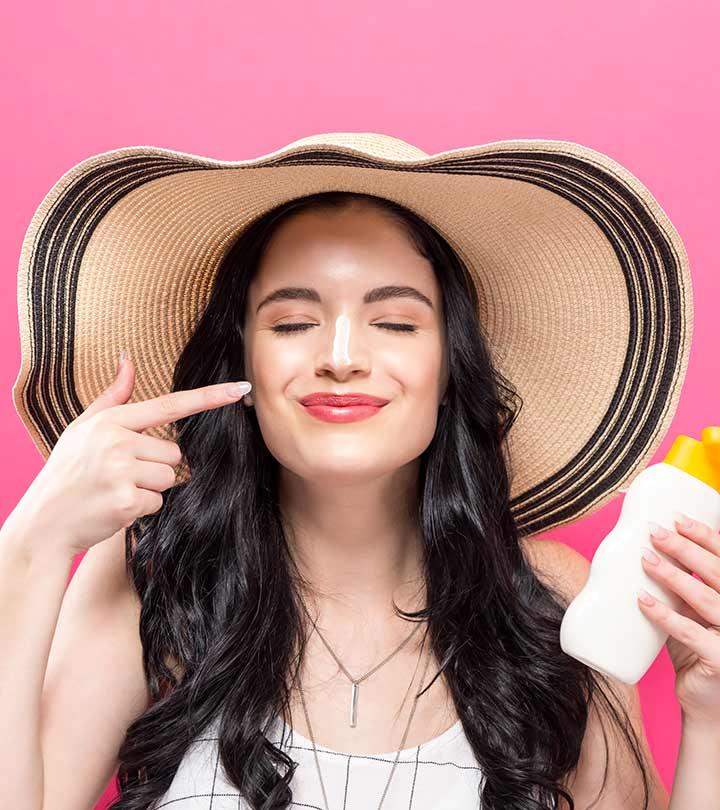 Rosacea – sounds familiar? Probably not to all of you out there. But to those suffering from it, rosacea is nothing less than their worst nightmare. Rosacea is a skin disease that causes inflammation in the central part of the face, particularly the skin around the nose and cheeks, and sometimes extends to the area around the chin and forehead. Rosacea can be the cause of a genetic disorder and can be hereditary. It is more common in fair-skinned people and prominent in men.
In this post, we will discuss in-depth about how one can control rosacea that arises from sun-exposure. What you are looking to purchase is a sunscreen that contains zinc oxide and titanium oxide, both of which act as key ingredients that aid in avoiding flare-ups. Let's take a look at the top 10 sunscreens for rosacea in 2020.
Read on to know more.
10 Top-Rated Sunscreens For Rosacea
This sunscreen is suitable for those suffering from skin discoloration, rosacea, acne-prone-skin, etc. and is recommended by dermatologists. It is an oil-free formula and feels light on the skin. It protects the skin against UVB and UVA rays. Skin specialists advise reapplying this sunscreen every 2 hours to avoid flare-ups and other skin issues that arise from sun exposure. This sunscreen leaves your skin feeling soft and supple.
Pros:
Calms and protects sensitive skin
Does not contain perfume or parabens
Broad-spectrum sunscreen
Protects skin from UV rays
Cons:
Does not possess moisturizing properties
Similar Products
Dermatologists recommend this sunscreen by La Roche-Posay for sensitive and oily skin types. It comes with SPF 60 with broad-spectrum protection. This sunscreen absorbs oil in the facial pores, even in humid conditions. It is recommended to apply this sunscreen 15 minutes before venturing out and to reapply it after 80 minutes of swimming, sweating, or after your face has been towel-dried. Those with rosacea need to follow this rule to avoid the occurrence of rashes.
Pros:
Formulated using Cell-Ox Shield Technology
Dermatologically-tested
Oxybenzone and octinoxate-free formula
Oil-free
Paraben-free
Fragrance-free
Non-comedogenic
Cons:
Not suitable for children under 6 months of age unless recommended by a doctor
Similar Products
DRMTLGY is suitable for all skin types and provides advanced sun protection for every skin tone. This dermatologically-tested sunscreen helps in improving the overall appearance of your skin, leaving it feeling pampered and rejuvenated. It acts as an anti-aging formula, hydrates skin, and also protects against UVA, UVB, and infrared rays. It is light on the skin, doesn't leave behind any residue, and does not cause breakouts. This sunscreen should be applied 30 minutes before sun exposure and should be reapplied every 2-3 hours.
Pros:
Paraben and sulfate-free
Produced in an FDA regulated facility
Cruelty-free
Contains zinc oxide and offers broad-spectrum sun protection
Oil-free and fragrance-free
60-day money-back guarantee
Cons:
Slightly expensive
Not hypoallergenic
Similar Products
This product is formulated using 100% naturally sourced zinc oxide, making it recommended for skin affected by rosacea. It is gentle on the skin and delivers twice the sun protection as compared to other products and produces an invisible coat on the face. Hence, it can be applied under makeup. It is highly recommended by dermatologists as it hydrates skin, prevents signs of aging, and does not cause any break-outs.
Pros:
Water-resistant
Paraben and phthalate-free
Free from dyes and harsh chemicals
Non-comedogenic
Hypoallergenic
Rich in antioxidants
Cons:
Slightly expensive as compared to other sunscreens
Similar Products
Vanicream Sunscreen Sport is highly recommended for those who love to indulge in outdoor activities. This dermatologically-tested formula helps to avoid getting sunburned. It is suitable for use on sensitive skin and is an excellent choice for those suffering from rosacea as it helps to reduce or contain flare-ups. It is recommended to apply this sunscreen evenly on the skin before sun exposure and reapply it every 2 hours.
Pros:
Free from dyes
Fragrance-free
Paraben-free
Free from oil and gluten
Provides broad-spectrum protection
Water-resistant for up to 80 minutes
Cons:
Slightly expensive
Not suitable for children under 6 months of age unless approved by a doctor
Similar Products
Tizo3 Mineral Primer/Sunscreen with SPF40 is ideal for daily use and is formulated adhering to pharmaceutical standards. It contains zinc oxide and titanium dioxide, making it suitable for those with rosacea. This formula is light on the skin and has a silky-matt finish. It helps fight the signs of aging and acts as a barrier against sunburn. For best results, this product needs to be applied 15 minutes before sun exposure, after the face has been thoroughly moisturized and then reapplied as required.
Pros:
Does not contain chemical-sunscreen filters
Free from dyes
Fragrance-free
Non-comedogenic
Free from parabens
Photostable
Cons:
Not suitable for kids under 6 months of age
This product is suitable for hypersensitive skin and makes it an apt choice for those having rosacea. The main ingredient in this product range – Avene Thermal Spring Water, helps to soothe skin and minimize skin-sensitivity, making it one of the most popular products for sensitive skin. When applied to your skin, it helps soothe redness and irritation. It is recommended to apply this lotion on the face and neck, every morning and evening, after cleansing your skin thoroughly.
Pros:
Sterile formula
Non-comedogenic and non-hypoallergenic
Paraben-free
Free from preservatives
Fragrance-free
Does not contain dyes.
Cons:
Can make your skin slightly greasy
This product with SPF 50, is a 100 % mineral-based sunscreen. It falls in the category of physical sunscreens, which makes it perfect for those suffering from rosacea. It contains zinc and titanium dioxide, which efficiently block UVA and UVB rays of the sun and protect the skin from a rosacea flare-up. It is formulated using ceramides that keep your skin hydrated all day long, leaving it feeling soft and supple.
Pros:
Does not contain oxybenzone
Paraben-free
Fragrance-free
Allergy tested
Non-comedogenic
Cons:
Leaves a white residue on skin
Trusted by dermatologists, this sunscreen lotion with SPF 30+ has proved its worth for the past 20 years. It is safe for daily use as it is made using natural moisturizers and antioxidants. Blue Lizard Australian Sunscreen is specially formulated to help the skin deal with harsh weather conditions and excess sunlight. The presence of zinc oxide in this sunscreen makes it suitable for those dealing with rosacea. Also, being mineral-based, it provides safer and better sun protection.
Pros:
Free from parabens
Oil-free
Fragrance-free
Provides a broad spectrum protection from UV rays
Cons:
The product is slightly expensive
SkinMedica Essential Defense Mineral Shield with SPF 35 is perfect for those having rosacea and other sensitive skin conditions. It is a mineral-based sunscreen that is light and provides the desired sun protection. This sunscreen should be applied in the morning and 15 minutes before stepping out in the sun.
Pros:
Non-comedogenic
Oil-free
Fragrance-free
Paraben-free
Hypoallergenic
Cons:
Ingredients To Look For In Sunscreens For Rosacea
Before you can know which ingredients to look for in sunscreens for rosacea, we should discuss the two types of sunscreens: physical (inorganic) sunscreen and chemical (organic) sunscreen.
Physical sunscreens are usually formulated using zinc oxide and titanium oxide. Both these components help protect rosacea-affected skin from harmful UVA and UVB rays.
Chemical sunscreens are not formulated using zinc or titanium oxide, but with other chemicals that help absorb the sunlight you are exposed to. These contain more chemical constituents as compared to physical sunscreens.
How To Choose The Best Sunscreen
Here are a few factors to consider before buying sunscreen;
It must be free from artificial fragrance and dyes
It should offer protection from UVA and UVB rays
It should be suitable for use on face and body
It should be water and sweat-proof
Some sunscreens can be applied under makeup as well
Once all the sunscreen ticks all or most of these boxes, rest assured you are good to go!
Everybody deserves fun in the sun. No skin condition or health issue should act as a barrier between your choice of leisure activity and your happiness. Be it swimming, hiking, outdoor picnic, or cycling in the wee hours of the morning – do as your heart desires for these 10 sunscreen lotions have you covered. Not only do they provide sun protection, but they also help in hydrating the skin as well as combating early signs of aging.
Did you find this post informative? Let us know in the comments below!
Expert's Answers For Readers' Questions
Does sunscreen help rosacea?
Yes, sunscreen that is formulated for sensitive and hypersensitive skin does help rosacea. It creates a protective layer on your face and blocks the UVB, UVA, and infrared rays of the sun and thus prevents flare-ups and irritation.
Is Neutrogena sunscreen good for rosacea?
Yes, branded products like Neutrogena are good for rosacea since they don't contain harsh chemicals and strong fragrances that can irritate the skin.
Recommended Articles: