Best Organic Hair Color Brands – Our Top 5 Picks
People who color their hair regularly will definitely tell you the woes of the task and how important it is to switch to ammonia free and other chemical free products. It is easy to go to the supermarket and pick up a product off the shelf and venture into a "do it yourself" hair coloring journey.
Over a period of time, after using these off-the-shelf products, you will notice that your hair becomes dry and almost lifeless. You often sit in front of the mirror, wondering what happened to that shine and bounce. Then you blame it all on bad hair days. You can now put your worries to rest. There are natural hair dyeing products available in the market that do not cause any harm to your beautiful tresses. Here you will learn all about organic hair colour and the top 5 products.
Top 5 Organic Hair Color Brands
1. Herbatint:
Herbatint, as the name suggests, is a product that is made from natural herbal extracts. The product uses plant proteins in the place of ammonia. Several plants and herbs have natural coloring ingredients that could suit your hair. These herbs also have curative properties. These herbal dyes nourish your scalp and the hair follicles. Available in 30 different shades, Herbatint had won the Best Color Award in 2008.
2. Light Mountain Natural Hair Color And Conditioner:
This natural hair color comes in 12 different shades. It does not contain any chemicals or synthetics. The product is based on the goodness of Henna (an Indian herb) and other botanical products. The leaves of Henna, a popular Indian herb, contain rich ingredients that impart a natural sheen to your hair. Henna also has many curative properties. Along with giving your hair an adorable hue, regular application of this Indian herb helps in relieving the scalp off dandruff and dry skin. Henna is also known for its moisturizing properties. That is why it stands out as the best product for hair coloring and conditioning as well. It also does a very good job of covering grey hair.
[Read:Copper Hair Colour Products]
3. Surya Henna:
Surya Henna is made from natural extracts and organic vegetable dyes. There are no chemicals like ammonia, hydrogen peroxide, and other metallic oxides that are the most common ingredients present in the hair coloring products available in the market. The main ingredient in this product is extracted from Brazilian and Indian fruits. The fruit oil helps in coloring the hair, nourishing the skin of the scalp, and also conditions your hair. This product is available in 17 colors and also colors grey hair.
4. Color By Nature:
Nature color is yet another popular choice among organic hair coloring brands. Rich with the ingredients extracted from plant pigments, this brand offers a range of 31 colors to pick up. The ingredients are soft on your hair and add shine and softness to your hair while coloring. For people who are very sensitive to chemicals, this is certainly the best bet! Experts claim that this product is safe to use even during pregnancy. However while using this product you should not use any chemical based products!
[Read:Best Plum Hair Colours]
5. Tints Of Nature:
Tints of Nature dyeing products are prepared mainly using chamomile extracts. This color also has other active ingredients such as orange juice, aloe vera, and grapefruit extracts that nourish your hair. An added advantage – your hair will smell pleasant after a session of coloring! These natural ingredients fight several hair and scalp infections. They are even effective in removing head lice. The product comes in 24 vibrant colors that will make you look like a glam doll.
Before using any of these natural hair dyes, please remember that their effects are less lasting than the chemical hair dyes. You may have to use them frequently. However, these are undoubtedly the best brands for Organic hair colour in India!

The following two tabs change content below.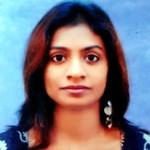 Latest posts by Maanasi Radhakrishnan (see all)