25 Easy Everyday Hairstyles For Medium Length Hair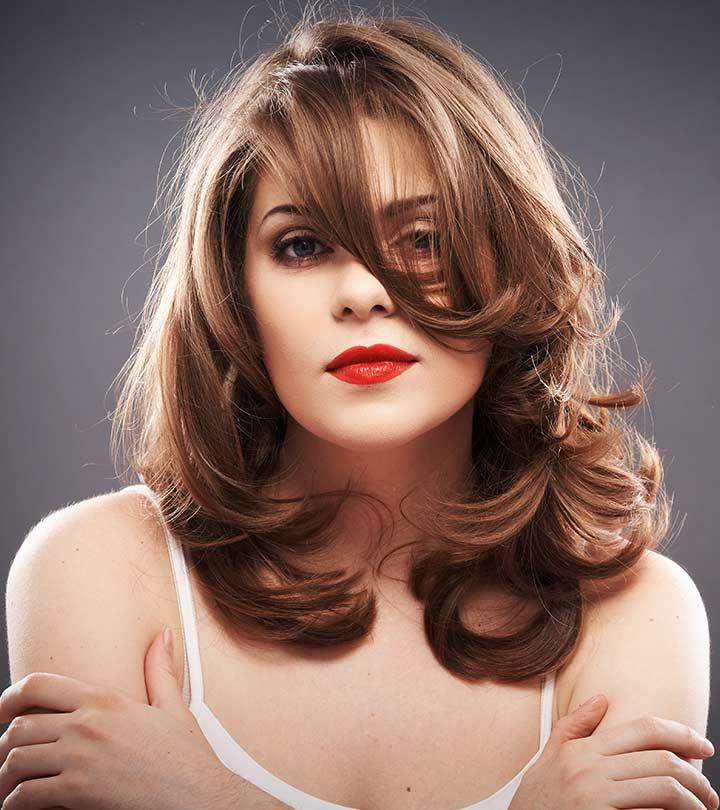 You've already hit snooze 3 times and now the alarm is screeching to high heaven. The thought of getting up, getting dressed, doing your makeup, and styling your hair seems like a gargantuan task. But it needs to be done because you can't turn up to work/school looking shabby. So, what do you do when you feel like hiding under your covers and just calling in sick instead of going through all that effort of looking presentable? You check out this list, of course! If you have medium length hair, here are some gorgeous and easy hairstyles that you can sport everyday without spending a ton of time in perfecting them! Think it's too good to be true? Then, read on and find out for yourself.
25 Super Easy Everyday Hairstyles For Medium Hair
1. Braided Headband
Emma Watson may have sported this look at a red carpet event, but you can easily pull this look off at work. All you need to do is make two thin braids on either side of your head and pin them across the top of your head. Tie the rest of your hair in a low bun and pull out some hair from the front to frame your face. And, you're done! Took you about 5 minutes to do and you look professional as well!
2. Retro Ponytail
A full-on beehive, reminiscent of the 60s, can be a little too elaborate for you to pull off when you are short on time. So, here's a simple hairstyle for medium hair that requires less than five minutes but still takes inspiration from that gorgeous look. Just part your hair down the middle, tease down some hair at the crown of your head, and tie all your hair in a mid-level ponytail to achieve this simple and chic look.
3. Pulled Back
There's a huge misconception out there that the more effort you put into styling your hair, the better it looks. But the truth is that the hairstyles that take less than 5 minutes to do are the ones that look the best. For instance, take this pulled back look sported by Marion Cotillard. She started off by spritzing on some sea salt spray and parting her hair down the middle. Then, all she did was pull all her front hair back and pin it at the center to achieve this super simple yet elegant hair look.
4. Vintage Curls
Let's face it, we all have those moments when we want to chop all our hair off and just be done with it. To tide through those times, just do what Kate Hudson did and go for some huge curls to create a faux bob. Apply some texturizing spray to your semi dry hair and put it in some jumbo rollers overnight to create this stunning hair look.
5. Wrap Around Ponytail
When you feel like you're stuck in a rut with your hair, repeating the same boring hairstyle over and over again, you can just add a simple twist to it to completely transform its look. For example, you can add a chic little twist to your same ol' ponytail by wrapping a section of hair around its base to hide the hair elastic from view.
6. Soft Curls With Bangs
Who didn't fall in love with Rachel McAdams after watching The Notebook? Her vintage A-line dresses and soft curls look in that movie won millions of hearts around the world. If you want to recreate her iconic Alison look, get your hair cut in some side swept bangs and curl the lower half of your hair with a big barreled curler. Finish off the look by pinning back your front section of hair.
7. Laid Back
Who hasn't thought about simply rolling out of bed and heading out without even running a brush through your hair? (I think about doing this pretty much everyday) Well, to put in minimum effort to do up your hair, simply run a straightening iron a few times through your hair, then flip your hair forward and brush it to give it some volume and bounce.
8. Ballerina Bun
I'm sure at some point in your childhood you dreamt about becoming a beautiful ballerina. Regardless of whether you fulfilled that dream or not, there's nothing stopping you from looking like one. All you need to do is tie your hair in a high ponytail. Then, place a hair donut at the end of your ponytail and start rolling it upwards towards the base to roll your hair into a bun. Don't forget to use some bobby pins and hairspray to set this gorgeous updo in place!
9. Messy Pony
Can't find your hair brush again and need to head out in the next 2 minutes? Girl, I've got you covered. Just spritz on some texturizing spray all over your hair, brush back your hair with your fingers, and tie it into a ponytail at the back of your head. And, you're done! Wasn't that easy peasy lemon squeezy?
10. French Twist
Nothing says elegant and mature quite like a classic French twist. Now, this may seem like too elaborate a hairstyle to do everyday, but once you get the hang of it, it really is not. And the best part is that it is easiest to do on medium length hair! Start by applying a volumizing product to your hair. Gather your hair at the back, and roll it to make an elongated bun. Secure the bun to your head with bobby pins and hairspray.
11. Amped Up
If there's one person I can think of when asked who's the most gorgeous woman on the planet right now, it has to be Margot Robbie. So, of course, we need to take some hair inspiration from her. To achieve her sexy messy hair look, prep your hair with some volumizing mousse and texturizing spray. Tease some hair at the top and front of your head. Part your hair on one side and fluff it up with your hands to finish off the look.
12. Sleek
Wanna look like a total badass who doesn't take any shit from anyone? Well, you could go for a drastic personality change, but I have a better idea. Straight hair has the unique ability to make you look like you're in total control of your life and mental stability. All you need to give off that illusion is to straighten your hair until it is absolutely poker straight, pin back half your hair and slick down any flyaways with some smoothening serum.
13. The Half Updo
If you need a hairstyle that will work for you throughout the day at work and can also be sported at the fancy party you need to go to in the evening, then this half updo will suit your needs perfectly. To create the half updo, you need to add volume at the crown. So, backcomb the hair at the crown of your head and spritz on some hairspray. Then, smooth the top out, and use bobby pins at the base of the puff. Set your hair with medium hold hairspray to finish off the look.
14. Elegant Waves
If you can't decide how to style your hair for that really important business meeting that you've been preparing for for weeks, here is your answer. Apply a shine-boosting product and a heat protectant to your hair, and using a straightening iron, curl your hair gently. Part your hair on one side, set with a hairspray, and you're ready!
15. Beachy Waves
Admit it. You've always been jealous of people who have perfect beachy waves because you can never seem to get them to look as perfect as theirs. Well, the trick is to use sea salt spray on your hair while it is still damp and keep scrunching it as it dries. What you end up with are luscious, voluminous, and heat-free waves just as beautiful as Mila Kunis' wavy tresses.
16. Pin Straight
Honestly, it seems like everyone and their grandmother is in love with Emma Stone these days. And why wouldn't they be? Her impeccable sense of style and amazing sense of humor make her the sweetheart of everyone's dreams. If you want to look just a little bit like her, bust out your straightening iron, smoothen out your hair, and get your hair cut in some cutesy side swept bangs.
17. Pouf
Now here's another classic hairstyle that everyone has probably sported at least once. We're talking about the classic pouf look, of course! If you are not in the mood for anything elaborate, or if you are running short on time, a puff can really save the day. A little bit of backcombing, a couple of bobby pins, a spritz of hairspray, and you're done!
18. Romantic Curls
The perfect way to achieve that soft angelic look that you're aiming for on your date night is by going for these loose curls. Curl the lower half of your hair with a big 2 inch curling iron, part it on one side and spritz on some hairspray to get this super pretty hair look.
19. Ponytail With Side Swept Bangs
You're probably wondering why there's another ponytail style on this list. Easy. It's because it's a versatile style that can be styled in a number of ways.If you want to recreate Reese Witherspoon's adorable ponytail with side swept bangs look, here's what you need to do. Use a large barrel curler to style your hair into loose waves. Brush out your bangs and secure the rest of your hair into a pony. A little bit of texture can really amp up this otherwise simple style. So, before you pull your hair back into a pony, make sure that you use a texturizing product on your hair.
20. Simple Waves
Wavy hair never really goes out of style, does it? This hairstyle is an effortless way to look fab and works brilliantly on medium length hair. You can use your styling tools, or you can go heat-free. Using a large barrel curler or a hair straightener can give you instant waves. But, you can also roll up your hair into a bun while it is still damp, and enjoy your heat-free waves once your hair dries.
21. Pulled Back Bangs
You know when you first get your bangs cut and they look so cute? But then they start growing out and get into that weird in-between phase where they are too long to be bangs but too short to be styled with the rest of your hair. Well, you canopt for headbands and clips to keep them off your face. Or you can try this simple trick. Just brush your bangs back and spray a strong hold spray on them. This will keep them in place all day, and you'll have a great hairdo to sport.
22. Instant Waves
If you're anything like me, you're probably too lazy to use a curling iron to create those perfect waves with individual sections of hair. In that case, here's a little hack of a style that will get your wavy hair just as gorgeous as Blake Lively's. Divide your hair into four sections and twist each section right till the end. Run a straightener over each twisted section and separate your locks to reveal your perfect waves. Pin back some sections of hair from the sides and set with a medium hold hairspray to complete the look.
23. Wispy Bun
Now, here's a cute everyday look that is oh-so-easy to style and perfectly suited for a casual day in with friends. And the best part? It works really well for second-day hair! To get this style, fingercomb your hair and tie it into a ponytail at the back of your head. Add volume to the ponytail by backcombing it, then wrap it around its base to create a bun. Secure this bun to your head with some bobby pins and pull out some wisps of hair around your face to finish off the look.
24. Updo With A Headband
Your bangs can get really annoying on hot summer days when you have a ton of work to do. This simple bun and headband style sported by Olivia Wilde can be a real savior in this situation. Start off by applying a bit of volumizing mousse to your hair. Then, flip your hair forward and brush it down. Now, gently brush your hair back, place a headband as close to your hairline as possible and push it back so that you no longer have your hair falling on your face. Gather your hair into a simple bun and secure it to your head with some bobby pins.
25. Side Bun
In the mood to look a little fancy and posh at work/school today? Then, here's a style that you'll absolutely love! Just part your hair on one side and start tying it into a low side ponytail. At the last twist of your hair elastic, loop your hair through only 3/4th of the way so that you end up with a looped bun. Fan out this looped bun and pin it to your head with some bobby pins. The great thing about this style is that it can only be done with medium length hair because long or short hair creates loop buns that are not the right size to perfect this look.
Well, that was our rundown of some everyday looks for medium length hair that you need to try out. Do you have some favorite styles that you love to sport on your medium length hair? Then comment below to let us know!
Recommended Articles
The following two tabs change content below.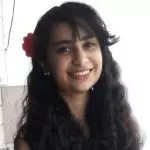 Latest posts by Arshiya Syeda (see all)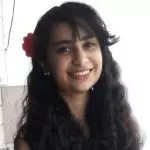 Arshiya Syeda
Arshiya Syeda is an editor and certified counselor. Ever the lover of the written word, she served on the editorial boards of her school and college newsletters. Writing articles on hairstyles, hair care, and nutrition helped her combine her love for reading, writing, and research. As an associate editor, she helps her team members deliver polished and meticulously researched content. Fluent in English, Urdu, and Hindi, Arshiya now aims to become a multilinguist by learning German and teaching herself American Sign Language (ASL).