13 Best Deep Conditioners For Bleached Hair
Bring life and luster back to your bleach-damaged hair with these nourishing formulas.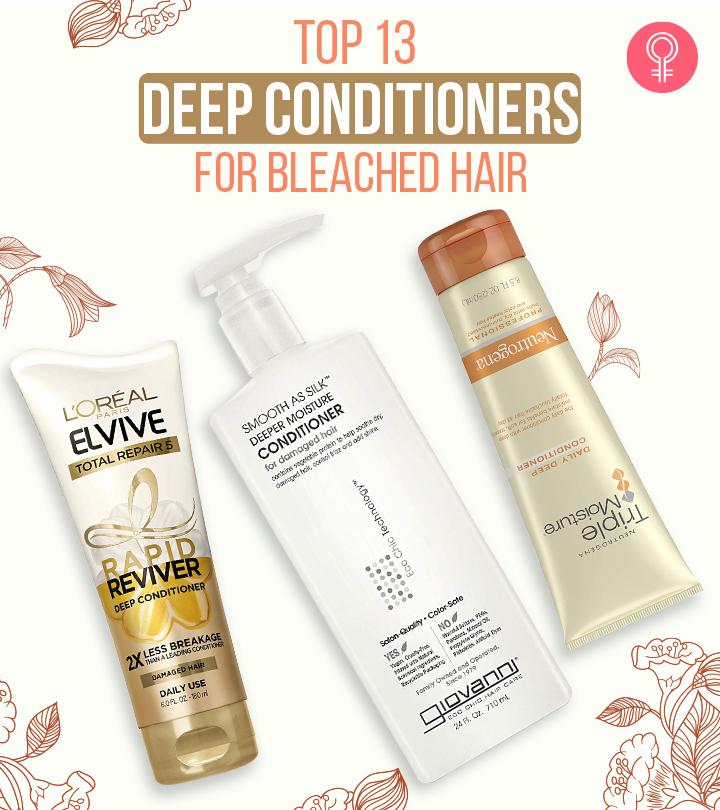 Bleached hair needs extra moisturization and nourishment, and you can give your hair that with the best deep conditioner for bleached hair. It will transform your brittle and fragile tresses that are inevitable when you bleach your hair into luscious locks with adequate moisturization and nutrients like keratins, nourishing oils, and other vitamins. These nutrients tend to keep your hair soft and make sure it doesn't break off easily. So, what are you waiting for? Read our list now and take your pick!
Top Picks
Top 13 Deep Conditioners For Bleached Hair
Overprocessing and bleaching damage the keratin (a type of protein) in the hair. This deep conditioning keratin hair mask helps reverse the damage and restore the keratin of your hair. It contains aloe vera, keratin, and rejuvenating oils that penetrate the hair shafts to nourish them from within and seal the moisture. It guards your hair against the sun and heat damage and prevents split ends. Click here to check out this YouTuber's unbiased review.



Pros
Detangles the hair
Restores hair elasticity
Adds shine
Cruelty-free
Cons

Quick Tip
Never apply deep conditioners on soaking wet hair, as the product may run off with water. Instead, always use it on damp hair for better absorption.
Price at the time of publication: $14.98
This biotin conditioner is excellent for the scalp and hair. It contains botanical extracts, aloe vera, and the nourishing argan oil. This deep conditioner helps to detangle your hair, fortify the hair shafts, and rejuvenate them to make your hair appear thick and healthy. It also helps to reverse the effects of environmental damage on your hair.
Pros
Contains certified organic ingredients
Paraben-free
Sulfate-free
Cruelty-free
Preservative-free
Gluten-free
Free of harmful chemicals
No artificial additives
Cons
May take time to show visible results.
Price at the time of publication: $19.99
This deep conditioning hair mask can help transform your colored, bleached, and stressed hair. It contains aloe vera, argan oil, macadamia oil, and hydrolyzed wheat protein. This luxurious formula also contains a protein enriched MRV3 Complex that nourishes your hair, improves elasticity, and makes it healthy. Here's a personal review video to help you get a better understanding of the product.
Pros
Paraben-free
Sulfate-free
Contains natural ingredients
Visible result after first use
Pleasant fragrance
Cons
Price at the time of publication: $13.99
The Davines NOUNOU Conditioner is an excellent deep conditioner that can be used on bleached, permed, or relaxed hair. The product deeply hydrates and nourishes the hair and makes it easy to detangle them. It softens the hair and gives them more definition without weighing them down. This conditioner is designed with torre guaceto fiaschetto tomato extract, which is rich in carbohydrates and proteins to act as nutrition for your hair. It contains vitamin C, which has an antioxidant effect and helps retain hair texture. This conditioner protects against humidity, helps prevent frizz, restores elasticity to curls, and aids in the maintenance of color-treated hair.
Pros
Paraben-free
Reduces frizz
Adds shine
Provides nourishment
No harsh chemicals
Works on all hair types
Cons
None
Price at the time of publication: $38
This 5-in-1 hair mask claims to hydrate, condition, improve hair texture and shine, treat split ends, and tame frizz. It helps to improve hair health and repair the damage caused by styling, heating, and bleaching. It contains castor oil, coconut extracts, shea butter, argan oil, and other nourishing ingredients that maintain your hair health. Click here to check out a detailed personal review of this product.
Pros
Sulfate-free
100% vegan
Glute-free
Cruelty-free
Paraben-free
Phthalate-free
Pleasant fragrance
Cons
The packaging is not user-friendly.

Pro Tip
After applying the deep conditioner, run a wide-toothed comb through the hair to evenly distribute the product and let it sit for some time.
Price at the time of publication: $39.9
This product is primarily meant for curly, wavy, and coiled hair (2C to 4C type). This deep conditioning treatment is a blend of hair-nourishing ingredients like coconut, avocado, mango, flaxseed extracts that help hydrate the hair, reduce frizz, and make the hair soft and manageable. It also helps reduce breakage and keep your hair healthy.
Pros
Mild coconut fragrance
Creamy texture
Defines the curls
Prevents breakage
Reduces damage
Adds shine
Cons
Price at the time of publication: $9.19
This is a nourishing and moisturizing conditioner for chemically processed and bleached hair. It contains a combination of vegetable proteins and certified organic botanical extracts, such as lavender, chamomile, and ginkgo biloba. It helps transform your rough, frizzy, and brittle hair into smooth, silky, and manageable tresses. It also helps repair split ends and is safe for color-treated hair.
Pros
Vegan
Paraben-free
Sulfate-free
No harsh chemicals
Cruelty-free
Biodegradable formula
Contains botanical extracts
Cons
Price at the time of publication: $17.51
The Saphira Mineral Moisturizing Conditioner is an effective treatment that hydrates and repairs bleached hair. It is loaded with essential minerals that are necessary for healthy hair. The conditioner includes 26 ultra-healing minerals from the dead sea, such as zinc. It is a well-known mineral for profoundly hydrating your hair and encouraging healthy hair development. With its high mineral content, the conditioner hydrates, softens, and smoothens the hair, making them more manageable and easy to style. It can help restore and revitalize the hair to its natural state.
Pros
Paraben-free
Sulfate-free
Cruelty-free
Vegan
Gluten-free
Infused with essential minerals
Adds shine
Cons
None
Price at the time of publication: $70
The Vitamins Keratin Hair Mask Deep Conditioner is a professional regenerating silk softener that combines keratin collagen with moroccan argan and coconut oils. It makes your hair naturally sleek and silky. It is a rejuvenating hair mask meant for dry and damaged hair. It enhances nourishment for highly brittle hair. It offers an effective thermal protection barrier with the help of biotin and castor oil to control heat damage. Its formula is lightweight that suits all hair types.
Pros
Lightweight
Controls frizz
Detangles the hair
Adds shine
Paraben-free
Sulfate-free
Pleasant fragrance
Cons
Price at the time of publication: $19.98
This deep conditioner by L'Oreal claims to reduce hair breakage while repairing it. It has a rich formula with 20% conditioning serum and almond protein that repair damaged hair, keep it moisturized, and revive it with regular use. It protects your hair from heat damage and also makes it easy to detangle.
Pros
450-degree heat protectant
Softens the hair
Prevents frizz
Cons
May weigh fine hair down.
Price at the time of publication: $6.87
This conditioning hair mask contains a blend of argan and sunflower oils and guava extracts. It provides ultra-hydration to your hair, locks in moisture, and restores the softness of your tresses. It prevents scalp dryness and dandruff, repairs split ends, and nourishes bleached and chemically processed hair. It also eliminates frizz and strengthens the hair.
Pros
Paraben-free
Contains shea butter
Makes the hair soft and silky
Cons
May not work for thick and curly hair.
Price at the time of publication: $16.99
This product contains certified organic raw shea butter – the ultimate hydrating ingredient for damaged and distressed hair. It includes the 10-in-1 Renewal Complex, which is loaded with superfruit extracts that also provide anti-aging benefits to your hair. It deeply conditions your hair, keeps it smooth, and ensures lasting effects.
Pros
Contains certified organic ingredients
Contains Biotin
Offers anti-aging benefits
Silicone-free
Color-safe
Works on low porosity hair (Type 3 and 4)
Cons
Price at the time of publication: $18.75
This hydrating and nourishing hair mask is a blend of macadamia oil, shea butter, and coconut oil. It deeply conditions your hair, heals, and hydrates it. This quenching formula softens the rough, dry, and brittle strands you get after bleaching and heat styling. It balances the pH level of your hair and gives it a healthy shine.
Pros
Paraben-free
Silicone-free
pH-balanced
Suitable for all hair types
Pleasant fragrance
Cons
None


Quick Tip
Jojoba oil, avocado, macadamia oil, shea butter, and glycerin are some of the best ingredients to look for in a deep conditioner for bleached hair.
Price at the time of publication: $7.09
When it comes to bleached hair, it is important to deep condition it to keep it healthy. This ensures that the color is protected and the hair is left feeling soft, silky, and resilient. Here are some factors to consider when looking for a deep conditioner for bleached hair.
Things To Look For In A Deep Conditioner For Bleached Hair
Ingredients: First and foremost, look for a conditioner that is sulfate-free. This will help protect against any further damage done to your hair from the bleaching process. Additionally, choose a deep conditioner that has argan oil and keratin as its main ingredients. These two ingredients work together to help promote healthy hair growth while conditioning the scalp. If you have color-treated hair, be sure to select a conditioner that contains lightening agents.
Consistency: The consistency of a deep conditioner can be key to its effectiveness. If the deep conditioner is too thick or difficult to apply, it will not be effective in repairing damaged hair. Similarly, if the deep conditioner is too thin or watery, it will not penetrate the hair shaft and will not provide long-term benefits.
Additional Benefits: To determine which deep conditioner is right for you, consider your hair's current state, as well as its desired outcome. If you want to restore your hair's natural color, choose a color-safe deep conditioning treatment that contains ingredients like keratin or silk proteins.
Many conditioners also offer protection against environmental aggressors while helping improve your hair's texture and elasticity. If you have bleached hair that needs repairing, look for a deeper conditioner that has nourishing properties and can keep your hair squeaky clean.
Bleached hair dries out quickly and often lacks nourishment. This type of hair needs a lot of care and maintenance. Investing in deep conditioners for bleached hair will help you moisturize the hair strands and also keep frizz at bay. These conditioners contain ingredients like keratin and aloe vera gel that penetrate deep into the strands and the scalp to provide nutrients and moisturization to the roots. They help in managing the damaged hair and help detangle easily. These deep conditioners are cruelty-free, vegan, and paraben-free. Alexandro Vasquez, an expert hairdresser, says, "Don't forget that if you have bleached hair, it's better to double the care to prevent future problems. Another tip is never tie your hair with a rubber band because it will break your hair even more. Conditioners are super essential for these types of hair."
Why Trust StyleCraze?
The author, Oyendrila Kanjilal, has extensive hair care knowledge. She understands that though bleached hair is necessary for achieving that perfect color, it requires special care and deep conditioners can provide it. She compiled this list of the top products after conducting extensive research and reviewing numerous online reviews. You can transform your brittle and fragile locks that come with bleaching into healthy and luscious locks with these products.
Frequently Asked Questions
Is a hair mask the same as a deep conditioner?
A hair mask is used to nourish your hair, lock the hair color, and repair the dullness and damage in your hair due to bleach. A deep conditioner will repair the dullness and provide nourishment to your hair better than your ordinary conditioner.
How often should I use a deep conditioner for bleached hair?
Use a deep conditioner for bleached hair once every week.
Do you rinse out deep conditioner?
Yes, rinse out deep conditioners after keeping them on for a few minutes. Otherwise, the formula will get dry and leave a dusty residue on the scalp.
Do you use regular conditioners after deep conditioners?
No, use only one or the other. Regular conditioners are for maintaining the health and shine of your hair while deep conditioners are for providing an extra boost of nourishment and hydration to dull hair strands.