13 Best Hiking Leggings You Can Sport With Style And Comfort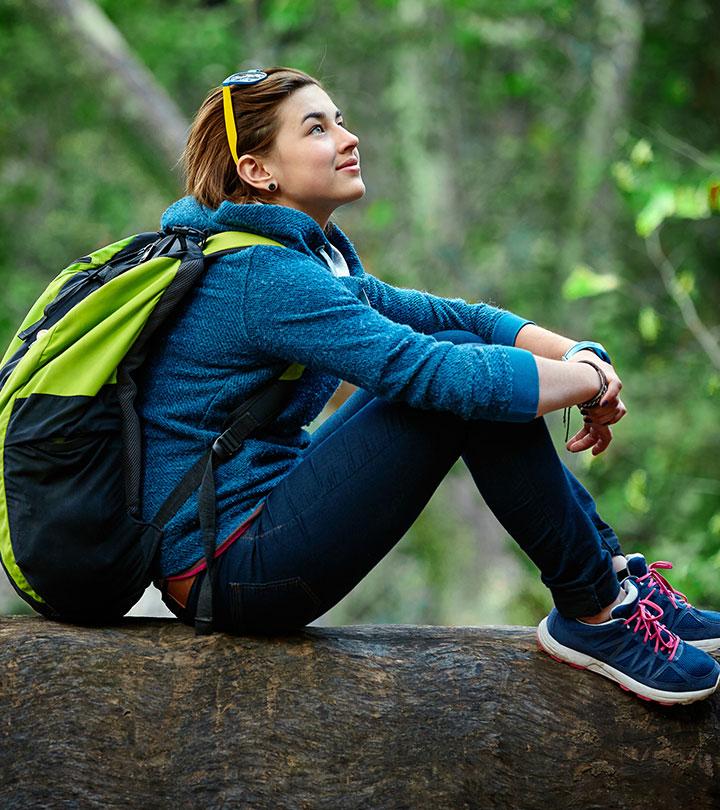 Hiking, running, or rock climbing – no matter your sport, proper clothing and gear are essential to enjoy the activities. The best hiking leggings are specially designed to offer comfort during your adventures. They are made of high-quality, lasting material that helps you flaunt your legs while keeping them protected. In addition, these leggings offer warmth on a cold day, and you can style them with various kinds of outfits. So, if you want to add a pair of good hiking leggings to your closet, we have got you covered. Our list features the 13 best-rated pants that are sure to win your heart. Swipe up to grab them now!
Which Are The Best Leggings For Hiking?
Hiking leggings usually feature a high-rise waistband that stays put as you climb or scramble uphill. They hug your legs comfortably, enabling a tight fit and prevent slipping down while still looking flattering. To keep you cool and allow your skin to breathe, most leggings are made of breathable fabrics. It is also water-resistant, so it repels sweat, which can also be a great feature as it dries quickly. For colder weather conditions, hiking leggings are also crafted with a lining of fleece to keep you warm without overheating.
13 Best Hiking Leggings To Carry You Through Your Next Hiking Session
BALEAF's waterproof leggings for hiking are composed of 50% cotton, 36% polyester, and 14% spandex. The breathable and stretchable fabric is supplemented with an elastic waistband that is comfortable on the skin. It also features a small inner pocket to house your valuables like keys or cash. With a 4-way stretch and non see-through property, these hiking tights have flat seams that minimize the irritation that chafing can cause. Giving you a wider range of motion, this pair is available in 14 colors and is a great choice for hiking.
Pros
Moisture-wicking
4-way stretch and ergonomic design
Minimized chafing
Not see-through
Inner waistband pocket
Available in 14 colors
Cons
Some may find that they ride down easily
If you want to explore hiking in yoga pants, look no further than AFITNE's figure-flattering polyester-spandex blend pairs. Not only is it waist high, the elastic band is wide enough to give you tummy control and not dig into skin. Made with breathable and moisture-wicking fabric, these comfortable leggings for hiking are lightweight, absorb sweat, and dry quickly when washed. Side pockets with a hidden one in the waistband allow you to keep your stash of essentials worry-free. The flatlock seams in these leggings for women reduce irritation and a gusseted crotch allows you to move about freely.
Pros
Available in 16 colors
Moisture-wicking
4-way stretch
Wide waistband with inner pocket
Gusseted crotch for freedom of movement
2 side pockets
Cons
Hiking in leggings comfortably is offered by COOLOMG as they are made of 85% polyester and 15% spandex. The fabric is buttery soft and fits you like a second skin with a snug elastic waistband with drawstrings. To allow you to hike freely, these walking leggings have a four-way stretch, a gusset crotch, and flat locked seams. A small hidden zippered pocket at the backside can be used to stow your essentials. Hugging your body yet still retaining shape, COOLOMG's best hiking tights can be used for all your day hikes.
Pros
Available in 19 colors
Minimized chafing
Retains shape
4-way stretch
Inner zippered pocket
Snug waistband
Cons
Some might find that they don't provide enough compression
HIGHDAYS offers hiking or camping leggings that are composed of 87% polyester and 13% spandex for a 4-way stretch. They offer tummy control by gently compressing the abdomen and smoothing down the silhouette. As this pair of hiking pants is not see-through, you can be active worry-free even if you happen to bend and lift weights. The side pockets easily fit your phone, so you can hike hands-free while the gusseted crotch gives a seamless look. You can stay cool with the breathable fabric that also wicks away moisture in these winter hiking leggings.
Pros
Eliminates chafing
Moisture-wicking
Available in 11 colors
Side pockets
Waistband offers tummy control
Breathable leggings
Cons
They might not retain shape
Yogipace's women's hiking leggings are made with 87% polyester and 13 % nylon and feature an elastic waistband. For optimum comfort, the fabric of these durable leggings offers a 4-way stretch and wicks away moisture, so you don't get sweaty on the trail. On the waistband, a back pocket keeps your valuables hidden with 2 side ones that can store larger items. These yoga pants for hiking have a flat and wide waistband that doesn't dig into the skin and a double-layer gusset crotch with flatlock seams. Allowing you to move however you prefer, they offer a secure fit.
Pros
Wide elastic waistband
2 side pockets and a hidden back pocket
Double-layer gusset crotch
Flatlock seams and 4-way stretch
Moisture-wicking
Available in 3 colors
Cons
With these leggings, walking uphill while on a hike is comfortable as the flat seam craft reduces chafing and irritation. 80% nylon and 20% spandex is used in the construction of THE GYM PEOPLE's high waisted hiking leggings. With an elastic closure, the waistband keeps your abdomen secure and prevents the pants from riding down. 2 side pockets allow you to exercise hassle-free and the compression hiking leggings fit well, allowing better blood flow.
Pros
Flat seam stitch reduces chafing
Soft and skin-friendly fabric
Offers tummy control
2 side pockets
Available in 12 colors
Doesn't ride down
Cons
The crotch area might be baggy owing to lack of gusset
TSLA's thermal hiking leggings feature an aerisoft thick-contour design that keeps you warm while allowing your skin to breathe. The high waist and 4-way stretch fabric conforms to your body shape and allows you to move comfortably all year-round. These are good hiking leggings for cold weather conditions as they are lined with fleece on the inside for sustained warmth. You can stay protected from the sun's harmful rays and moisture owing to the outer material that is soft. 2 side pockets and a rear one offer secure storage while the reflective print increases visibility in the dark. With TSLA's women's cold weather hiking pants, your winter hikes just got more fun!
Pros
Inner fleece lining
UV protection
Soft and breathable
2 side and 1 rear pocket
4-way stretch
Reflective prints for visibility
Cons
Might ride down for slim-waisted people
Yogipace's water-resistant leggings have an inner lining of fleece that keeps your skin warm yet able to breathe in harsh weather. They are high-rise and feature deep side pockets to hold your phone and valuables during your hike. For a better fit and range of motion, the crotch of these traditional hiking pants is gusseted and an inner drawstring allows you to adjust tightness. The hidden waistband pocket is suitable for cards, cash, or keys, and allows you to walk around hands-free.
Pros
Gusseted crotch
Deep side pockets
Inner drawstring
Hidden pocket
Inner fleece lining
Warm yet breathable
Cons
Some may find them to be baggy in the knee area
Made with 75% polyester and 25% spandex, Heathyoga's cute hiking leggings offer great coverage and support for your physical activities. The breathable material has a wide elastic band that offers abdomen control and keeps you looking taut. Without any restriction or chafing, the cropped hiking leggings give gentle compression that feels comfortable. A gusseted crotch, X-line seams, non see-through and moisture-wicking material all add to a great outdoors experience.
Pros
Available in 19 colors
Gusseted crotch
Gentle compression
2 side pockets and a hidden one
Moisture-wicking
Not see-through
Cons
Might not retain shape after washing
For any of your active pursuits, Eddie Bauer's trail leggings are high rise and wick away moisture. The polyester-spandex blend has UPF sun protection for hiking in summer or humid weather and odor control along with mesh panels to promote ventilation. 2 drop-in cargo pockets fit your essential items and an inner secure vertical pocket can house valuables. Without riding down, the power mesh waistband  on these full-length hiking pants stays secure and doesn't restrict mobility.
Pros
UPF 50+ sun protection
Moisture-wicking
2 side and 1 vertical hidden pocket
Mesh panels for breathability
Odor control
Available in 7 colors
Cons
Some may find the waistband to be too big
Fjallraven's leggings feature a drawstring closure and are made with a blend of elastane, polyamide, polyester, and nylon. The dense and high-performance stretchable fabric not only wicks away moisture but contains reinforcements at the rear and knees for extra protection. To reduce the possibility of chafing, flatlock seams and a gusseted crotch are sewn in. The wide waistband has a pocket along with one on each leg as well and when you hang the tights, just use the clip-on loop at the hip.
Pros
Moisture-wicking
Available in 5 colors
Reinforcements at knees and rear
Reduced chafing
3 pockets
Wide waistband
Cons
Some may find it slightly itchy
SMENG's joggers have deep side pockets to hold your belongings like smartphones and wallets. The high-elastic fabric dries quickly and remains breathable and lightweight to use. 92% polyester with 8% spandex is used to give you a good fit that carries you through outdoor sports with ease. The elastic waistband and drawstring can be adjusted according to your body while the ankle cuff keeps the leg sleeves in place. Water and scratch-resistant, these pants are available in 10 colors that make any hike a fun experience.
Pros
2 deep side pockets
Elastic ankle cuffs
Quick-dry
Lightweight hiking tights
Water-resistant
Scratch-resistant
Cons
Might not be ideal for cold weather
To keep you insulated through winter sports, FitsT4 offers weather-resistant thermal pants with a fleece lining. The fabric is breathable and wicks away moisture to prevent you from overheating. Your core is supported with the elastic waistband while the gusseted crotch and interlocked stitch allows you to move flexibly. If you happen to be hiking at nighttime, the reflective panels come in handy by increasing visibility. The soft material has a 4-way stretch with 2 zippered hand pockets on the sides and one at the rear.
Pros
3 pockets
Available in black with 3 accents
Reflective panels
Fleece lining
Gusseted crotch
4-way stretch
Cons
The side pockets might add a bulky look
After we've looked at the best leggings for hiking, it's time to learn how to choose the right ones for yourself. Read below and ensure that your next pair has the following features.
How To Choose The Right Hiking Leggings
Elastane also goes by the names Lycra or spandex and is good at moisture-wicking, stretchability, and breathability. Nylon is another highly-used material for leggings and while it offers moisture-wicking and stretchable abilities, it might not be the best at breathability. Polyester is also widely used but is moderate at stretchability and retaining heat. However, it is breathable and wicks away moisture. When purchasing leggings, look for a blend of the materials mentioned above to get the best out of all the fabrics.
To allow you to move better, leggings incorporate some features and stitching patterns. A gusseted crotch is a piece of cloth stitched into the crotch area that can minimize the irritation caused due to friction or even chafing. This can help you walk or run around without restriction.
The waistband of your leggings needs to be elastic and having a drawstring closure is even better. This is because you can customize the fit and prevent the pants from slipping down, giving you freedom to move without worries.
This is an important quality if you happen to be hiking in areas that experience much rain. Even otherwise, this feature keeps moisture and sweat away from your leggings and helps them dry quicker when washed.
If your hikes are scheduled for winters or you live in an area that witnesses harsh cold weather, look for thermal leggings. They are made of thicker material and have more compression on the legs and thighs. Additionally, they also have a fleece lining on the inside to keep you warm.
Some people prefer to hike hands-free and this is when pockets come in handy. You can look for deep side pockets that are roomy enough to hold your phone and wallet. Some are even zippered for extra security. If you're afraid of your valuables being lost or falling out, some leggings feature pockets inside the waistband. They can be used to hold credit or debit cards and keys for extra protection.
If you're a first-time or a long time hiker, shopping for new gear is always exciting. While hiking pants are great for this activity, many brands have been designing leggings that work just as well, or even better. You might be reluctant to use hiking leggings but fret not as they have a plethora of features that keep you at optimum comfort and still add some style. Plan your hike in freezing temperature, when it's drizzling out, or with the sun right overhead — there are hiking leggings for every occasion! Even if you happen to be a casual hiker, these leggings are so good that you'll definitely want to use them for other sport activities.
Why Trust StyleCraze?
Chaitra Krishnan, the author of this article, loves experimenting with fashion accessories and clothes and believes style and comfort should go hand in hand. So, she conducted in-depth research into various products and consulted hundreds of reliable user reviews to curate this list of the best hiking leggings for her readers. She has shortlisted some high-quality hiking leggings that keep your skin cool and breathable. They also come with non-see-through properties and side pockets.
Frequently Asked Questions
Are leggings good for hiking?
Yes, leggings are breathable and can help prevent chafing. They repel sweat and don't cause restriction of movement.
Can you hike in yoga pants?
Yes, yoga pants are quite durable and made to withstand movement. They have a gusseted crotch and flat seam stitching to minimize chafing and irritation.
Are workout leggings good for hiking?
Workout leggings are pretty sturdy as they can be used for squatting and weightlifting. They offer compression, reduce chafing, and wick away moisture.
Recommended Articles