10 Best Natural Toners For Oily Skin With The Ultimate Guide – 2022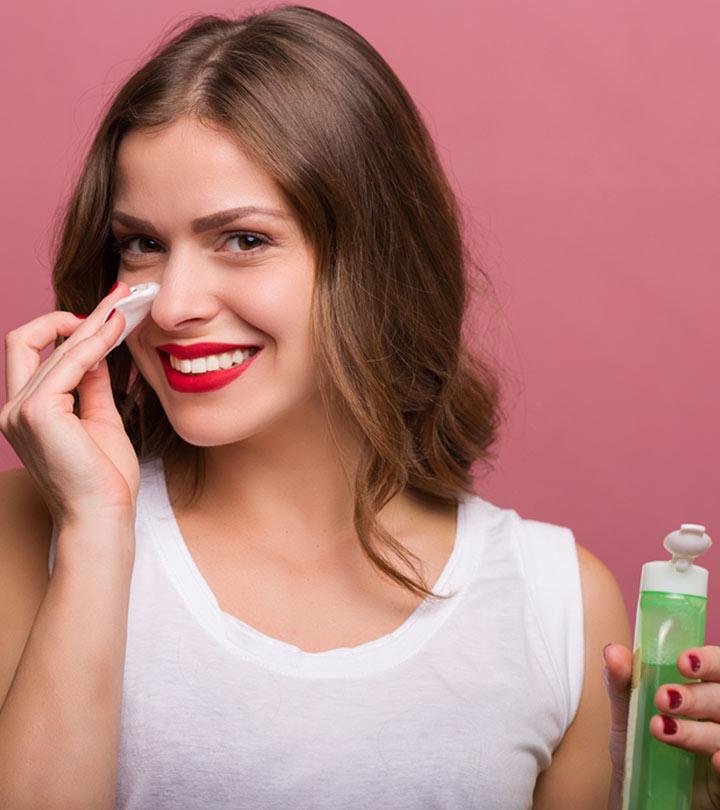 A well-formulated natural toner for oily skin minimizes pores, restores the skin's pH balance, offers a layer of protection, moisturizes, refreshes, and can prevent ingrown hair. A face toner is a liquid that gets absorbed quickly and helps to eliminate debris and oil from the skin. Breakouts, acne, and pimples occur when sweat, oil, and grime congest the pores of oily skin, and a great natural toner is the blessing you have been praying for. You may easily incorporate it into your skin care routine before applying a moisturizer. The best thing about a natural toner is that it is free of chemicals, so you may start your cleanse-tone-moisturize (CTM) process without fear of causing any damage to your skin.
Don't despair if acne, greasy skin, pimples, and uneven skin tone have been making you want to rip your hair out in anger! We are here to help you find the ideal toner for your skin type so that you do yourself justice and give your skin all the TLC it needs. To get started, check out this list of the top 10 natural toners that can take away all your oily skin woes. Scroll down.
10 Best Natural Toners For Oily Skin In 2021
Say hello to bright, vibrant skin as this USDA-certified organic rose water natural facial toner for oily skin is full of antioxidants and reduces skin irritation and inflammation. Rose water hydrates, revitalizes, and moisturizes your skin for a refreshed look and smoother, healthier skin. You can spray this natural rose water toner on your skin several times a day to refresh the skin. It not only tones your skin and clears pores but also maintains the pH balance of your skin and has the added advantage of acting as a makeup setting spray. This toner is specially formulated to improve uneven skin tone and texture. It helps to reduce acne, wrinkles, fine lines, sun damage, and dark spots and is ideal for all skin types. This might just be the perfect natural toner for your oily skin.
PROS:
USDA-certified
Organic
Cruelty-free
Paraben-free
Sulphate-free
gluten -free
No alcohol
No artificial fragrance
CONS:
Might cause dryness for some
This product contains salicylic acid extracted from willow tree bark which is ideal for the treatment of acne as it penetrates deep into the pores to cleanse. Designed for troubled and blemish-prone skin, Burt's Bees natural toner for oily skin gently cleans your skin and tightens pores, resulting in healthy and clear skin. It also has skin clarifying witch hazel and lemongrass that are known for their astringent properties that helps remove residual dirt, oil, and makeup to reveal a clear, healthy looking skin. It contains a number of other natural ingredients like beeswax, honeysuckle flower extract, jojoba seed oil, and soybean oil to name a few. This toner exfoliates your skin to unclog pores and prevent acne and pimples from forming. Give your skin the best nature has to offer with this toner.
PROS:
Natural ingredients
Non-comedogenic
Dermatologist-tested
Not tested on animals
Responsible sourcing
Recyclable packaging
CONS:
Might not be suitable for extremely sensitive skin
This natural cleanser and toner for oily skin is infused with blueberry extract and hyaluronic acid that hydrate the skin and help retain moisture. It also has algae extract that detoxifies skin and reduces inflammation and glycolic acid, which exfoliates dead skin cells, leaving your skin extra smooth. To add more to its goodness, it has vitamin C which brightens your complexion and evens out the skin tone. This natural facial toner balances the pH levels in the skin and locks in moisture to keep the skin hydrated. It detoxifies the skin and reduces redness and inflammation, making it one of the best natural cleansers for oily skin. It also contains vitamin B5 which is an essential anti-inflammatory agent that helps keep the skin soft, smooth, and healthy. It heals while hydrating the skin by absorbing moisture from the air and works like magic on your skin.
PROS:
No harmful preservatives
No petrochemicals and alcohol
Suitable for all skin types
Paraben-free
Sulfate-free
No phthalates
No fragrance
No synthetic colors
Cruelty-free
CONS:
Some may not find the texture suitable.
This product does your skin a favour as it removes residual dirt and makeup, balances and smooths your skin while nourishing and healing it. It's perfect for daily use as it restores vitality, heals, nourishes, and softens the skin. Orange Blossom Water Toner is 100% natural water of the Mediterranean, infused with flowers from the bitter orange tree and works to soothe and clear your complexion. Renowned for its many uses and benefits, orange blossom water is a natural astringent for oily skin and is an antiseptic agent which leaves your skin feeling fresh while also removing dirt and oil that clog the pores. This natural facial toner for oily skin is a perfect step to add to your daily skin care regimen after washing and before applying your serum and moisturizer. We love it all the more because it is an alcohol-free alternative to your typical astringent!
PROS:
100% natural
Vegan
Cruelty-free
Alcohol-free
CONS:
Some may find the fragrance overpowering.
This alcohol-free natural toner for oily skin contains a premium formula of witch hazel, which dissolves residual dirt, makeup, and oil, lavender that relaxes your senses and helps purify skin by rebalancing the pH levels, and aloe vera to cleanse, tone, and refresh your skin. This toner is also infused with vitamin A, B1, B2, B3, B6, C, and E, zinc, iron, selenium, and magnesium and is full of youth-preserving antioxidants to keep the skin hydrated, smooth, and blemish-free. This unique blend calms irritated skin, tightens pores, exfoliates dead skin cells, and evens out skin tone for a bright and radiant complexion. Make sure you don't overlook this crucial yet often ignored step of your skin care with this amazing toner.
PROS:
Natural ingredients
Eco-friendly
Non-greasy
Cruelty-free
paraben-free
No artificial fragrance
Contains therapeutic grade witch hazel
CONS:
May not be suitable for extremely sensitive skin
We were always told about the benefits of vitamin C for a cold, but who knew it worked miracles on the skin as well? The antioxidants in this formula fight aging of the skin, and the plant and fruit extracts clean and purify your skin while tightening the pores and balancing pH levels. Extracts of grapefruit in this toner provides an array of anti-aging benefits such as evening out skin tone and fighting off free radicals. It also has outstanding astringent and exfoliating power, especially helpful for those with oily or acne-prone skin. Soothing aloe vera works in tandem with revitalizing rosemary extract, while tamanu oil exerts its anti-aging magic. Noni, known to the Polynesians for more than 2,000 years, helps erase age spots and under-eye bags, and carrot oil detoxifies and keeps the skin supple and nourished. This wonder potion in the form of face toner is definitely worth the try.
PROS:
Natural ingredients
Suitable for all skin types
No synthetic colors
Enriched with vitamin C
CONS:
Some may not like the fragrance.
This product is formulated with a fruit stem cell complex with argan stem cells and kombucha probiotics that nourish your skin while willow bark purifies your pores for a clear, refreshed complexion. These ingredients remove excess oil and banish blemish-causing bacteria. It is further enriched with a host of other ingredients like salicylic acid, aloe vera polysaccharides, witch hazel, vitamin C, black tea ferment, white tea leaf extract, camphor bark oil, and peppermint leaf oil to name a few. These help to remove dull skin cells, impurities, and purify, refine, and gently exfoliate the skin. This formula reduces the appearance of enlarged pores for a tighter, smoother, cleaner complexion. So, say goodbye to oily and greasy skin with this natural face toner for acne prone skin and welcome a bright and radiant complexion.
PROS:
Organic and natural ingredients
Non-GMO
100% vegan
Gluten-free
Cruelty-free
CONS:
Some may not like the consistency of the toner.
Jumpstart your routine with this organic and natural toner for oily skin— a balancing and replenishing toner with ginseng, witch hazel, aloe vera gel, hyaluronic acid, and Japanese green tea. Hyaluronic acid is known to increase moisture retention and improve skin elasticity while witch hazel helps prevent acne and inflammation. Japanese green tea tightens skin and reduces fine lines, dark circles and puffiness, while aloe vera, which is a mineral and amino acid rich gel, moisturizes and soothes the skin. It's also rich in vitamin A, C, and E. This toner also shrinks pores, maintains the skin's pH balance at 5.5, and is infused with a micro water complex delivery system that differentiates it from many other toners. It's time to step up your game with this natural toner for oily skin and face the world with a fresh and vibrant glow to your face.
PROS:
100% organic
Paraben-free
Fragrance-free
No animal testing
No added color
CONS:
May not be suitable for extremely sensitive skin
If you want your skin to maintain its youthful glow and vitality, we suggest checking out this natural toner for oily skin. This refreshing mist will hydrate, tighten pores, maintain the natural pH balance of your skin, and prevent oiliness. It is a combination of a host of natural ingredients like aloe vera, witch hazel, rose water, orange flower water, glycerin, and apple cider vinegar to name a few, which soothe, moisturize, and balance your complexion. This product is also rich in antioxidants and is known to reduce inflammation and redness and preps your skin for moisturizer and makeup to bring out your natural beauty. It's perfect for acne, rosacea, dry, and aging skin as it tones and tightens skin to restore a naturally even complexion.
PROS:
Sulphate-free
Paraben-free
Non-GMO
Cruelty-free
Non-toxic
CONS:
Are you tired of your dull and listless skin? If so, this clean, non-toxic formula can replenish moisture and balance the pH level of your skin as it's formulated with calm and balancing naturally derived ingredients to reveal a flawless radiance. Hyaluronic acid deeply moisturizes the skin for prolonged hydration while chinaberry extract is rich in antioxidants that help combat free radicals, protects skin from UV ray damage, and helps to prevent premature signs of aging. It contains vitamin B5 that deeply penetrates into skin to hydrate, retain moisture, and improve the skin's elasticity. Inspired by South Korean skincare rituals and developed with innovative ingredients, Rael Beauty's natural toner for oily skin hydrates, brightens, and prevents acne and breakouts. We have given you the ideal solution, and now it's all up to you!
PROS:
Vegan
Cruelty-free
Paraben-free
Mineral oil-free
Sulphate and phthalate-free
No artificial fragrance
No synthetic dyes
Dermatologist tested
CONS:
May not be suitable for extremely dry skin
Now that you have looked at the 10 best natural toners for oily skin, here are a few things you need to keep in mind while buying a product for your skin so that you make the right choice for yourself.
How Do I Choose A Natural Toner For Oily Skin
Choose a toner that contains ingredients that focus on the issues of oily skin like greasy skin, enlarged pores, and pimples. For instance, alpha-hydroxy acids (AHAs), can penetrate deep into pores to provide effective exfoliation and help clear out clogged pores.
Oily skin is often characterized by enlarged pores, looks shiny from excess oil, and, when blotted with a tissue, significant oil residue is visible. Dry skin usually has smaller pores, feels tighter and tends to look dull and rough. You will also know if you have dry skin if it becomes flakey and stretchy during the winters. This skin type is also prone to cracking, peeling, irritation, redness/dry patches, and itchiness.
Combination skin is a little more complicated because, as the name suggests, you tend to have both oily and dry or normal skin. Combination skin is skin that has larger pores and more oil in the T-zone, which is your forehead, nose, and chin. However, the other areas of your skin, like your cheeks and the sides of your face, have smaller pores and less oil. It is crucial for you to specify whether you have oily skin or combination skin in order to pick the right toner that doesn't aggravate your skin issues.
If you have an oily skin type, choose toners that are refreshing and gentle for the skin. Don't torture your oily skin by buying toners that contain alcohol. These toners will dry out your skin causing your skin to produce even more oil. In worst case scenarios, your skin may even start breaking out from excess oil secretion.
Now, you no longer have to suffer the woes of your oily skin which often lets you down with issues such as acne, pimples, and breakouts. Just make a natural toner for oily skin a part of your daily skin care regimen and say goodbye to these skin problems. You will soon notice a visible difference in your oily skin. These natural toners for oily skin go the extra mile to clean out and close up pores— something that's very crucial for people with oily or acne-prone skin, or for people who wear makeup on a regular basis or use other heavy products such as sunscreen. So, what are you waiting for? Grab one of these best natural toners for oily skin at the earliest.
Why Trust StyleCraze?
The author, Kirtana Divakar, has been keeping up with the latest skin care products. She loves to write comprehensive and detailed beauty and lifestyle content for her readers. She read hundreds of user feedback on trusted online platforms and went through the product specifications to curate the list of the best natural toners for oily skin. These products minimize pores, restore the skin's pH balance, protect, moisturize, and refresh the skin.
Frequently Asked Questions
How does toner differ from an essence and cleansing water?
An essence is applied after your toner, and is typically slightly thicker and more concentrated with nutrients. One major thing these products have in common is that they help other products absorb better. However, essences are not formulated to balance, but to nourish and help keep skin even, smooth, and bright.
The consistency of cleansing water and toner is similar and there are some products that serve as both. However, most cleansing waters have one job and that is to cleanse. They are typically formulated with purified water that's infused with ingredients that cleanse. Cleansing water should be applied after your oil cleanser and before your toner.
Is there a right way to apply toner?
You can apply toner by using a cotton pad and wiping it over the face, or you can apply it by gently patting it onto your skin with your fingers. There's no right or wrong way, but there may be a better one depending on your skin type. If you have acne-prone skin, you may want to go for the cotton pad method since it will pick up any acne-causing impurities left on the face after cleansing. If your skin is on the drier side, pressing the product onto skin can help it absorb better so you can ensure that your skin is really drinking it up.
Recommended Articles: