Coco Chanel says: "A woman who doesn't wear perfume has no future,". And we ask, "A woman who does wear perfumes, what would her modus operandi be?" Known as a mini personality in itself, finding a perfect perfume is kind of finding a lifelong friend. And what could be better than a lemongrass perfume that mesmerizes us with the freshly-squeezed citrus? Read on to find the top ten lemongrass perfumes!
1. Orglamix– Coconut Lemongrass Perfume:
Taking us to nirvana, we love Orglamix's perfume that reminds us of sipping fresh cocktails on a tropical beach. Light, refreshing, addictive and the one who bursts with charm and mystery, this lemongrass and coconut pair exceptionally well for a virtual vacation.
Price: $24
Where To Buy: www.orglamix.com
2. Thymes – Tupelo Lemongrass:
If you have a taste for finer things in life, the Tupelo Lemongrass by Thymes is perfect for you. Spritz this perfume on a summer afternoon and for the next few hours you will smell like an exotic summer in a bottle. Light, airy and feminine, this perfume is sure to become your signature scent.
Price: $40
Where To Buy: www.thymes.com
3. Lemongrass E Cassis Borsari For Women:
Yes, we sniffed…and umm, we plan to do it again. This lemon grass fragrance is just as delicious as the summertime treat. It's calm, clean, fresh, and a little bit indulgent, thanks to the top notes of cassis, bergamot, grapefruit and peach paired with musk, sandalwood and vanilla.
Price: $74
Where To Buy: www.ebay.com
4. Millefiori – Lampair Perfume for Catalytic Diffuser:
We are newly obsessed with Millefiori's Lampair Perfume for Catalytic Diffuser. It is fresh and uplifting, but also has an equal amount of distinct woody fragrance. It's magical. It's got a bit of Moroccan cedar wood, which is a scent we all are always drawn to. It also includes white peach, orange flowers, litsea cubeba and lemon peels.
Price: $18
Where To Buy: www.emporioitaliano.com
5. Purity Apothecary – Lemongrass Natural Roll-On Perfume:
What we love about Lemongrass Natural Roll-On Perfume by Purity Apothecary is the warm and fresh mix of grapeseed and jojoba oils, which is supported by sparkling notes and invigorating spa scent of Lemongrass Essential Oil. One mist is enough to turn heads. If this isn't a timeless scent, then what is?
Price: $11.99
Where To Buy: www.purityapothecary.com
[ Read: Benefits Of Lemongrass Soap ]
6. Urban Rituelle – Lemongrass Botanical Perfume:
The citrus blooming in this feminine spritz— an uplifting blend of eucalyptus, lemon myrtle, grapefruit and lemongrass —are the kind you'd find in a Hollywood-worthy Red Carpet viewing party. Now, go shimmy into your party dress and scream for your favourite star.
Price: $15.50
Where To Buy: www.urbanrituelle.com.au
7. Jane Packer – Lemon Grass Eau De Parfum:
Summer's not an easy time to be an exotic and fresh-scent lover at the same time. A sparkling and refreshing perfume, Jane Packer Lemon Grass Eau De Parfum ticks all the boxes for a summer scent. Subtle Orchid? Check. Lemongrass? Double check. Warmth of vanilla and precious woods? You bet! Spritz liberally after your shower and you're good to dazzle.
Price: $19.75
Where To Buy: www.lookfantastic.com
8. Callio Fragrance – Melee Perfume:
The ultra-feminine lemongrass and creamy coconut notes in this playful perfume are given a dose of warm and breezy spirit with a dash of lush tropical flowers. The elegant scent works beautifully, but does not result in an overly sweet scent. The perfect spritz for classy and chic women.
Price: $34
Where To Buy: www.calliofragrance.com
9. L'Occitane – Cologne Deodorant Capim-Limão:
L'Occitane's earthy Cologne Deodorant Capim-Limão has a beautifully feminine scent that combines deodorant agent, fragrance and the lemongrass extract. Quite traditionally citrusy, it is perfect for warm summer evenings.
Price: $24.50
Where To Buy: br.loccitane.com
[ Read: Best Fragrance Oils Available In India ]
10. Dove – Go Fresh Body Mist, Energizing Grapefruit & Lemongrass:
The ideal pick-me-up body mist is light and fresh. Not a perfume, the body mist is exactly what you need after a session at the gym. We purchased this recently, and our entire team fell in love with this airy body mist.
Price: $49.99
Where To Buy: www.amazon.com
So there you have, our favourite lemongrass scents for this summer. Which one will be yours? Let us know in the comments below!

The following two tabs change content below.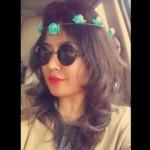 Latest posts by Anisha Pradhan (see all)