6 Best ASICS Running Shoes That Are Utmost Comfy – 2022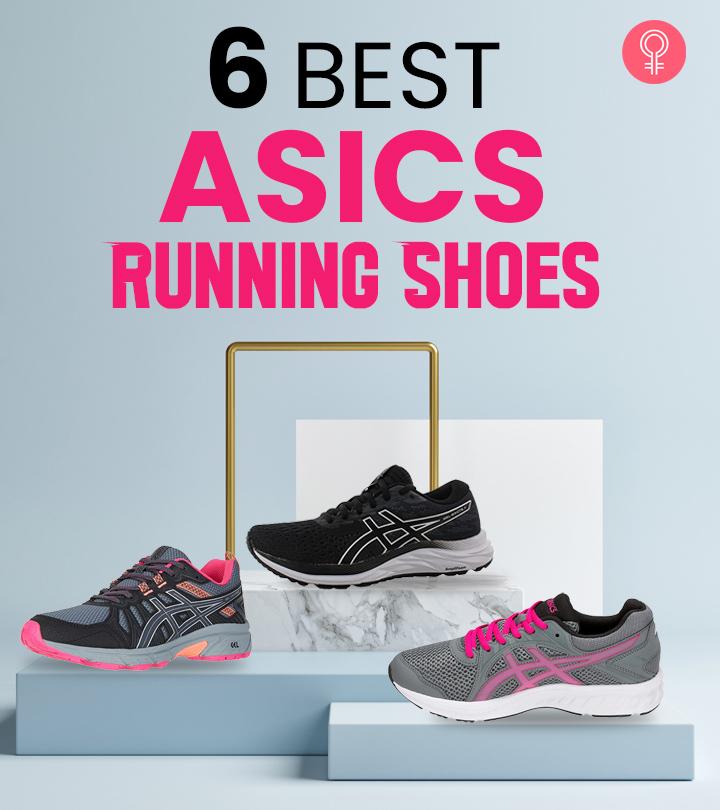 ASICS (Anima Sana In Corpore Sano) produces high-quality athletic gear, including a range of running shoes. The best ASICS running shoes are crafted with special features like guidance line and gel cushioning technology, Trusstic system, and AHAR rubber. Their running shoes are comfortable, supportive, and enhance your performance. ASICS is a premier brand well-known for developing apparel and sports footwear. It ensures regular product testing for delivering consistent and high-quality products.
ASICS offers a wide range of running shoes crafted with advanced technology, and choosing the shoes that match your preferences can be confusing. So, we curated a list of the best ASICS running shoes for a smooth selection. Keep scrolling!
6 Best ASICS Running Shoes Of 2022
The ASICS Women's Gel-Venture 7 Running Shoes let you venture the toughest terrains with confidence thanks to their EVA midsole and gel technology. They are designed for athletes who love outdoors. These shoes are equipped with gel technology in the rear-foot area that offers shock absorption. The ortholite sock liner gives additional cushioning under the foot. It takes the shape of your foot and the upper part, made of synthetic leather, gives extra support. The heel counter inside keeps the foot in its line of movement and helps you improve your performance. The Eva midsole protects your feet and gives a peppy feel. Its lace-up closure ensures a secure fit while the fabric lining keeps your feet dry and cool.
Key Features: EVA Midsole and Gel Technology
Pros
Durable
Offer cushioning
Secure fit
Shock absorbing
Lightweight
Cons
The ASICS Women's Gel-Excite 7 Running Shoes offer an improved fit that generates prolonged comfort irrespective of the distance covered. They feature a technical mesh that allows excellent ventilation and keeps your feet cool. The ortholite sock liner ensures a lightweight feel, while the Amplifoam in the midsole along with gel technology offers a cushioned underfoot that makes your stride more powerful. These shoes are comfortable and are meant for serious runners. Take a look at this video to know more about the product.
Key Features: Jacquard Mesh Upper, Ortholite Sockliner, Ampli Foam Midsole, and Gel Technology
Pros
Improved fit
Offer ventilation
Lightweight
Cushioned
Multiple color options
Suitable for long distances
Cons
May rub against the heels
The ASICS Women's JOLT 2 Running Shoes inspire you to run confidently with their cushioning technology that offers protection and amazing underfoot comfort. Their EVA midsoles protect and support your feet, while the EVA sock liners offer additional support to push yourself further. Their rubber outsoles and hard wiring make them durable. The mesh uppers allow air flow and keep your feet cool. If you are a night runner or an early bird, the reflective details in these shoes will help you run in dim light. They also possess an internal heel counter that enhances support and stability.
Key Features: EVA Midsole, EVA sockliner, Internal Heel Counter, Mesh Upper, Rubber Outsole, and Reflective Accent
Pros
Cushion technology
Durable
Allow ventilation
Reflective technology
Shock-absorbing
Arch support
Multiple color options
Lightweight
Cons
If you are a triathlete, the ASICS Women's Noosa Tri 13 Running Shoes will be ideal for you. Their guide sole technology makes them light. Their curved sole design places a minimum load on the lower limbs. As a result, the shoes help you run efficiently by reducing your ankle movement, thereby improving your stamina and making you feel energetic for a long time. The Flytefoam technology gives them a lightweight feel and extra cushioning, helping you cover longer distances. In addition, the Aharplus outsole increases the shoes' durability. These shoes are best for running workouts, racing, long training runs, and tempo runs. You may check more about this productin this video.
Key Features: Flytefoam cushioning, Mesh Upper, Guidesole Technology, Ahar Plus Outsole, Bungee Lace, and Pebax Spike Plate
Pros
Well-ventilated
Durable
Shock-absorbing
Lightweight
Cushioning support
Snug fit
Cons
The unparalleled ASICS Women's Gel-Quantum 360 4 Running Shoes deliver excellent performance and high endurance. Their 360-degree gel technology cushion promises responsive, spring-like movement. The woven upper provides lightweight comfort, while the customizable eyelets ensure a perfect fit. Their ortholite material provides underfoot comfort and an efficient moisture management system. They are made with seamless material, preventing friction or irritation caused by the stitches or seams. They are comfortable and cause no rubbing or chafing. They have a great lacing system and provide arch support. They offer high stability and are ideal for jogging, especially in cold weather.
Key Features: Gel Technology, Fluidfit technology, Ortholite Material, Solyte Midsole Material, Heel Clutching System, Ortholite Sockliner, AHAR Outsole, and Trusstic system
Pros
Provide cushioning
Lightweight
Ensure breathability
Seamless material
Cons
Could feel stiff for some
The ASICS Women's Versablast Running Shoes are lightweight and offer fantastic underfoot comfort during your workout at the gym and while running. The half bootie upper promises great fit and comfort, while the underfoot, made of midsole foam, ensures smooth movement. Their outsole reduces pressure and weight and makes them durable. They are equipped with a Flytefoam blast that feature a highly reactive cushioning that bounces for a smooth ride. These functional and stylish shoes are a hot pick amongst runners and gym rats.
Key Features: Midsole cushioning and Half-bootie design
Pros
All-day comfort
Great fit
Lightweight
Springy midsole
Durable
Underfoot comfort
Cons
ASICS offers a wide range of high-quality sports shoes with a variety of features. However, you can't just pick any of them and be content. Your choice should depend on the kind of physical activity you are into and the specifications you are looking for.
How To Choose The Best ASICS Running Shoes?
Here are some factors you should consider while you purchase your ASICS running shoes.
Comfort: While ASICS promises comfort in all their shoes, the amount of padding or cushioning can vary. Hence, choose your pick based on your needs. Also, for long-distance runners, shoes with a breathable mesh and moisture handling sock liners will make sense.
Key Features: These shoes come with various key features like gel technology, EVA midsole, mesh upper, Ortholite sock liner, and AHAR outsole that will help you with different forms of running. You need to choose shoes with features that will match what you do.
Stability: Stability and extra support will help you improve your performance. Shoes that reduce ankle movement will put less pressure on your legs, improve your stamina, and prevent injuries.
Fit: While a snug fit is comfortable, make sure the shoes are not too narrow for you. Ensure there is enough toe space too.
Durability: Shoes containing AHAR outsole tend to last long.
Reviews: Check the feedback from people who have used the product, for they will only be honest about the quality.
We hope our curated list helps you pick your perfect ASICS shoes. People run for various reasons – for fun, to stay fit, to compete, or just for the therapeutic benefits. No matter your goal, comfortable, well-fitting shoes are a must to make your run smooth, enjoyable, efficient, and injury-free. Lace up your favorite pair of ASICS, hit the track, and run that extra mile!
Why Trust StyleCraze?
The author of this article, Aditi Naskar, has a health and wellness diploma. She has a keen interest in experimenting with the latest fitness products and brands. After thorough research and numerous reviews and feedback on multiple forums, she has curated a list of the best ASICS running shoes. The lightweight comfort of these shoes can improve your performance and help you cover long distances. In addition, these products are durable, well-ventilated, and do not form blisters.
Recommended Articles
The following two tabs change content below.