9 Best Natural Face Washes For Sensitive Skin – 2022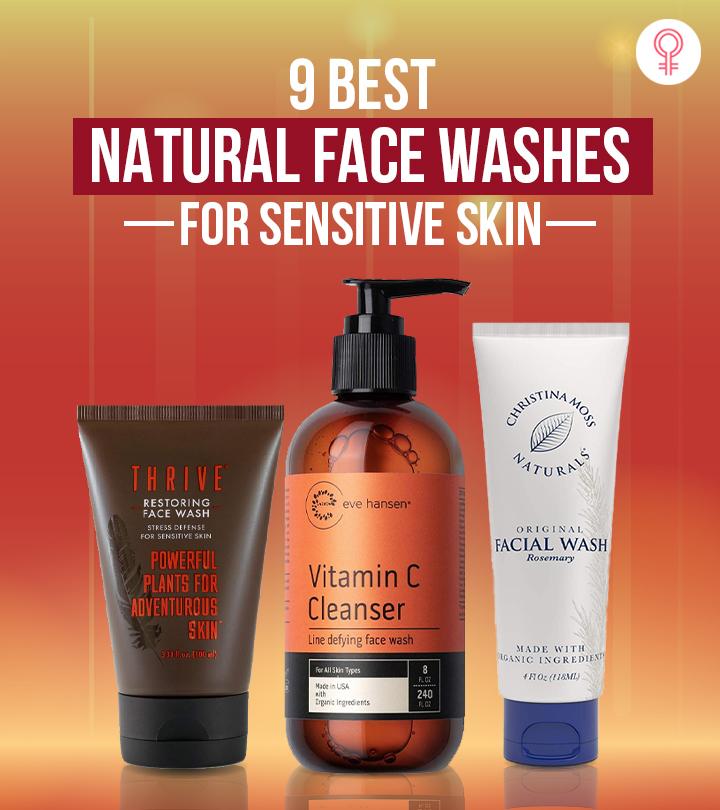 If you have sensitive skin, you have to be extra careful when introducing new products into your skin care routine. Sensitive skin is delicate and can be easily aggravated. It is a good idea to look for ingredients that are gentle on the skin. Certain face washes are free from the harsh chemicals that can irritate your skin. Avoid face washes that contain alcohol or sulfates. Instead, go for mild cleaners that are specifically formulated with hypoallergic ingredients that do not irritate the skin.
We have compiled a list of the best natural face washes for sensitive skin. Check them out below!
9 Best Natural Face Washes For Sensitive Skin
The Christina Moss Naturals Original Face Wash is an all-natural, mild cleanser that does not irritate sensitive skin. It gently lifts dirt and impurities lodged into the pores without stripping the natural oils from the skin surface.
The formula contains certified organic aloe vera that hydrates and soothes the skin and rosemary flower extract and essential oil that thoroughly cleanse and protect the skin cells from free radical damage. It also contains olive oil, loaded with antioxidants, that reverse UV damage and reduces acne-causing bacteria, and coconut oil that gently soothes and hydrates the skin.
Key Ingredients: Aloe vera, Olive oil, Coconut oil, Sunflower seed oil, and Rosemary essential oil and fruit extract
Pros
Gentle formula
Refreshing scent
For daily use
SLS-free
GMO-free
Dye-free
Cruelty-free
Vegan
Cons
Expensive for the quantity.
Ktchn Apothecary's Hydrating Facial Cleanser has a natural, non-drying, and deep cleansing formula specially crafted for sensitive skin. This gentle and lightly foaming face wash pulls out dirt, oil, impurities, and makeup from the skin, leaving it fresh, clean, and hydrated.
It is formulated with hydrating aloe vera, avocado fruit extract, and sage essential oil. These ingredients are rich in numerous enzymes, minerals, and vitamins that renew and nourish the skin while promoting radiance. The natural antioxidants in the formula detoxify and protect the skin by combating free radicals and preventing early aging. The added botanical glycerol, extracted from natural plant oils, adds a moisture boost to the skin.
Key Ingredients: Aloe vera, Avocado fruit extract, and Sage essential oil
Pros
Non-drying
pH-optimized
Smells good
Vegan
Sulfate-free
Cruelty-free
Value for money
Cons
Thick texture
Does not foam well.
The Eve Hansen Vitamin C Cleanser is the best choice for aging and pigmented skin. This natural face wash gently exfoliates, hydrates, and refines the skin. It eliminates dirt and grime from the skin surface without stripping away its moisture.
Vitamin C, the primary ingredient in the formula, fades skin discoloration and dark spots, prevents breakouts, and irons out wrinkles and fine lines. It also boosts collagen production and improves the skin's elasticity. Other hydrating ingredients like aloe vera, tea tree, rosehip, olive, and oregano oil prevent skin issues like acne, blackheads, and pigmentation.
Key Ingredients: Vitamin C, Organic aloe, Tea tree oil, Rosehip oil, Olive oil, and Oregano oil
Pros
Gentle formula
Lightweight
Sulfate-free
Paraben-free
Phthalate-free
Cruelty-free
Cons
May cause redness or irritation.
The gentle foaming face wash from Tree To Tub has a mild and luxurious formula to keep sensitive skin clean and protected. It works by balancing and maintaining a pH of 5.5 to keep the skin hydrated at all times. The formula is enriched with wild soapberry and organic acai that hydrate and plump the skin. Additional ingredients like healing aloe, moisturizing shea butter, cleansing coconut, and soothing chamomile help eliminate dryness, blemishes, and redness. The mild yet invigorating lavender fragrance mesmerizes the senses.
Key Ingredients: Aloe vera, Soapberry, Coconut extract, and Chamomile
Pros
Gentle formula
pH-balancing
Mild fragrance
Creamy leather
Vegan
Cruelty-free
SLS-free
Paraben-free
Silicone-free
Gluten-free
DEA/MEA-free
Cons
May make the skin feel tight.
This mild gel-based face wash from THRIVE has a skin-safe formula enriched with the goddess of natural botanicals to repair and maintain the skin. It gently strips away impurities without over-drying the skin. It removes dirt, excess oil, makeup, and sweat from the skin, leaving it soft and fresh. The formula is infused with super ingredients like Fierrillo, rich in antimicrobial and antioxidant properties, that heals the skin and combats irritation. The Tasman pepper and wakame seaweed protect the skin from pollutants and environmental aggressors.
Key Ingredients: Fierrillo, Tasman pepper, and Wakame seaweed
Pros
Unscented
Vegan
Refreshing scent
Paraben-free
Gluten-free
Petroleum-free
DEA/MEA/TEA-free
PABA-free
PEG-free
Syntheticdye-free
Preservative-free
Cons
Does not foam adequately.
May cause breakouts.
The Naeli Gentle Face Wash &Makeup Remover is a 3-in-1 cleanser that purifies, hydrates, and rejuvenates sensitive skin. It thoroughly removes makeup, impurities, and excess oil without leaving the skin dry. This anti-aging cleanser, enriched with hyaluronic acid, vitamins E and C, aloe vera, and berry extracts, moisturizes the skin and optimizes moisture retention without irritating the skin. The vitamins, minerals, and phytonutrients in the formula protect the skin from environmental aggressors while increasing cell turnover to enhance collagen production and leave the skin youthful and radiating.
Key Ingredients: Aloe, Berries, and Vitamin E
Pros
Unscented
Non-comedogenic
TEA-free
PEG-free
Paraben-free
Sulfate-free
Alcohol-free
Silicone-free
Phthalate-free
Dye-free
Vegan
Cruelty-free
Cons
The Neroli Face Wash from Zoi Naturals has a unique formula featuring natural and top-quality botanical ingredients. It offers gentle cleansing without irritating, tightening, or drying the skin. The deeply nourishing formula repairs and rejuvenates sensitive skin while preventing acne, blemishes, and breakouts.
This mild face wash contains soap nut, a mild cleansing agent, to remove dirt and grime. It also contains aloe vera to soothe the skin while increasing cell regeneration and olive and coconut oils to moisturize the skin and prevent acne. Neem prevents pimples and shea butter reduces wrinkles and fine lines.
Key Ingredients: Aloe, Olive oil, Coconut oil, Soap nut, and Shea butter
Pros
GMO-free
Gluten-free
Paraben-free
Sulfate-free
Synthetic color-free
No fillers
Cruelty-free
Vegan
Cons
This face wash from Beauty By Earth uses organic and plant-derived oils that cater to various skin issues. The formula is infused with tree tea oil, which helps reduce acne flare-ups, redness, irritation. It also contains aloe juice that draws out toxins naturally and a nourishing blend of oils – sunflower seed, coconut, peppermint, jojoba, tea tree, and orange – to hydrate the skin.
Key Ingredients: Sunflower seed oil, Coconut oil, Aloe leaf juice, Peppermint oil, Jojoba seed oil, Tea tree oil, and Orange oil
Pros
Hypoallergenic
Non-toxic formula
Vegan
Soap-free
Sulfate-free
Paraben-free
Fragrance-free
Cons
None
The Clay Lotus Organic Face Wash is infused with cold-pressed neem and tea tree oil to gently cleanse your face, control excess sebum production, and combat acne. The grape seed and orange oil in this face wash helps fight the signs of aging and boost collagen production. It gently exfoliates dead skin cells, unclogs pores, and enhances your skin tone.
The face wash also contains holy basil oil that purifies and tones the skin and soothes inflammation. The castor oil in the formula dissolves dead skin cells and fades blemishes, while aloe vera promotes the growth of new skin cells and reduces scarring. This face wash has a calming and soothing fragrance due to the presence of therapeutic lavender extracts.
Key Ingredients: Lavender, Aloe vera, Castor oil, Orange oil, Holy basil, Tea tree oil, Neem oil, and Grapeseed oil
Pros
Hydrating formula
Lathers well
Certified organic
Paraben-free
Sulfate-free
Color-free
Fragrance-free
Vegan
Cruelty-free
Alcohol-free
Cons
Why Trust StyleCraze?
Shiboli Chakraborti, the author of this article, is a certified skin care coach who understands skin needs at a cellular level. Her extensive research on different face washes suitable for sensitive skin has helped her prepare this list for her readers. Her recommendations are based on scientific research and credible user feedback. The products listed in this article are long-lasting, vegan, and cruelty-free.
Recommended Articles