The 15 Best Toners For Oily Skin That Will Work Wonders – 2022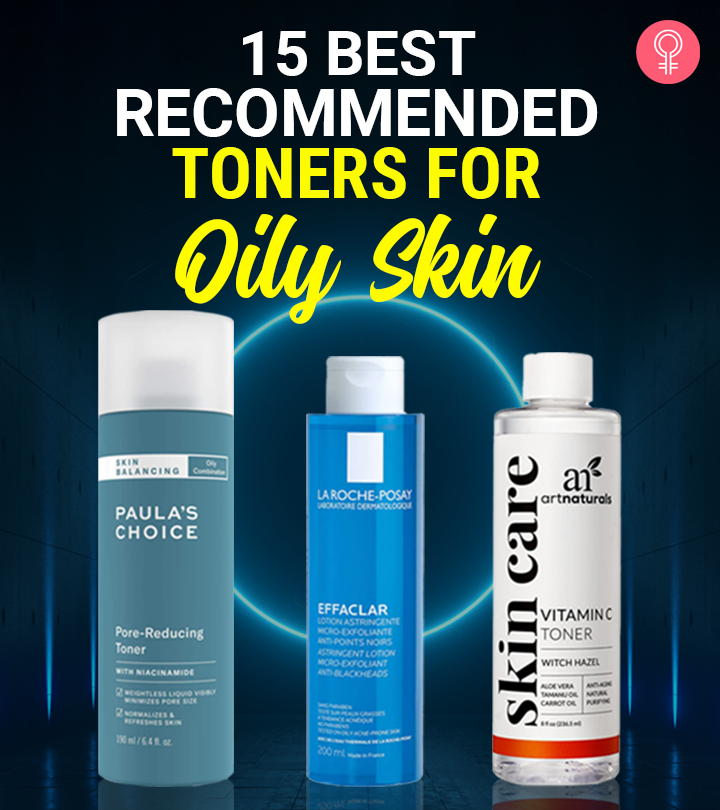 A toner shrinks the appearance of pores and cleanses the skin. However, the best toner for oily skin also absorbs excess oil, soothes redness, cleanses the skin, and maintains it. In addition, it also soothes irritation. Toners can also balance the pH of the skin, get absorbed quickly into the skin, and keep the skin healthy. Check out the sifted list of the 15 best toners for oily skin below. Keep scrolling!
15 Best Toners For Oily Skin
The BURT'S BEES Natural Acne Solutions Clarifying Toner gently cleans dirt, makeup, and oil from the skin. It contains naturally derived salicylic acid from willow bark to penetrate the pores, reduce acne, and prevent future breakouts. This toner also contains witch hazel extracts and lemongrass that have astringent properties and clarify the skin. This dermatologically tested and non-comedogenic product makes your skin smooth and healthy.
Pros
Gentle
Non-comedogenic
Dermatologically tested
Non-irritating
Natural fragrance
Reduces acne and blemishes
Cons
May cause a burning sensation.
The LA ROCHE-POSAY Effaclar Micro-Exfoliating Astringent Toner contains a combination of cleansing and exfoliating agents that unblock and tighten the pores. It is formulated with LHA (Lipo-Hydroxy Acid), that provides micro-exfoliation to reduce the pore size and refine the skin texture. This refreshing toner will leave you with visibly clear and smooth skin.
Pros
Dermatologically-tested
Paraben-free
Allergy-tested
Non-comedogenic
Suitable for sensitive skin
Cons
The PAULA'S CHOICE Pore-Reducing Toner smoothens the skin, prevents blemishes, and minimizes the signs of aging. It balances, refines, and protects skin with its antioxidant properties and removes dirt and makeup while moisturizing your skin.
This toner has hydrating ceramides and antioxidants that hydrate the skin and restore its moisture barrier. Niacinamide shrinks pores and evens out the skin tone, while burdock and chamomile root extracts soothe the skin and protect it from environmental aggressors. This product is free of harsh chemicals, parabens, and fragrances.
Pros
Lightweight
Paraben-free
Fragrance-free
Cruelty-free
Cons
The Green Tea Fresh Toner from ISNtree contains non-irritating natural ingredients that offer 24-hour hydration. This balancing and restoring toner contains hyaluronic acid that does not clog pores or settle on the skin and controls sebum production. It is specially crafted for oily to combination skin types with green tea extracts, Centella asiatica extracts, allantoin, and other natural extracts.
Green tea, rich in amino acids, proteins, and minerals, revives the skin and relieves irritation. The formula also contains SeboCut Complex that controls sebum, and MoistMax that moisturizes the skin. This refreshing toner also contains a patented ingredient Anti-Sebum P, a combination of four extracts that controls excess sebum production, tightens and minimizes pores, and soothes the skin. It is free of dyes, artificial fragrances, parabens, mineral oils, and sulfates.
Pros
Hypoallergenic
Non-comedogenic
Dermatologically- tested
Mild scent
Non-greasy
Dye-free
Paraben-free
Sulfate-free
Mineral oil-free
Formaldehyde-free
No artificial fragrance
Cons
The artnaturals Vitamin C Toner eliminates dirt and makeup and prepares your skin for better absorption of skincare products. It contains the antioxidant-rich witch hazel and vitamin C that tighten skin pores and combat free radicals. These ingredients reduce oil and grease from the skin. Rosemary extracts fight wrinkles and fine lines, aloe vera conditions the skin, and the vitamin C-rich noni extracts possess anti-aging properties. Carrot oil contains vitamin A and beta-carotene that detoxify the skin to keep it plump and youthful.
Pros
Paraben-free
Cruelty-free
Nice smell
Anti-aging
Cons
The LAVO Glycolic Exfoliating Toner reduces the signs of aging in oily, acne, and blemish-prone skin type. It gently exfoliates dead skin cells, reduces wrinkles and fine lines caused by harsh sun rays,does not clog pores, and leaves your skin feeling clean and smooth.
The balancing formula fights acne-causing bacteria, reducing breakouts and oiliness. It contains glycolic acid that exfoliates the skin and reduces the appearance of fine lines and wrinkles. Lactic acid helps in stimulating the growth of new skin cells. This toner also contains aloe vera and calendula extracts from marigold that hydrate, soothe, and calm dull and dehydrated skin. It prepares your skin for better absorption of skincare products to achieve maximum benefits.
Pros
Pleasant scent
Paraben-free
Cruelty-free
Mattifying
Lightweight
Cons
The EAUTHERMALEAvene Cleanance MAT Mattifying Toner fights breakouts, reduces shine, and soothes the skin. This bi-phase toner contains gentle astringents and mattifying powders that purify the skin and tighten the pores without drying or irritating the skin.
While monolaurin and silica absorb excess oil, salicylic acid and alcohol act as astringents. Zinc gluconate soothes and relieves redness. This toner also contains Avène Thermal Spring Water that soothes, softens, and calms the skin. It absorbs excess oil and imparts a shine-free matte finish to the skin.
Pros
Mattifying
Hypoallergenic
Non-comedogenic
Non-irritating
Paraben-free
Mineral oil-free
Soy-free
Wheat-free
No animal derived ingredients
Cons
The GLYTONE Acne Clearing Toner is a non-comedogenic solution to treat acne and blemishes. This ultralight and refreshing skin toner prevents breakouts and blemishes, unclogs pores, and removes excess oil. It contains 2% salicylic acid, which exfoliates the skin and deeply cleanses the pores to heal and prevent acne blemishes. This product refines the skin and preps it for better absorption of other skin care products.
Pros
Lightweight
Fragrance-free
Mattifying
Non-comedogenic
Oil-free
Reduces acne
Cons
May cause burning
Unpleasant scent
The Oily Skin Toner by natural outcome purifies and mattifies the skin for a shine-free finish. Antioxidant-rich ingredients like grapefruit and pomegranate prevent acne by eliminating bacteria and unclogging pores, while aloe vera hydrates the skin and witch hazel has astringent effects. This toner removes blackheads, minimizes pores and redness, enhances skin texture, and soothes and balances the skin. It does not contain harsh and skin-drying chemicals like dyes, parabens, and sulfates.
Pros
Alcohol-free
Paraben-free
Sulfate-free
Dye-free
Pleasant scent
Cons
Not suitable for sensitive skin
The Oily Skin Control Toner from Lauda BOTANICALS is a refreshing, skin-refining toner that contains rosemary, hops, and witch hazel that help in pH-balancing, oil-balancing, and mattifying the skin. Allantoin, lemon bioflavonoids, and linolenic acid prevent blotchiness and cleanse the skin. The combination of vitamins C and E and aloe vera boosts collagen production to add smooth, firm, and plump up the skin. This toner also possesses anti-aging properties that reduce wrinkles, fine lines, and blemishes.
Pros
Cruelty-free
Vegan
Non-GMO
Paraben-free
Alcohol-free
Mineral oil-free
Doubles as a face primer
No artificial colors or fragrances
Cons
The Witch Hazel Facial Toner from SKY ORGANICS soothes, balances, and purifies the skin for better absorption of moisturizers and serums. The light and refreshing formula keeps your skin healthy and supple throughout the day. It contain switch hazel that cleanses the skin and refines the pores without irritating the skin, while tea tree oil removes blemish-causing impurities and absorbs excess oil to balance the skin. This product does not contain parabens or phthalates.
Pros
Paraben-free
Alcohol-free
Phthalate-free
USDA certified organic
Vegan
Cruelty-free
Cons
The NU SKIN pH Balance Mattefying Toner works as a blessing for combination to oily skin types. It reduces shine and shrinks enlarged pores. The bi-phase formula contains clarifying liquids and oil-absorbing powders that hydrate the skin and give it a matte finish.
The Lactobacillus ferment probiotic and oil-absorbing mineral powders reduce shine and impart a radiant matte finish to your skin. The blend of fennel and extracts of marigold, linden flower, cornflower, St. John' s Wort, and Roman and German chamomile purifies and soothes the skin and balances oil. This toner helps in restoring proper pH balance and leaves your skin looking refreshed and refined.
Pros
Mattifying
Mild
Paraben-free
Phthalate-free
Mineral oil-free
Cruelty-free
Cons
The raya Camphor Astringent is an excellent astringent and toner for oily and blemished skin. It prevents breakouts and reduces blemishes and excess oil. This product has lemon juice, aloe gel, hops, arnica extracts, and horsetail extracts to protect, tone, tighten, and refine the skin and balance its pH.
The Amino Acid Complex hydrates the skin, while azulene and chlorophyll soothe the skin and reduce inflammation. The salicylic and lactic acids gently exfoliate and restore the pH balance of the skin. The yeast extract regulates excess oil production. This toner also contains eucalyptus, balsam Peru, and camphor that soothe and refresh the skin.
Pros
Alcohol-free
Paraben-free
Cruelty-free
Natural ingredients
Non-oily
Cons
May not suit sensitive skin
The sebamed Clear Face Facial Toner works as a magic potion for oily skin. It forms a protective layer on the skin surface and moisturizes and smoothens it. The pH-balancing and rejuvenating formula restores the skin's natural barrier, gets rid of excess oil, and deeply cleanses impurities to prevent acne or breakouts. It contains skin-regenerating panthenol, soothing hamamelis, and moisturizing silk proteins and allantoin.
Pros
Dermatologically tested
Gentle
Refreshing smell
Cons
None
This toner is a mild, lightweight, alcohol-free, and natural formula for balancing normal to oily skin types. It reduces inflammation and redness and eliminates dead cells, dirt, oil, and debris while shrinking the pores to make your skin soft, smooth, and silky. This toner contains Dead Sea minerals that rejuvenate the skin, witch hazel that has astringent properties, chamomile that calms and soothes the skin, and lactic acid that hydrates the skin. It does not contain harsh chemicals, parabens, sulfates, petroleum, mineral oils, and preservatives that dry out the skin.
Pros
Paraben-free
SLS-free
Mineral oil-free
Petrolatum free
No formaldehyde releasers
Cruelty-free
Vegan
Cons
Now that you know what the bestselling toners for oily skin are, it's time to look at the important things to keep in mind before investing in one.
Things To Consider Before Buying A Toner For Oily Skin
Oil balancing is essential for oily skin. Opt for a toner with ingredients like witch hazel to reduce excess production of oil and prevent acne, blemishes, and pore-clogging.
Avoid toners that contain sulfates, alcohols, and parabens as they may irritate the skin. Ingredients like salicylic acid, glycolic acid, and lactic acid reduce excess sebum, minimize pores, and treat and prevent acne.
A non-comedogenic toner makes an excellent choice for oily skin as it prevents pore-clogging, which can lead to breakouts and acne.
Why Trust StyleCraze?
Shiboli Chakraborti, the author of this post, is a certified skin care coach with an expertise for discovering skin-nourishing products. In this article, she brings you amazing toners. A toner can help cleanse and soothe oily skin, which is why the author recommends using the above-mentioned toners. She spent many hours researching and investigating numerous products and their reviews on various platforms to bring you this specially curated list. Each of these products has benefits like cleansing, pH regulation, and protective properties.
Frequently Asked Questions
Should we use a toner daily for oily skin?
Yes, toner can be used daily on oily skin to absorb shine, minimize pores, and reduce acne and zits.
Is green tea toner good for oily skin?
Yes. Toners containing green tea are recommended for oily skin as it helps absorb excel oil and reduces acne and zits.
Can I leave the toner on my face overnight?
Yes. A toner is a leave-on product and does not need to be washed off. You can apply moisturizer over it to hydrate your skin.
Recommended Articles