15 Best Concealers For Dark Circles (2020)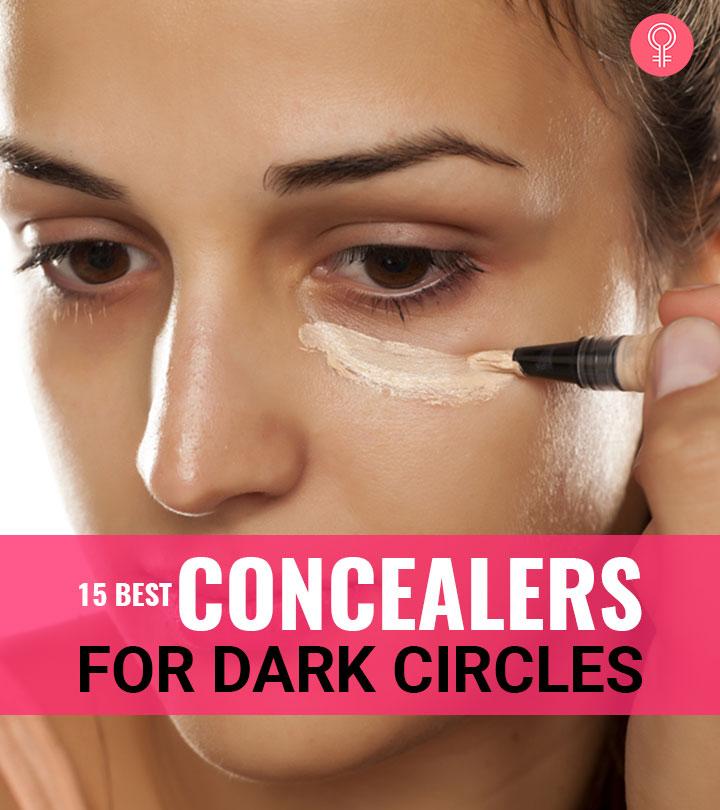 Ladies, a concealer is easily the most game-changing tool in your makeup arsenal. It is equivalent to a hot cup of double espresso when you need a quick fix for those dreaded dark circles under your eyes. With an abundance of options out there, finding the right product can get tricky. To make things easier for you, we've narrowed down the best under-eye concealers that are guaranteed to leave you looking like you had a full night's sleep (even when you stayed up till 2 a.m. binge-watching Netflix). These 15 best under-eye concealers for dark circles have got you covered.
15 Best Concealers For Dark Circles Available Right Now
Are you tired of getting puffiness under your eyes and looking for a cream that works like magic to remove those unwanted dark circles? If so, Garnier SkinActive Clearly Brighter Tinted Eye Roller is a lifesaver. It is effortless to use and has a caffeine-infused gel formula that brightens your under-eye are in just one stroke. It is a roll-on concealer that makes application very easy. You can include it in your regular minimal makeup routine to even out the appearance of dark spots and redness.
Pros
Reduces dark circles and puffiness
Suitable for daily use
SPF formula
Moisturizes the skin
Cons
Veil Cosmetics Complexion Fix Concealer is one of the best remedies to remove those pesky dark circles. It also covers up scars, dark spots, and redness to create an even complexion. You do not have to use any setting powder on top of it as it is self-settling.
Its formula is gentle on sensitive skin. It immediately brightens up tired eyes and rejuvenates your appearance. You can use it as a color corrector, a concealer, and a highlighter. This multipurpose concealer is available in a range of 15 shades.
Pros
Anti-aging formula
Comes with an easy applicator
Cruelty-free
Vegan
Lightweight
Cons
Looking for a good concealer to hide your blemishes and dark circles? E.l.f 16Hr Camo Concealer has a full-coverage formula that lasts on your skin for up to 16 hours. Its highly pigmented formula gets the job done and settles on your skin without any creases. It comes in a range of 18 full-coverage shades and can be used as a concealer, color corrector, contour, and highlighter.
Pros
Multipurpose
Highly pigmented
Lightweight
Long-lasting
Reduces fine lines
Cruelty-free
Vegan
Cons
May dry out your skin a bit
This concealer by Neutrogena is infused with SPF 20. It is a 3-in-1 concealer that works as an eye cream, a concealer, and a sunscreen. It is infused with aloe and green tea extracts. It blends smoothly and gives you very natural-looking coverage. The best thing about this 3-in-1 concealer? It is suitable for people with sensitive eyes and skin! Dermatologists consider Neutrogena Healthy Skin 3-in-1 Concealer to be the best under-eye concealer for dark circles.
Pros
Natural-looking coverage
Reduces puffiness and dark circles
Suitable for sensitive eyes and skin
Prevents sun damage
Clinically proven
Broad spectrum SPF 20
Cons
None
This concealer is great not only for severe dark circles but also for blemishes and dark spots. With ingredients like hyaluronic acid, anti-aging hydrolyzed collagen, peptides, antioxidants, caffeine, and green coffee extract, this formula also significantly improves your skin's health. It is available in a range of 6 shades. Use a minimal amount of setting powder and dust it off to set this concealer in place.
Pros
Long-wearing
Minimizes the appearance of fine lines
Suitable for sensitive skin
Lightweight
Full coverage
Does not crease or crack
Cons
None
Jane Iredale Circle\Delete Concealer consists of two color correctors that work together to conceal your dark circles. It has a rich, creamy formula with a luminous texture that contains moringa butter and avocado oil, both of which are rich in vitamins A, C, D, and E. It also contains green tea extracts and potent antioxidants that nourish and protect the delicate under-eye skin. This concealer comes in a range of 2 shades – one for people with pink undertones and the other for people with yellow undertones.
Pros
Conceals blemishes
Works as an antiseptic
Creamy formula
Blends easily
Offers good coverage
Cons
May be a bit drying on the skin
Waking up in the morning with dark circles underneath your eyes can be the worst punishment ever. This correcting concealer will be your best friend if you're looking for a smooth formula that prevents any kind of discoloration on your skin. It is the best concealer for acne. It also does not crack or crease. It is an organic product formulated with luxurious natural ingredients like candelilla wax, beeswax, organic calendula oil, organic chamomile oil, organic jojoba oil, and vitamin E that nourish your skin while providing flawless coverage.
Pros
Prevents discoloration
Evens out the skin tone
Organic ingredients
Long-lasting
Cruelty-free
Vegan
Good coverage
Cons
None
The Maybelline Instant Age Rewind Concealer is a favorite among professional makeup artists and beauty vloggers. If you're wondering whether an inexpensive product could work as efficiently as an expensive formula, the answer is yes. This drugstore formula is packed with nourishing goji berry and Haloxyl. It evens out dark circles and works wonders on redness and blemishes. It is easy to use and lasts all day long without budging. This concealer is available in 12 super-saturated shades.
Pros
Lightweight
Long-wearing
Suitable for all skin types
Affordable
Anti-aging formula
Corrects the appearance of redness
Cons
None
If you're looking for serious coverage, Dermablend Cover Care Concealer will be your secret beauty weapon. This long-lasting concealer that gives you 24 hours of complete coverage that conceals dark circles effectively. It is a multipurpose concealer that also covers dark spots, redness, and bruises. It provides 24 hours of hydration and is available in 16 shades that fit all light to dark skin tones.
Pros
Waterproof
Long-lasting
Lightweight
Created by dermatologists
Cruelty-free
Cons
This is one of the best concealers out there that can tackle just about any skin concern. It leaves you with a luminous finish that refuses to budge or fade through the day. This concealer is enriched with light-diffusing technology and multi-action skin care benefits that get rid of any signs of fatigue and imperfections. It is available in 22 shades.
Pros
Hydrates the skin
Non-creasing
Long-wearing
Lightweight
Value for money
Cons
None
[ Read – NARS Radiant Creamy Concealer Review ]
An easy way to strategically hide all your blemishes and dark circles is a full-coverage concealer. What can be better than a stick concealer that glides smoothly on your skin without mastering any techniques? The bareMinerals BarePro Concealer gives you 16 hours of full coverage and a natural-looking, soft matte finish. It contains powerful antioxidants like rich raspberry seed oil, blackcurrant seed oil, and sea lavender that protect your skin from damage.
Pros
Long-lasting
Full coverage
Does not crease
Cruelty-free
Vegan
No artificial fragrances
Cons
L'Oreal Paris Visible Lift CC Eye Concealer covers your dark circles and instantly gives you brighter-looking eyes. Your skin feels hydrated and fresh with just one stroke. This formula is enriched with vitamin C and calcium that are excellent for mature skin. Its texture is non-greasy, and it does not settle in fine lines. The roll-on applicator is a plus as you can use it very easily without any hassle. Just one stroke, and you're good to go!
Pros
Reduces dark spots and fine lines
Evens out your skin tone
Non-greasy
Easy to apply
SPF 20
Cons
Tired of using concealers that fade away quickly? Then, you need to try Lancome Effacernes Waterproof Undereye Concealer. This wonderful concealer does not fade away with sweat or heat because of its long-lasting waterproof formula. It vanishes like a pro into your makeup and gives you a very fresh and natural glow. It is available in a range of 15 different shades.
Pros
Removes all signs of stress
Blends easily
Long-lasting
Waterproof
Does not crease
Cons
None
If you want a buildable and glowy concealer, reach for the Bobbi Brown Bisque Corrector. It is exclusively formulated to eliminate those stubborn dark circles that make your skin appear dull and dreary. Its super creamy formula brightens your skin and is available in 16 different shades with pink and peachy undertones.
Pros
Creamy formula
Buildable coverage
Reduces dark spots
Suitable for mature skin
Cons
None
Hide your dark circles and blemishes like a pro with the IDUN Minerals Perfect Under-Eye Concealer. Its rich, creamy formula offers high coverage and is suitable for daily use. This lightweight formula is free from any kind of added preservatives. Apply it with a makeup sponge or a concealer brush to achieve that flawless and perfect finish.
Pros
Lightweight
Vegan
Cruelty-free
No artificial fragrances
Dermatologist-tested
Cons
None
When choosing the right shade for your under-eye concealer, it is always best to go for a shade that is no more than one or two shades lighter than your natural skin tone. This will prevent any noticeable white rims around your eyes. You can also set your concealer using a brightening powder and bid farewell to dark circles. For better results, always apply concealer after applying foundation.
That was our round-up of the 15 best under-eye concealers that you need to try. Get your hands on one now to bid adieu to your dark circles!
Expert's Answers For Readers' Questions
Which color concealer is the best for dark circles?
Dark circles can be of different colors. If you're looking for a concealer to cover up your dark circles adequately, you need to keep the following things in mind.
• You can use a reddish or peach-toned concealer if you have dark-greenish circles.
• Concealers with yellow undertones are suitable for purple or bluish dark circles.
• Try a concealer with greenish undertones if your dark circles are red or pink.
What is the best over-the-counter under-eye concealer?
Maybelline Instant Age Rewind Eraser Dark Circles Concealer is the best over-the-counter under-eye concealer.
What is the best concealer for mature skin?
Bobbi Brown Bisque Corrector, Veil Cosmetics Complexion Fix Oil-Free Concealer, and Maybelline Instant Age Rewind Eraser Dark Circles Concealer are some of the best concealers for mature skin.
Recommended articles