Have you ever thought of changing your hair color to the shades of plum, green, vivid blue? The color of pomegranates and tomatoes has always intrigued us. Now is the time to come out of the crowd and do something new and funky. But then it is important to maintain the original shine and sparkle of the hair when coloring it in bold shades. Following are the top ten cosmetic companies that manufacture the green hair colour:
Top 10 Green Hair Colour Products
1. Schwarzkopf – Nature:
Schwarzkopf is a trusted brand in the cosmetic industry. This is a very popular brand, used by hairstylists all over India. It has over 60 vibrant shades on offer. The hair colour is priced at Rs. 400 for a tube!
[ Read: Hair color ]
2. Jerome Russell's Punky Color- 1446 Apple Green:
This hair color brand is a top favorite among hairstylists in India. The color is long lasting and comes in a variety of funky shades. There is alpine green, red, turquoise and much more to choose from. These hair color jars are available online at all leading websites. It is priced at Rs. 1274.
3. Raw Color – Hot Topic – Green:
Hot Topic is another international brand that understands trashy punk at its best! This is another favorite hair color brand among hairstylists. The hair color is really bright and stays on for a long time! You will not find a lot of colors to choose from but the ones that this brand makes are certainly the best. Raw Color by Hot Topic is available at all leading websites online and is priced at Rs. 812 only.
[ Read: Hair styling ]
4. Manic Panic Semi Permanent Vegan Classic Hair Dye Electric Lizard Green:
Manic Panic has been around in the hair styling industry for a long time and therefore, it finds its way into the top ten picks for green hair color. This hair color will work best on you if you process it longer than the time recommended on the package! The pastel hues like green, blue will come out amazingly well on lighter hair. This pack comes in a thick, gel-based formula that is easy to apply on your hair. Manic Panic hair color is priced at Rs. 1500 only.
[ Read: Best Plum Hair Colours ]
5. Special Effects Iguana Green:
The Special Effects vegan hair color comes in funky shades. The hair color has a thick and non-drip application formula. The hair color will work best on light hair but it also works fine on pre-lightened hair. This hair color needs a long processing time. There are certain shades available that actually glow in black light. They are Napalm Orange, Atomic Pink, Bright yellow, Cherry Bomb etc. Special Effects is priced at Rs. 812 only.
6. Wella Koleston- 0/28 Blue Green:
Kolestone by Wella is a new brand in India and has great quality products on offer. The crème blue green hair color offered by this brand is ammonia-free and comes in a variety of shades. You can always get your hair colored at a professional salon or do it yourself at home. Wella Koleston is priced at Rs. 489 only.
[ Read: Best Hair Colour Sprays ]
7. Majirel – Shade No.7:
Majirel is the most trusted in salon brands all over the world. They produce over 94 shades in hair color. You are spoilt for choice. This is a permanent dye and stays on for a long period. This product is priced at Rs. 600 only.
8. Aveda Full Spectrum Hair Color- Protective Permanent Pure Tone Dark Blue Green:
Aveda is the most trusted international brand in cosmetics and utilizes a variety of plant oils as the base for its products. The Aveda Full Spectrum Hair Color comes in unique shades. It includes 99% protection from plant oils like jojoba, sunflower and castor that provide damage-free colored hair! The colors are long-lasting and fade-resistant! This product is priced at Rs. 2171 only.
[ Read: Best Loreal Hair Colours ]
9. Redken- 07 NGR Natural Green:
Redken is a famous international brand, trusted by famous hairstylists worldwide. The green hair colour will leave your hair two times better-equipped and healthy. The color is long-lasting due to the protein extracts and ODS (oil delivery system) found in the hair color base. This product is priced at Rs. 2640 only.
10. Pravana Chroma Silk Vivids Intense Hair color- Green Punk:
This brand has an irresistible collection of 11 vibrant and unthinkable shades. You can also combine the shades of Vivids with other base colors to get an electric effect. The hair color is easily available online and is priced at Rs. 1500 only.
Set on your fashion trends and watch the world look at you! Go, color your hair green!

The following two tabs change content below.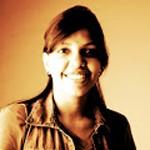 Latest posts by Shruti Goenka (see all)