13 Best Face Serums For Acne To Try In 2022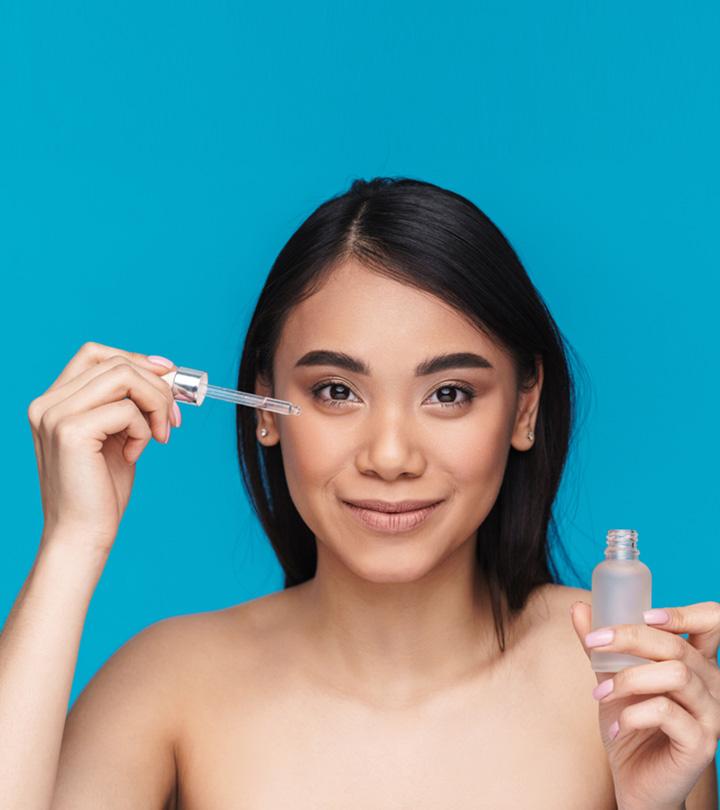 Acne-prone skin requires special TLC. Finding the right skin care products with effective ingredients can be tricky. But fret not. Here, we have listed the best face serums for acne-prone skin. These face serums are designed with salicylic acid, retinol, and niacinamide, known for their anti-inflammatory properties. These are formulated with hydrating and exfoliating ingredients in the right balance that help clean pores, accelerate cell turnover, reduce the signs of aging, and prevent breakouts. These facial serums penetrate the skin where they are the most effective. In addition, the highly concentrated formulas improve skin texture, minimize irritation, and manage your acne. This article explores the 13 best face serums for acne that you can try. Check them out to get acne-free, glowing skin.
13 Best Face Serums For Acne And Smooth Skin
This serum serves the purpose of both anti-aging and acne serum. Loaded with antioxidants, salicylic acid, niacinamide, and aloe, this serum is effective and good for all skin types. The formula prevents clogging of skin and keeps dirt and excess oil at bay. It helps in reducing acne and improving skin health. Salicylic acid keeps the complexion healthy by reducing blemishes and dark spots. With antioxidants and aloe, the product serves as a powerful acne treatment. To keep anti-aging symptoms in control, this serum induced with hyaluronic acid keeps the skin wonderfully hydrated. You can also use the serum to keep your skin sun safe. If you wish to get rid of multiple health issues like hyperpigmentation, skin inflammation, dryness and acne with a single product, this has to be your choice. Watch this video of the product for more information.
Pros
Cruelty-free
Versatile product
Harmful additives
Nutrient-rich ingredient
Cons
Slightly strong fragrance
If you are looking for a holy grail for acne trouble, think of this serum as your go-to product. Formulated with retinol, this serum is the ultimate product for reducing the appearance of pores, improving skin texture and reducing the post-acne marks. With ceramides, as an important part of this skin protecting formula, you get to restore the moisture in the skin and make facial pores reduced. You can reduce imperfections with this serum and make the skin look smoother, brighter and perfectly even-toned. You can use the serum along with SPF to keep your skin sun-safe. Go through this video review  for a detailed understanding of the product.
Pros
Non-comedogenic
Gentle formula
Paraben-free
Fragrance-free
Cons
When your goal is to get beautiful bright skin and beat the signs of aging, this is the perfect fit. This serum contains vitamin C, E, jojoba oil and hyaluronic acid. The formula is gentle yet effective enough to reduce dark spots, make skin radiant and youthful. It does the job of anti-aging, anti-wrinkle and anti-spots treatment. The formula has thin consistency and gets absorbed easily. It doesn't clog pores and is great for acne-prone skin. Check out this video for a detailed review of the product.
Pros
Paraben-free
Sulfate-free
Vegan-friendly
Chemical-free formula
Cons
Truskin tea tree super serum is enriched with age-defying benefits of hyaluronic acid,  retinol and vitamin C. All these ingredients along with niacinamide and salicylic acid serve as a potent serum to unclog pores, repair damaged skin, and deliver a brighter, healthier complexion. It contains tea tree essential oil that helps in enhancing skin health along with targeting breakouts. The serum does a great job at keeping the skin blemish free. Its soothing blend of aloe vera, rosehip oil keeps the skin comfortably calm.
Pros
Sulfate-free
Vegan-friendly
Cruelty-free
Makes skin healthy
Cons
Slightly strong for sensitive skin
When you want to fix your acne prone skin that also serves as a breeding ground for whiteheads, blackheads and cystic acne, this 24 hour acne serum is perfect for you. It contains the most effective ingredient for acne, benzoyl peroxide 5% that can get easily absorbed into the skin and help in tackling the breakouts. In fact, it reduces inflammation, redness along with healing hormonal acne. Along with benzoyl peroxide, it contains glycolic acid, which helps in skin exfoliation and reduces scarring. The formula balances the skin oils without over drying the skin. Being safe for all types of skin, this serum can be opted by all.
Pros
Alcohol-free
Gluten-free
No parabens
No formaldehyde
Cons
This serum is surely a lifesaver when it comes to dealing with itching, redness, eczema and acne. Enriched with niacinamide, vitamin b3 and hyaluronic acid, this serum is quite good for fighting wrinkles, improving elasticity and hyperpigmentation. It has amazing soothing properties that enhance the skin texture and lend you a youthful glow. With highly concentrated ingredients, the serum is not ideal for people with allergies. The formula makes the skin silky smooth and settles down really easily when used under makeup.
Pros
No alcohol
No mineral oils
Free from fragrance
Free from harsh chemicals
Cons
When the acne problem is tough, and you just don't know what to do, indulging your skin in the deep care of BREYLEE acne treatment serum is the solution. Made with tea tree oil and camellia sinensis leaf extracts, this serum is super effective in reducing acne and pimples. The plant derived formula, despite being effective, is very mild for the skin and gets easily absorbed. Within just 3-4 weeks of constant use, this product reduces redness, discomfort and improves skin texture. It also helps in enhancing skin's elasticity and repairing damaged skin.
Pros
Light texture
Non-greasy
For both men and women
Restores damaged skin
Cons
Dr Song vitamin C serum is an advanced Korean formula that improves collagen production that helps in reducing the appearance of fine lines, dark spots and other signs of early aging. The serum has amazing ingredients like vitamin E, hyaluronic acid, lavender oil, aloe vera and vitamin B complex. Vitamin B, C and E, helps in improving skin texture and controlling skin damage. The presence of hyaluronic acid and jojoba oil keeps the skin hydrated, works on inflammation and redness. The combination of lavender oil and aloe vera keeps dryness at bay, fights acne and soothes skin. The effect of these multiple herbal ingredients is powerful and keeps early signs of aging in control.
Pros
Smooth texture
Tones skin
Fast-absorbing formula
Gentle on all skin types
Cons
Might be slightly greasy for some
Formulated with tea tree leaf water, 6-sprout extract, and centella asiatica leaf water, this natural face serum stands out as one of the best serums for all types of skin. The ingredients are amazingly good at nourishing, healing and soothing the skin. The formula wonderfully tackles acne and acne scars. Centella Asiatica Leaf Water is a skin soothing ingredient and controls skin irritations. Being hydrating in nature, this tea tree serum is ideal for all day moisturization and keeps the skin healthy. The formula gets easily absorbed and lets you enjoy a smooth texture without acne.
Pros
Cruelty-free
Gluten-free
No color additives
Free from artificial fragrance
Cons
Might not be very effective for dry skin
Powerful ingredients like niacinamide, PCA zinc and vitamin C, makes this serum one of the most effective ones. Harnessing the skin lightening quality of niacinamide, this product helps in reducing blemishes and improving skin tone. With PCA zinc, it also helps maintain the oil balance in the skin which ultimately keeps the pores clean, thus preventing acne. Serving as a skin care universal oil, the formula works at improving skin complexion, reducing redness and rough pores. The best part is that it can be used along with going on acne treatments.
Pros
Repairs skin
Improves skin texture
Balances skin oil
Silky potion
Cons
Might not layer well under makeup
Breakouts can be seriously heart-breaking and keeping them in control is surely a tough task. But with a face serum like this one, that has the goodness of thyme, you can easily keep your acne in control with no acne spots. Thyme is a herb that has amazing clarifying properties and promotes even-looking skin tone. Fortified with the exfoliating properties of salicylic acid, this acne serum keeps your skin smooth and pimple-free. Just apply a thin layer on your acne prone areas, and you are good to go!
Pros
Light weight
Thick formula
Reduces dryness
Reduces facial spots
Cons
L'amore Beauty anti-aging serum is powered by botanical extracts, and retinol, for keeping your skin care game on point. The serum serves as a perfect moisturizer that keeps the skin pores clean and regulates skin oil. Enriched with anti-acne and anti-inflammatory properties of herbal ingredients like black currant, chamomile, avena and plant stem cells, this soothing formula is great for upkeep the skin health. Its anti-aging properties help in minimizing the sagging of skin, wrinkles and fine lines. Retinol keeps the skin bright, blemish-free and reduces signs of aging. Packed with the goodness of skin-friendly vitamins, the L'amore Beauty hydrating serum boosts hydration and keeps dryness and irritation at bay. The formula works for both men and women.
Pros
Cruelty-free
Fragrance-free
No mineral-oils
Paraben-free
Cons
Takes slightly longer to work
iS Clinical active serum has a unique formula with herbal ingredients like bilberry, mushroom, arbutin and sugarcane. Created to brighten skin, tackle acne and minimize skin aging symptoms, this facial serum is something that everyone needs. As a multi-functional skin serum, it helps in countering skin issues and making the skin healthy. Bilberry, arbutin, and mushroom extracts help in brightening the complexion and keep the skin firm. Its white willow bark extract helps in exfoliating the skin and improving skin texture. With consistent use of this serum, you can upscale the healing process of acne too.
Pros
Luminous skin
Light-weight
Powerful formula
Doesn't leave any residue
Cons
By now, these options must be really luring you. But before investing in one of these face serums for acne prone-skin, consider going through the points mentioned below that might help you better.
How To Choose The Best Face Serum For Acne?
Consider the following points before choosing the best serum for acne-
A face serum for acne should be non-comedogenic, that does not clog pores and is oil-free.
For dryness, a good face serum with skin hydrators like hyaluronic acid that moisturizes skin and keeps skin soft is perfect.
Exfoliators like retinol or glycolic acid work great in a serum for acne.
In case, there is redness and inflammation, serums with herbal ingredients like aloe vera, licorice root and green tea are suitable.
How To Use Face Serum For Acne?
Clean your face thoroughly
Use a skin toner
Apply a thin layer of few drops of serum
Massage it until it gets absorbed completely
Why Trust StyleCraze?
Kirtana Divakar, the author of this article, is a skin care aficionado, and she agrees that one of the best ways to get rid of acne is to use a face serum. She finds these serums to be extremely beneficial because of their anti-inflammatory properties and recommends these products for anyone with acne-prone skin. The products in the list have been carefully chosen and picked by her to help the readers choose the right ones for their skin concerns.
Frequently Asked Questions
Is Vitamin C Serum Good For Acne?
Yes, vitamin C serum is good for acne.
How Often Should We Use Face Serum For Acne?
Face serums for acne must be used twice a day, morning and night.
Does Face Serum Cause Acne?
If you have oily or acne-prone skin, a face serum that is thick, greasy or oily that can clog pores and cause acne.
Recommended Articles: