20 Best Handbags You Need To Get Your Hands On In 2023
Keep your daily essentials safe inside durable, roomy, and stylish handbags. Owning a good handbag is a dream for every woman. Do people often end up asking you the same annoying question, "Do you carry bricks in your handbag?" However, there is probably no better reason to justify the excess weight of your handbag. In this post, we talk about some of the best-selling handbags available online. The ones listed here will give you a luxurious and statement look and accommodate all your essentials without getting ridiculously bulky.
Keep reading the article to find some of our top picks and get your hands on one of your favorites now!
What Are The Different Type Of Handbags?
Shoulder Bags: These bags, as the name suggests, are slung over one shoulder. They are usually big enough to carry all your essentials, making them the most functional handbag. These bags also contain many zipper pockets and compartments. As these bags are ideal for everyday wear, getting one in a neutral color is the best option.
Crossbody: Known for the way it is worn, crossbody bags are typically smaller than other handbags. They are also known as sling bags. They are functional, comfortable, and stylish. They let you go hands-free and are ideal while traveling. These travel bags are available in different sizes, colors, and textiles.
Satchel: Satchel bags are medium-sized handbags that have two short handles and a longer strap. These bags usually give out the corporate vibe and are ideal for offices and colleges.
Tote Bag: No one can ever go wrong with a tote bag. These single-compartment bags have no closure. They offer ample space for multiple items. These bags have two parallel shoulder handles on either side, making them very comfortable to carry around. This can also be used as a beach bag.
Hobo Bag: Hobo bags are large, slouchy, crescent-shaped bags. These are timeless options that you can carry on weekend trips or on an evening out with friends. They usually have one compartment that is sealed with a singular zipper. The material of the hobo bags tends to slump when it is set down. Therefore, buy one that is more structured in nature and pull your style statement.
Backpack Purse: A backpack purse is a smaller variation of a typical large backpack. The fit and size of the bags make them super comfortable. These bags are decorated with unique embellishments, like colorful zippers, tassels, and metallic studs, making them popular among the young crowd.
Barrel Bag: Barrel bags are cylindrical-shaped handbags that are usually medium to small in size. They have zipper closures and short handles, making them similar to duffel bags.
Basket Bag: Made from jute and straw, a basket bag is carried on picnic excursions or on beach trips.
Bowler Bag: These are dome-shaped, medium-sized handbags that feature short, thick straps. They have multiple compartments and are versatile enough to be carried to a casual place or even on a party occasion.
20 Best Selling Handbags You Need To Get Your Hands On, Right Now!
If you are into handbags, you need this Michael Kors tote in your collection. It is available in vibrant and stylish colors, so there's plenty to pick and choose from. Staying true to its name, it is ideal for people on the go, with ample space for everything you might want to carry.
Compartments – 2
Available Colors – 20

Price at the time of publication: $130.9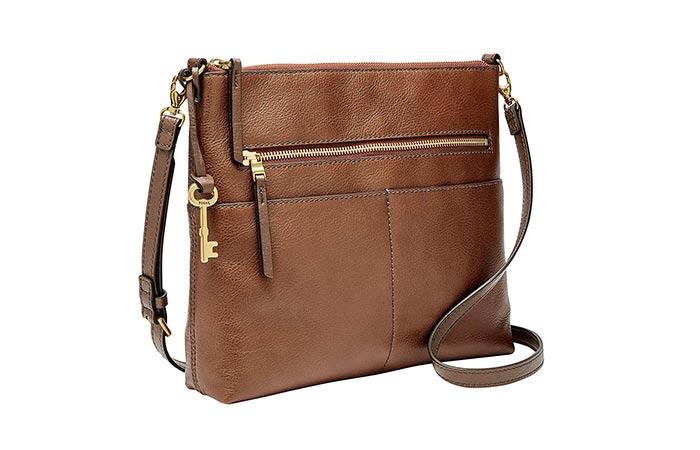 This crossbody bag works both as an everyday essential and a travel pouch. Dark brown is a Fossil staple, and most of their designs revolve around this color. However, this bag is available in more than 10 attractive colors. If you want to experiment with more handbag designs, you should get hold of one of these. The leather quality of Fossil bags is one of the best in the industry. Most Fossil customers are loyal to the brand for this very reason.
Compartments – 2
AvailableColors – 11
Price at the time of publication: $105
Steve Madden is known for its unusual design patterns. Be it handbags, shoes, or accessories – they are unique, stylish, and chic. The products from this brand are a part of every girl's wishlist. Their bags are elegant and spacious and big enough to carry your essentials. Your emergency kit can scoot in as well.
Compartments – 4
Available Colors – Red, Black, Mauve
The LoveVook Handbag Set is the best choice of a handbag, crossbody bag, and shoulder bag. You wish for one, and you get 3 in hand. Every bag meets your modern-day needs and is versatile for any occasion. Made from synthetic leather, these bags look chic and are also scratch-resistant.
Compartments – 1
Available Colors – 24 colors
Price at the time of publication: $42.99
The JOSEKO Tote Purse can be converted from a tote bag to a backpack within a few seconds. The adjustable strap of the bag makes it versatile to be used as a tote bag, shoulder bag, and backpack. The durable and fashionable bag contains multiple zippers, a hash closure main compartment, and a zipper tablet compartment. You can accommodate various items in the bag.
Compartments: 2
Available colors: Black, Blue, Coffee, Khaki, Red
Price at the time of publication: $32.99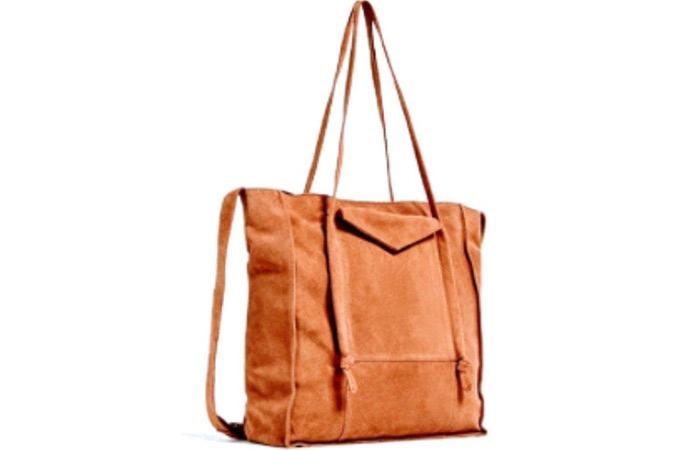 Totes are known for their comfort and functionality. Here is a bag that gives you all of that in a crossbody bag variant. It looks just as good with your chic office wear and can accommodate everything you need for surviving a weekday or running errands. You can use it as a tote or crossbody bag.
Compartments – 1
Available Colors – Suede
The Bostanten Nevin Leather Handbag is made of high-quality cowhide leather and looks stylish with the metal feet design. The inner compartment can hold an iPad along with other essentials. The bag has three pockets which makes it easy to organize things. With a detachable strap, you can use it as a tote, shoulder, or a cross-body bag. The well shape makes it suitable for use as a formal bag.
Compartments: 3
Available Colors: 5
Price at the time of publication: $78.39
A spacious bag with removable and adjustable shoulder straps is a dream bag for every woman. This one from Scarleton is made from synthetic leather that feels ultra-soft against your skin. The silver zips and button designs make it stylish. The two main compartments can hold iPad, phones, wallets, tablets, and so much more quite easily. Libbie Mugrabi, a New York-based designer, says, "The 2000s are back and this is the perfect bag to add to your collection! The zippers and studs are the perfect combination of edgy and girly! You can decide which style choice you want to go for!"
Compartments – 2
Available colors – 12 colors
Price at the time of publication: $35.99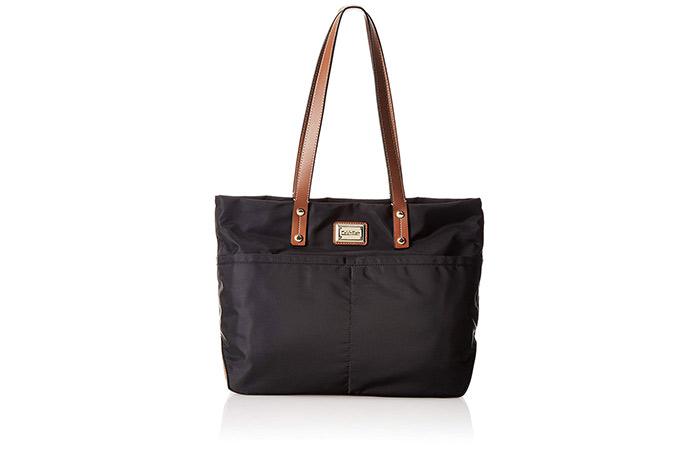 Are you a vegan looking for faux leather bags? Or, do you simply prefer faux leather over pure leather? Here's some good news – this bag by Calvin Klein is functional and an everyday essential. These vegan handbags from CK have been the pioneers of great quality and stylish bags that are quite affordable. This tote bag is massive, elegant, and can fit most of your essentials, including your laptop or tablet. What else do you need?
Compartments – 1
Available Colors – Navy, Black, Gold
Price at the time of publication: $140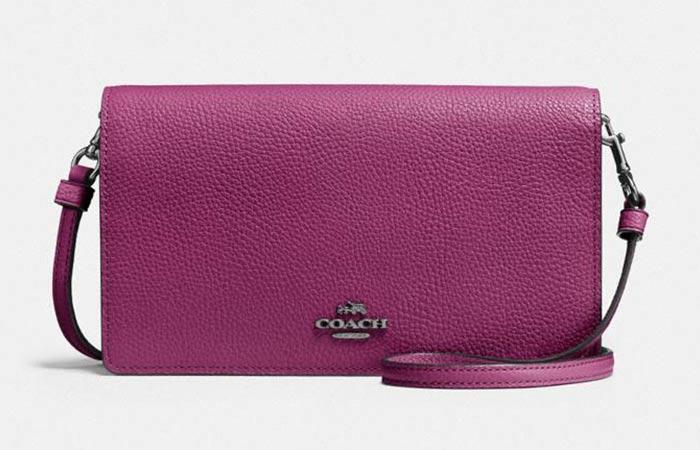 This is a stylish crossbody bag for anyone who hates to hold on to anything or does not like shoving everything into their trouser pockets. It is a sleek, light, and stylish addition to every girl's collection. You can use these as clutch bags if you want to be all fancy or a crossbody when you are looking for functionality. Libbie Mugrabi, a New York-based designer, says, "This is the perfect statement piece for any outfit. Don't be afraid to add matching bold colors in your shoes or within your jewelry, to pull the outfit all together."
Compartments – 1
Available Colors – 15 colors
Price at the time of publication: $139.56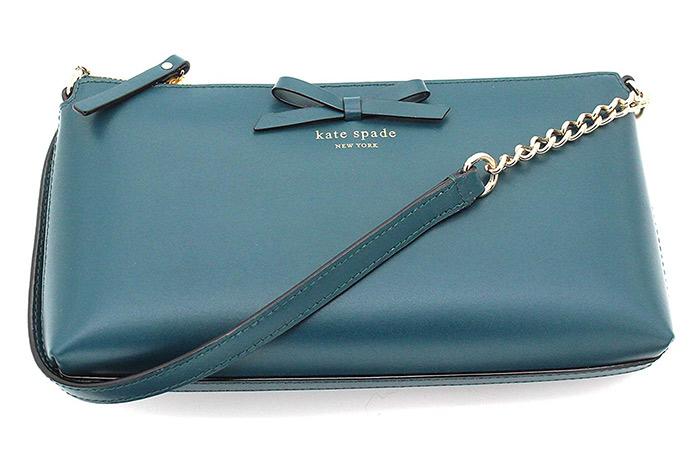 Kate Spade's Kingston Bag is timeless and a style upgrade for a crossbody bag. The gold zipper and hardware lift the color further, adding charm and style to the bag. Kate Spade is known for giving us all style goals, and this crossbody bag is a keeper.
Compartments – 2
Available Colors – Cloud Cover, Dusty Peony, Emerforest
Price at the time of publication: $198
This 4-in-1 purse set contains a large handbag, a crossbody bag, a wallet clutch, and a cardholder. These bags are made of synthetic leather and are resistant to water and fading. Pick one to match the occasion or your mood. It is available in many vibrant colors and is also an ideal gift set.
Compartments – 1
Available Colors – 45 colors
Price at the time of publication: $31.19
This Angel Kiss Hobo Shoulder Purse can carry all your essentials fashionably. The adjustable dual-carrying handle allows you to use the bag as a handbag, shoulder bag, or crossbody bag. The multiple zip pockets give you enough space to organize all your items. The classic design and the quality fabric make it suitable to be carried on every occasion. This could also be a good weekender bag for a short weekend trip.
Compartments: 2
Available Colors: 14
Price at the time of publication: $37.99
The JW PEI Gabbi Ruched Hobo Handbag has a 90s look with a scrunched handle. It is an eco-friendly product of imported vegan leather and recycled plastic bottles. The big compartment of this baguette bag has a magnetic closure. It is designed for relaxed and fun outings.
Compartments: 2
Available colors: 21
Price at the time of publication: $67.99
This stylish crossbody bag is a must-have in your collection. The premium synthetic leather bag has a glossy shine, two side pockets, and multiple slots to hold your knick-knacks securely. Moreover, it comes with a removable cover to keep your bag clean, and also has a unique detachable gun holster.
Compartments – 2
Available Colors – 21 colors
Price at the time of publication: $39.99
This handbag set redefines style and elegance. The gold twist lock at the front and the rolled leather top handles are unique highlights. This set includes a satchel bag with removable shoulder straps and a wallet clutch made from vegan leather. As a handbag with top handles, it can also be carried in different ways. It makes for a perfect business travel companion and is available in various shades to choose from.
Compartments – 2
Available Colors – 18 colors
Price at the time of publication: $44.99
The Kate Spade Harper Satchel Handbag has a spacious, organized design with detachable straps. The design consists of refined-grain leather made with magnetic closure on the big compartments and a central zipper pouch. You can use it as a crossbody bag using the 22″ strap. The foil-embossed logo gives it a classy look.
Compartments: 3
Available Colors: 6
Price at the time of publication: $187.3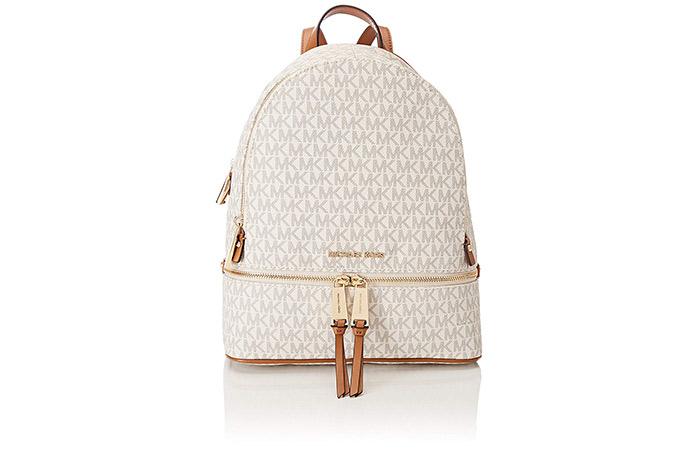 Thanks to the designers at Michael Kors, there is no dearth of statements handbags when you feel like dolling up. I would never consider a designer handbag, but if it is functional and stylish, why not? Michael Kors has revolutionized women's bags and accessories in more ways than one, and it is evident with this one. This is one of the best designer handbags out there.
Compartments –2
Available Colors – Cream
Price at the time of publication: $322.62
The Cluci Small Shoulder Bag is water-resistant with electroplated gold accessories. You can use this vegan-leather handbag as an underarm bag or as a crossbody. You can use this sleek purse with any outfit and hold all your essential items like wallet, keys, phone, and lipstick. The bag is best for shopping, parties, or outings.
Compartments: 2
Available Colors: 5
Price at the time of publication: $36.99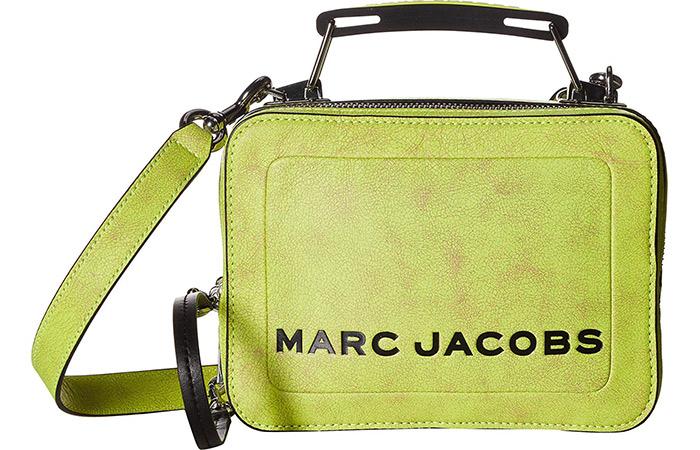 This is a quirky and fashionable clutch that doubles up as a crossbody bag. Its metal hardware and neon green color get all the brownie points. If you have a whacky personal style and are looking for an equally unique piece, this is the best vintage handbag for you.
Compartments –1
Available Colors – Neon Green
Price at the time of publication: $299.99
Every year, various brands come up with unique, new handbag designs. With so many options in hand, it surely is difficult to pick one. Since a handbag can make or break an outfit, decide on a style that suits your body proportions and serve the purpose. For example, if you do not need to carry a lot, opt for a clutch, and if you carry laptops, tote bags are great options. The section below discusses all the factors you need to consider before buying a handbag.
Things To Consider When Selecting The Correct Handbag Style
Body Proportions:

Small and petite women: Choose a small, medium-sized handbag that is vertically longer. This will make your torso appear elongated and accentuate your figure. Skip oversized bags with longer straps.
Tall and thin women: Opt for slouchy bags and stay away from structured ones. A bag with longer straps will make you look taller; so you may want to stick with the one with shorter straps.
Curvy or Plus-size women: Choose medium-sized handbags that lay flat against your body. Do not opt for too small or too large bags as they will make you look larger.
Pear-shaped women: If you are heavy on your hips, go for well-structured bags that end well above your hips.
Apple-shaped women: If you are broader around your bust, opt for small handbags with smaller straps. These structured bags will draw attention away from your bust area.
Hourglass-shaped women: Buy medium-sized tote, hobo, or crossbody bags that accentuate your curves. These handbags compliments well with your body shape.
Rectangular-shaped women: Bags that can be tucked under your arms and that rest by your waistline will flatter your rectangular-shaped body. Anything apart from these bags will make you look broader or slender.
Comfort: Before purchasing a bag, check whether it is comfortable to carry and wear. Notice if you can slide off them easily and if they are heavy. If you are buying them online, check user reviews. Opt for bags that are lightweight and have smooth edges. Handbags with pockets are convenient, and those with zippers are very popular. Messenger bags are a good choice if you want to organize your things into different compartments.
Occasion: Select your handbag style, based on the occasion. If you want something casual, stick with tote bags, whereas for a party look, stick to dressy sling bags, evening bags, or blingy purses. Handbags with convertible designs can also be a good choice to match different occasions.
Color: If you are looking for a bag to carry to your office, side with neutral shades like brown, or beige. On the other hand, invest in colorful bags if you plan to carry them for sports. Those with shiny textures work great at parties.
If you have a favorite bag, you wouldn't want it to wear out any time soon. To increase the shelf-life of your bags, it is important to store them properly. Take a look at the section below to learn about the ways of caring for your handbags.
​​How To Store And Care For Handbags
Clean Your Handbags: Regularly clean and condition your handbags. If you have nylon bags, hand-wash them with mild soap and water. Dry it completely before storing. For leather bags, mix dish soap in warm water and clean any stains. Dry them with a towel.
Stuff Your Handbags: Stuff your handbags with pillows, unused scarves, or waste papers to retain their structure. Do not overstuff or under stuff them to avoid permanent shape damage.
Remove The Extra Accessories: If you have handbags with detachable straps, remove them, wrap them up with a clean paper towel, and stuff them inside your bag; otherwise, they can leave indentations on the material of the bags. If you have handbags with chain straps, ensure you keep them detangled and safe inside the bag.
Cover It Up : Once your bag is cleansed and stuffed, keep them inside a cover. Ensure that the dust bag is made of breathable material, such as soft cotton, to avoid ruining the fabric of your bag, especially if you have handbags with intricate embroidery.
Pro-Tip: Never hang your bag over a doorknob or a hook. It may distort the fabric of your bag and ruin its look. In addition, keep them away from direct sunlight if you have handbags with unique prints. Sunlight can lead to discoloration of your handbag.
Why Trust StyleCraze?
Fashion lover Shalini Roy, who authored this article, enjoys experimenting with different fashion items. Understanding the significance of handbags, she made a list of the best ones after extensive research. These handbags that have been listed will allow you to keep all your essentials without making the bag look bulky. The best thing is that they are also super stylish.
Frequently Asked Questions
What type of bags is in style?
Roomy bags with stylish exteriors are trendy in today's day and age. People also prefer recycled bags that are sustainable and environment-friendly.
Are Longchamp bags still in style?
Yes, Longchamp bags are still in style. People use Longchamp bags for their longevity. They are also affordable and stylish.
Are luxury handbags worth it?
Yes, luxury bags are made of high-quality materials that offer great longevity and finish and gorgeous styles.
What color are spring handbags?
Choose spring handbags of bright and cheerful colors. Orange, yellow, and pink work wonders during summer and spring.
What color of handbag goes with everything?
Black, white, brown, and nude bags go with most dresses and styles. However, dark gray bags are also popular among fashion enthusiasts.
Are white handbags tacky?
No, white handbags are not tacky. In fact, they are very popular among fashion enthusiasts since they go well with most dresses and styles.
Do brown handbags go with everything?
Yes, brown handbags go with almost everything since the color is an earthy tone. You can pair a brown bag with warm-colored dresses, cool-colored dresses, and neutral-shaded dresses as well.
Recommended Articles