10 Best Eyebrow Brushes Available In India – Reviews And Buying Guide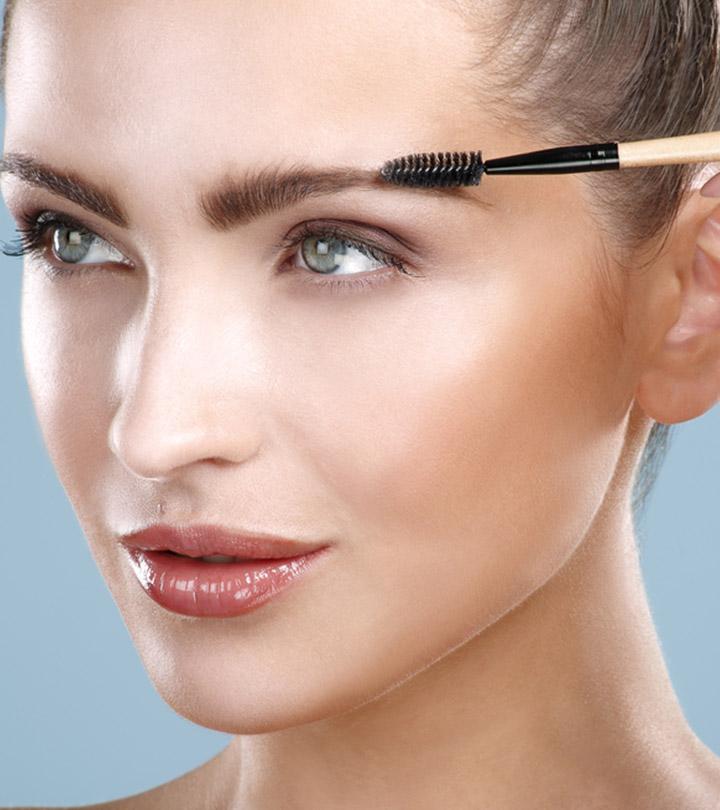 Eyebrows are the most visible feature on your face. They help you make a strong style statement. You can use an eyebrow brush to brush out your brown maintain their shape. These brushes make your brows look fuller and bolder. This guide to the 10 best eyebrow brushes available in India right will help you choose from some of the best eyebrow grooming options. Check it out!
10 Best Eyebrow Brushes Available In India Right Now
Keep your brow game on point with the dual-tipped Docolor Duo Eyebrow Brush. This double-ended tool has a spoolie on one end and firm, angular bristles on the other that help you fill in your brows with precision. The spoolie grooms your brow hairs and blends the color of the brow pencil or brow gel to give you a very natural look. You can rest assured about the quality of the brush as it is made with premium-quality synthetic fibers that are lightweight and easy to use.
Pros
Dual-tipped brush
Firm bristles
Premium quality
Lightweight
Easy to use
Cons
Requires careful cleaning
Are you very particular about the way you groom your brows? If you like to play around with different brow looks, go for Revlon Double Ended Brow Brush. It has 3 heads that can be used in multiple ways – to comb the brows, apply any brow product, and comb the lashes before applying mascara. The brush is very delicately made, and it does not feel scratchy or rough while using. Its shiny red rim makes it look classy.
Pros
3-in-1 brush
Good packaging
High quality
Easy to clean
Cons
The DUcare Duo Eyebrow Brush is a dual-ended brush that defines your brows precisely and effortlessly. This angled brush with firm bristles shapes and defines your brows like an expert. You can groom your brows and blend eyebrow products with the spoolie. The bristles are made with high-quality material and are lightweight and robust. The brush is 100% cruelty-free and vegan, which is yet another reason why it is an excellent option compared to others.
Pros
Dual-ended brush
Firm bristles
High-quality
Cruelty-free
Vegan
Lightweight
Durable
Cons
None
This unique angled eyebrow brush is great for filling your eyebrows. It is a high-quality product with smooth bristles for easy application. The precisely angled tip allows you to shape your brows perfectly. Use it to apply powder, liquid, or cream products. MAC professional brushes are hand-sculpted and assembled using materials of the finest quality. This superior-quality brush is 100% synthetic and will undoubtedly live up to your expectations of creating an enhanced brow look.
Pros
Offers easy application
Smooth, firm bristles
Precisely angled tip
Easy to clean
Cons
None
This angled brow brush by Bare Escentuals is 100% authentic. Its firm bristles are meant to fill in your brows like a pro. The angular bristles help you to fill in the gaps quickly. With its stiff bristles, you can shape your brows like a professional. The brand does not sell any knock-offs or imitations, and its authenticity makes it even more user-friendly.
Pros
Firm bristles
Hassle-free
Suitable for shaping brows
Travel-friendly
Cons
None
Thick and bold brows can change your face's entire look. PAC 222 Eyebrow Brush with dense, stiff bristles is here to provide you natural-looking coverage. It is perfectly angled and can be used to fill in brows or apply eyeliner. It helps you get medium to full coverage and achieve a prominent eyebrow look.
Pros
Dense bristles
Offers natural coverage
Perfectly angled
Can be used to apply eyeliner
Cons
None
Bobbi Brown Eye Brow Brush is perfect for shaping your brows. This fantastic brow brush is lightweight, and its smooth bristles are skin-friendly. This specially designed brush is great for shaping and defining eyebrows, giving you maximum control and precision, and making it easy for you to get the right shape. Use this brush along your natural brow line and blend the brow product well for a natural finish.
Pros
Suitable for shaping brows
Lightweight
Smooth bristles
Skin-friendly
Offers maximum control and precision
Cons
None
Basicare Eye Brow & Eye Lash Brush is a sturdy 2-in-1 brow and lash brush that offers a secure grip. You can comb your brow hairs with it. The bristles stick together and do not wither away quickly. This is an ideal option for people looking for a durable and affordable brow brush. 
Pros
Multipurpose
Sturdy bristles
Offers strong grip
Durable
Cons
None
This 2-in-1 eyebrow brush and eyelash comb comes in a set of 5 in different colors. Its sturdy bristles are good for combing your brow hairs. The densely-packed bristles on one side are great brushing your brows up to see which hairs need trimming. Once you've identified them, the plastic comb on the other side helps guide your scissors to cut them exactly where you want — no wayward snipping here.
Pros
Sturdy bristles
Dual-ended
Suitable for eyebrows and lashes
Long-lasting
Cons
None
Festnight Eyebrow Brush & Eyelash Comb grooms your brow hairs thoroughly with its thick, bushy bristles. It is easy and hassle-free to use. This dual-ended brush is long-lasting, durable, and best suited for applying brow makeup.
Pros
Thick bristles
Dual-ended brush
Hassle-free
Long-lasting
Cons
None
Now that you know all about the best brow brushes on the market right now, let's check out all the factors you need to consider when buying one.
How To Choose The Best Eyebrow Brush – Buying Guide
Some of us are incredibly selective when it comes to picking the right eyebrow makeup tool. But, it's okay to be specific because choosing the right kind of brush has a vital role to play when it comes to creating the final look. Different eyebrow brushes have different designs and textures for various purposes. To make it easier for you, we have listed below the different types of brushes:
Regular Eyebrow Brushes: If you want to apply powder or cream-based eyebrow products, a regular eyebrow brush will suffice. Regular brushes help you to fill in the gaps and create a thick brow look if you have very fine brow hairs. With regular brushes, all you need to do is take the required amount of brow product and apply it gently on your natural eyebrow line.
Spiral Eyebrow Brushes: After filling in your eyebrows, the product needs to be blended uniformly to look natural. Spiral brushes soften the brow product and make your brows appear natural.
Comb-Style Brushes: Do you know that our eyebrows need grooming too? Comb-style brushes are used to comb your brow hairs. They help in trimming your brows.
Before going for regular eyebrow brushes, you need to make sure that the brush's tip is pointed according to your brow shape. Brushes with finer and pointed tips help in creating the appropriate shape without smudging the look.
You can also consider purchasing dual-tipped brushes or get those all-in-one kits to help you with all your brow-styling needs.
Filling in your brows to get that beautiful arch-like shape requires some pro tips. Check some of  these tips out in the next section!
How To Use An Eyebrow Brush Like A Pro
Use an angular brush to prep your brows with a brow wax.
Figure out the proper shape of your brow line with a regular brush.
With the help of an eyebrow pencil, draw the outline according to your desired shape.
With powder or cream-based products, fill in the gaps in your brows and make them even.
Take a spoolie brush and blend out the product well.
Use a brow gel to finish off the look.
Eyebrow brushes are artistic tools that require patience. You must master the art of filling and shaping your eyebrows with a brush before you step out. We hope our list of the best eyebrow brushes and buying guide helps you pick the perfect one for your needs! 
Expert's Answers for Readers Questions
Which is the best brush for applying eyebrow powder?
DoColor Duo Eyebrow Brush, Bobbi Brown Eyebrow Brush, and MAC Cosmetics Angled Brow Brush are considered to be some of the best brushes for applying eyebrow powder.
What is the best eyebrow product?
Benefit Cosmetics Gimme Brow + Volumizing Eyebrow Gel and Anastasia Beverly Hills Dipbrow Gel are some of the best eyebrow products.
What can I use instead of an eyebrow brush?
If you don't have an eyebrow brush, you can take a spoolie or a Q-tip, spritz a bit of hairspray on it, and use it to shape your eyebrows.
Recommended Articles:
The following two tabs change content below.

Latest posts by Oyendrila Kanjilal (see all)

Oyendrila Kanjilal
Oyendrila Kanjilal has a Master's Degree in English Literature. As a Beauty and Lifestyle writer, she writes about everything that the modern woman needs to know about grooming and self-care. She also reviews makeup, skin care, and lifestyle products to help readers make the best purchase. She is a trained classical dancer and loves binge-watching web series of different genres.