13 Best Natural Eyeshadows That Suit Every Skin Tone – Top Picks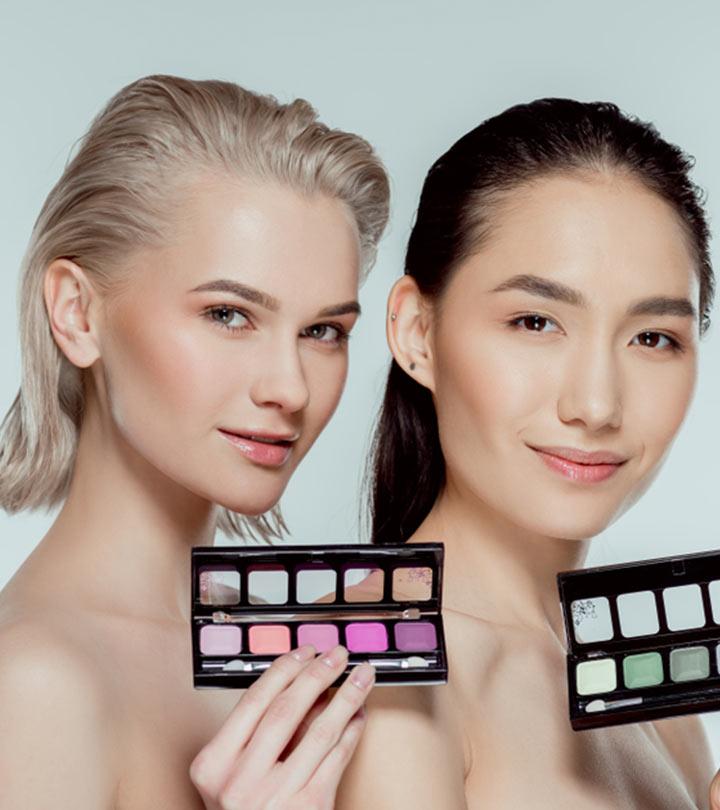 There are very few things as satisfying as using the best natural eyeshadow for your eyes. If you are a person who adores eye makeup but does not go beyond eyeliner and mascara, you need to give the eyeshadow a try; just trust us. While most people think eyeshadow is for bold eyes and discard the idea of using it for the traditional look, it can give you an edge without making you look over the top. Every celebrity you have adored all this time wears eyeshadow to give a different depth to their eyes. The more you play with the shades and blend the colors with your natural skin tone, you will look better. If you are worried about the glitters and powders and their effect on the sensitive areas around your eyes, we have just what you need. Some brands concentrate on organic elements and ingredients to make your makeup look ravishing without harming your skin in any way. Here are 13 eyeshadows that not only make you look gorgeous but also nourish your eyelids and make them look fabulous always.
Ingredients To Avoid In An Eyeshadow
Eyeshadows grace the delicate skin around our eyes, so it's super important to be aware of what we should avoid. Steer clear of ingredients like parabens, aluminum powder, formaldehyde, carbon black, sulfates, lead, petrolatum, talc and synthetic or artificial colors. When switching to natural eyeshadows, reading the labels is your best bet to ensure that it contains safe ingredients. Keep an eye out for sweet almond oil, zinc oxide, flower wax, aloe extracts, vitamin E, honey and essential oils like jojoba, chamomile and olive as they are beneficial for the skin around the eyes.
13 Best Natural Eyeshadows To Enhance Your Eyes In 2021
With this Eye Shadow Trio by Burt's Bees, three is not a crowd! The beautiful pigments in this all-natural eyeshadow are formulated with a mix of vitamin E, honey, and bamboo to provide antioxidant benefits and moisturize the delicate eye area. The compact pan fits in the tiniest of purses, and you never have to struggle to apply the natural shimmer eyeshadow shades because they are oh-so-easy to blend. It won't crease, smudge, or fade and stays put throughout the day. This natural eyeshadow is a mineral formula, and the 3 available neutral shades are inspired by nature for a subtle glam finish. This product is safe without a shadow of a doubt, as it is made without parabens, phthalates, SLS, synthetic fragrance, or petrolatum.
Pros
Suitable for people with sensitive skin around the eyes
Safe for contact lens wearers
Vegan
Easy to blend
Cruelty-free
Dermatologist-tested
Cons
Doesn't come with a brush
Limited shade range
This matte natural eyeshadow is a non-comedogenic formula that won't clog your pores even if you sweat through your eyeshadow. The cruelty-free powder glides on smoothly and is a dream to blend with either a brush or your fingers. The natural eyeshadow settles as a matte finish without the fear of color bleeding through. This range will provide you with the best night and day look available in a whopping 45 unique shades for you to choose from. If you are on the lookout for a non-toxic eyeshadow to create a day look, this one is also free of talc and parabens.
Pros
Matte finish
Highly-pigmented
Single tin for easy portability
Easily blendable
Cons
The eyeshadow may not offer long-lasting wear
If you want to enhance the natural beauty of your eyes, you can't go wrong with this pretty natural eyeshadow by Mineral Fusion. The rich pigments come with a hint of shimmer that lends your eyelids a natural sparkle that lasts a long time. The Stunning palette comes with 3 neutral colors that can be used on their own or combined to create various looks. Chamomile, meadowfoam, and vitamin E come together in this organic eyeshadow palette to nourish your eyes and keep them looking pretty and youthful. There are 10 trios available to choose from, and the formulas are all made without harsh ingredients like parabens, gluten, talc, and phthalates.
Pros
No artificial fragrance
Cruelty-free
Hypoallergenic
Vegetarian formula
Anti-crease
Matte and shimmery finishes
Cons
Some may find it too glittery for everyday wear
If you're looking for an organic eyeshadow, turn to this range available in 12 beautiful shades in both matte and shimmery finishes. The cream formula ensures that the rich pigments stay on your eyelids for longer and are silky smooth to make blending easy and mess-free. Considered one of the best natural eyeshadows, it is formulated with 100% clean ingredients such as shea butter, raspberry extract, avocado butter, vitamin E, and jojoba, grapeseed, and olive oils among others to keep your eyelids moisturized. They make your skin soft and provide anti-aging effects that delay the onset of fine lines around the eyes. If you love experimenting with different eye makeup styles, this all-natural organic cream eyeshadow is the right one for you!
Pros
All-clean ingredients
Moisturizing properties
Creamy texture blends smoothly
Cruelty-free
Long staying power
Crease-resistant
Cons
Some may find it slightly greasy
Only Better's vegan, natural eyeshadow range is one of our absolute favorites as it helps in creating various cute, natural eyeshadow looks. This clean natural eyeshadow is infused with a nourishing cocktail of skin-loving ingredients such as sage and evening primrose. The palette has a glossy surface to make cleaning super easy and comes equipped with a mirror and brush for easy application on-the-go. The highly-pigmented, shimmery shades feel luxurious on the eyelids, as they are richly creamy and blend beautifully for high coverage that stays put for long hours. With ultra-micronized and waterproof pigments, the color doesn't smudge one bit and your eyes are bound to be the talk of the town.
Pros
Suitable for kids
Rich pigments
Vegan
Nourishing ingredients
Easy to blend
Long staying power
Waterproof and sweat-resistant
Cons
Some may find the nude shades to shimmery for their liking
When building the perfect look with makeup, this natural eyeshadow from BaeBlu has so many fun options you can explore. You can apply these shades as is, or with a drop of water or liquid primer to experiment with them as a wet eyeshadow for a creamy finish. Not only is BaeBlu's formula buildable, the colors remain highly-pigmented. This all-natural mineral eyeshadow is made with entirely organic ingredients like rice powder, grapeseed and jojoba oils, olive, rosemary leaf, and thyme extracts and is suitable for those with sensitive eyes as it contains no petroleum-based oils, talc, fragrance, or preservatives There's no limit to the number of looks you can create with 13 unique shades that range from shimmery bronzes, bright metallics, smokey darks, and matte neutrals.
Pros
Made with organic ingredients
Contains no parabens
Fragrance-free
Gluten-free
Vegan and cruelty-free
Hypoallergenic
Cons
The shades may fade after a couple hours and need to be touched-up
The Midnight Blue shade from Demure is a matte natural blue eyeshadow that is the best match for an evening out with your friends. With a natural mineral base, the powders are made of a breathable formula that is also waterproof. Lightweight yet highly pigmented, this all-natural eye makeup blends and builds easily for full coverage. If you have oily, dry, or even mature skin, this is the perfect natural eyeshadow for you. For the safety of your delicate eye area, this organic eye makeup range doesn't contain any chemicals, harmful preservatives, or skin-irritating ingredients like talc or rice.
Pros
Fragrance-free
Matte finish
Contains 23 light and dark shades
Weightless powder
For all skin types
Suitable for sensitive and mature skin
Waterproof
Cons
May slightly fade after a couple of hours
Zuzu's organic eye makeup will impress you with their highly-blendable powders that are available in 16 shades. Achieve a lustrous shine with this palette that is infused with sea fennel, jojoba oil, and grapeseed extracts that make this nutrient-rich organic eyeshadow suitable for longwear. Without any parabens or coal-tar derivatives, these beautiful pressed powders are ideal for all skin types. The Absinthe shade is a pretty light natural eyeshadow with a nude-golden combination. It's not only ideal for an everyday look, but you can also blend it with another color for an exciting variety.
Pros
Cruelty-free and vegan
Nourishing base ingredient
Gluten-free
Blends easily
Can be used both wet and dry
Suitable for all skin types
Cons
It may not be smudge-resistant
Made with all-natural minerals that are light-diffusing, the Jill Kirsh Color range with 34 shades is one of the best organic eyeshadows out there to help you enhance your eyes! Minerals like zinc oxide and phenoxyethanol present in these powders encourage healing and boast antiseptic properties that care for your eyes. With the gentle scent of lavender, you can also avail some aromatherapeutic benefits. Use the purple shade Amethyst to spice things up for a night of clubbing, or blend it with a neutral shade to create a natural everyday eyeshadow.
Pros
Cruelty-free
No parabens
Has aromatherapeutic benefits
Made with organic minerals
Contains healing and antiseptic properties
Cons
May not be as pigmented as expected
The versatile cream-to-powder formula in Jane Iredale's natural makeup eyeshadow can be used as a solo color or as an all-natural eyeshadow primer. With the help of coco-glycerides and mineral powders, these blendable shades are rich and glide easily. The best thing is that you only need a little powder to create an elaborate look, so this is a fantastic option if you like to keep your makeup minimalist. Canvas is a deep rose gold with a sheer finish that'll make your eyes look captivating yet soft. It's a color perfect for a first date in the summer nights. You can exercise your creativity and create a unique look so all eyes will be on you!
Pros
Creamy formula
Long-lasting
Blending is easy
Doubles as a primer
Crease-resistant
Doesn't smudge
Cons
Staying true to its name, the natural eyeshadow brand 100% Pure uses nourishing fruits with antioxidant-rich benefits like papaya, pomegranate, tomato, raspberry, blackberry, blueberry, acai, and avocado. Other natural ingredients like rosehip oil, vitamins C and E, and cocoa butter moisturize the skin, while wine, black tea, and coffee offer anti-aging benefits, with mica sealing the deal with a natural shimmer. For that long-wear look, apricot and peach contribute to the natural pigment. And if you thought the superstar ingredient list ended, you're mistaken! There's a blend of rice starch, which helps soften and heal inflamed skin, and resveratrol that delays signs of aging for a youthful glow. Choose the shade Flax Seed for a soft and neutral look with a matte nude finish for daily casual looks.
Pros
Anti-aging ingredients
Cruelty-free and vegan
Available in 7 shades
Gluten-free
Doesn't contain chemical synthetic dyes
Contains natural fruit pigments
Medium-to-full buildable pressed powders
Cons
The shades may not be buildable
Redefining your eyes has never been easier with the TIGI Professional Cosmetics High-Density range. True Natural is a soft pink-nude shade, which will make your eyes look dainty and we think this will be your go-to power nude for an everyday look. Your eyes are your canvas, so use these 7 shades on their own or mix and match them to complement each other. With ultra-rich pigments that have an impressive staying power, you're going to love how these shades also double as an eye primer. You can count on TIGI's eyeshadows to carry you through a full day of work events or an exciting night at the beach fair as they effortlessly wear from day to night.
Pros
Glides smoothly
Long-lasting wear
Crease-proof
Can be used as a base color
Matte and shimmer finishes
Cons
Might not be suitable for oily skin types
One of the best natural eyeshadows on the market, this one by Han Skin Care Cosmetics uses rice powder as the base. With antioxidant ingredients like vitamins, fruit, and plant pigments that nourish your skin, this formula will leave your eyelids glistening. Rice powder, acai oil, vitamins C and E, shea butter, quinoa, along with extracts of pomegranate, sea kelp, grapeseed, blueberry, cranberry, and black and green teas will transform your skin to be revitalized. The infusion of argan oil also helps moisturize the skin, so the colors look beautiful on your eyes. Do you want a nutrient-dense formula that also delivers a richly pigmented color? Get the shade Charming in this range for a radiant beige equipped with a shimmer finish that you can use to highlight the corners of your eyes or as a base for another color.
Pros
Contains skin-nourishing ingredients
All-natural rice powder base
Vegan and vegetarian
Cruelty-free
No synthetic fragrance
Free of talc, phthalates, parabens, and artificial color
Pigmented colors
Cons
May not offer long-lasting wear
Now that we've looked at some of the best organic eyeshadows, allow us to walk you through what you should look out for when selecting the right natural eyeshadow.
How To Choose The Best Natural Eyeshadow
For a moisturizing and hydrating boost, keep an eye out for nourishing ingredients like shea butter, aloe, coconut, and olive oils as they make the skin super soft. Jojoba, ceramides, collagen, and rosehip oil are your best bet to bless your skin with anti-aging benefits. If you're worried about your sensitive skin, oatmeal, honey, and chamomile will protect your skin barrier. To shield the delicate eye area, keep in mind to avoid artificial fragrances, talc, artificial and synthetic dyes.
Eyeshadows can have a matte finish that are richly pigmented and don't have any glitter, so they're perfect for a natural, everyday look. If you've got mature skin, this is a great option as the powder won't settle into and accentuate fine lines and creases. If you just can't do without some glitter, shimmer is the way to go as they provide a subtle sheen that is ideal for nighttime to give you a soft look. And their sheer coverage is natural, without settling into creases. A mix of matte and shimmer finishes will give you a satin finish that has the right amount of shimmer balanced by the matte. They're a dream to blend and look great on all skin types. For wild nights and when you want to make a little bit of a statement, metallic finishes are ideal. Their shiny finish looks almost like the metals gold, silver, copper, foil or bronze and it's best to avoid this finish on mature skin.
Matte-textured eyeshadows work wonders to create the illusion of reshaping and redefining the eyes as they are highly pigmented, yet they can sometimes be a little difficult to blend for the same reason. Satin textures combine matte and shimmer textures for all those beauties out there that don't want to overdo the shine. The combination of the two textures makes them easier to blend and suitable for all skin types. If you love the sparkle and the shine, shimmery eyeshadows will help you achieve eyes that light up the whole room. Ideal for mature skin, they offer a subtle sparkle and you can also layer them with darker textured eyeshadows for a dramatic look. For an impressive staying power, cream textured eyeshadows are your best friend. With a creamy consistency, they glide on easily and are a dream to blend. Oily-skinned beauties would do well to stay away from these as they might disappear on oily lids. However, you can get them to work with a little primer before and some translucent powder after the eyeshadow.
The right eyeshadow shade for your eye color can bring out the depth in your eyes and add some character. If you've got blue eyes, opt for a sparkly grey or a rich brown for a daily look. To add a flair or drama, the ever-so-classic smokey eye will definitely make your eyes stand out. Since brown eyes look great with any color, don't be afraid to try blues, greens, bronzes, and adding some gold or silver glitter will only take brown eyes to the next level. Neutral shades like pinks, taupes, coppers will complement green or hazel eyes beautifully. If you're looking to make more of a statement, darker shades like purples and reds can create an amazing contrast. And to make black eyes pop, you can opt for bold colors like golds, silvers, and bronzes as they create some variety. Neutral colors like nudes and pinks are perfect for an everyday look for people with balck eyes.
Natural eyeshadows have benefits that go beyond aesthetics. You can find out what advantages using natural eyeshadow may have.
Benefits Of Using Natural Eyeshadow
Moisturizes skin
Has anti-aging properties to help the skin around the eyes
Better for the environment as it contains biodegradable ingredients
The minerals present in organic eyeshadows help protect the skin from the sun
The fragrance these powders contain is often natural and minimal. Some of them may even have aromatherapeutic benefits.
Why Trust StyleCraze?
The author, Chaitra Krishnan, is a makeup aficionado and is passionate about reviewing different products and recommending them to her readers. She has compiled the above list of the best natural eyeshadows considering their harmless ingredients and easy-to-blend formula. These products, which let you play with different shades and make your eyes look stunning, are also endorsed by users through their reviews.